Thousands of dollars, garters & fisticuffs: Old baseball cards we never see can offer surprises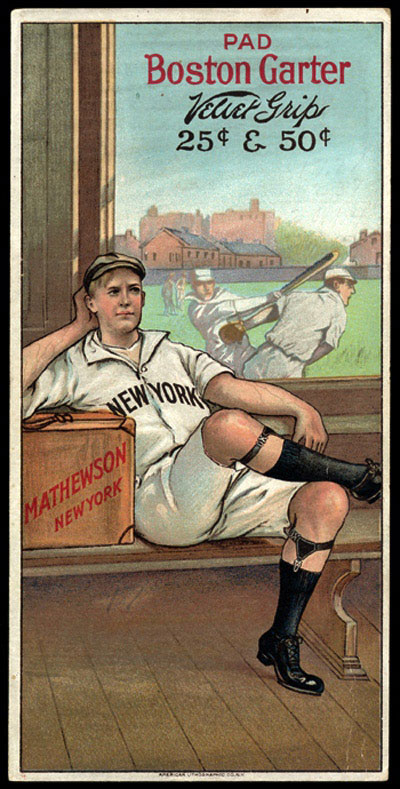 By Chris Olds | Beckett Baseball Editor | Commentary
If you're one of the Everyday Joe kind of collectors without a bank account in the six-figures or someone who makes a hobby out of window-shopping in auction catalogs, you're probably a lot like me when it comes to older baseball cards.
They're out of sight, so they're out of mind — if you even know they exist at all.
There are countless examples of pre-war cardboard that I'll readily admit that I have only seen flipping through pages of the latest Beckett Almanac, if that. They're cards most of us may never see or you might see at a National Sports Collectors Convention if you attend … maybe.
Simply put, for me the card above of Hall of Famer Christy Mathewson is among them. It's from the 1912 Boston Garter Color set, a 16-card release that was a promotional item to encourage the sales of garters for men. (Some of you might not even know what that is — needless to say I've never seen or used them, myself, and I'm not that young.)
The first surprise here? Perhaps that garters and baseball cards somehow intermingled. The second one? The fact that this set must be pretty rare — the 16-card release conservatively goes for about a half-million dollars on the high-end as it books for $450,000. Surprise No. 3? This actual card previously sold for $31,625 in the annual Robert Edward Auctions sale after an estimated sale price of $10,000 to $15,000. Not bad considering it originally cost a dime for it and seven others — or 20 cents for all 16 cards.
The real surprise on this card, though? Well, while Mathewson was known as "The Christian Gentleman," there seems to be some funny business going on. Take a look at the action scene in the background behind him.
Now that's a surprise.
Chris Olds is the editor of Beckett Baseball magazine. Have a comment, question or idea? Send an email to him at colds@beckett.com. Follow him on Twitter by clicking here.