Thon Maker helps promote Panini America's NBA Player of the Day program at Milwaukee card store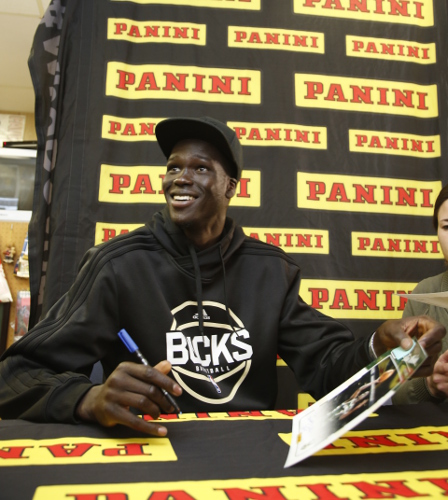 By Stephen Laroche | Beckett Basketball Editor
Panini America's 2017 NBA Player of the Day program is now in full swing, but it was kicked off in a perfect fashion on March 2 as rookie standout Thon Maker of the Milwaukee Bucks made a special appearance at local card store, Name That Card.
Braving the cold to meet his fans, Maker signed plenty of autographs on over-sized promotional cards from Panini and gave visitors an experience that many of them will never forget. Beckett Basketball caught up with the 20-year-old sensation after the event.
"It was awesome," he said. "It was pretty easy. It was a pretty big crowd, but the weather dropped here. It's a little chilly, so we had to get it done quick."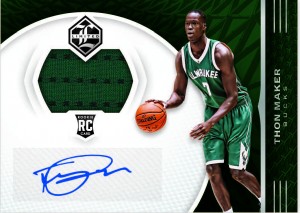 With his Rookie Cards being found in 2016-17 products, the idea of being on a trading card is relatively new to him. However, he did get an early chance to look at some back in the summer months during the NBA Rookie Photo Shoot.
"I was laughing at first because it felt very weird," he said when recalling seeing himself on a card for the first time. "And seeing the cards from some of the collectors, too, because I've seen kids collect those before. I wasn't able to collect them. I just didn't have access to cards like that. I saw other kids collecting cards of the legends, and to me, to see myself in one of those pictures was pretty awesome. I was very excited."
Being an active member of his team's roster, he also spoke about the demand for his signature.
"It's gone up. Just playing more, fans get excited and they want to collect the cards and stuff, so it's really cool."
He did express some interest in the memorabilia cards that feature pieces of a jersey that he has worn.
"Now those ones are a little different," he laughed. "I like them, too, but when I see people coming with the jerseys and having cards with the jerseys, those are really cool. Seeing some of the pictures taken, I was like, wow. When they come for me to sign them, they look really good."
But will he end up collecting his own cards as well?
"Yes, definitely. I got a few of those over the summer. They gave a 100-pack at Rookie Transition Program. I thought that was really cool, too. They gave us our own individual collection and 100 of your peers from your draft class."
Maker went on an incredible world-wide journey to end up playing in the NBA. Born in the city of Wau, which is now located in South Sudan, he escaped civil war at the age of five and lived in Uganda before entering Australia as a refugee. Initially, he was scouted for the game at the age of 14 after being discovered playing soccer.
From that point, he eventually relocated to play high school ball in the United States. After stints with schools in Louisiana and Virginia, he moved up to Canada to play for the Athlete Institute near Orangeville, Ontario. While some American schools were very interested in having him play for them, he opted to spend a final year in the Great White North and enter the 2016 NBA Draft. As a result, he became the second player in a decade to jump from a North American high school into the draft.
In fact, he was the first high school player to be taken in the first round since 2005 and was chosen 10th overall by the Bucks. His transition into the Milwaukee lineup was slow, as he only appeared in six games over the first quarter of the season, but he has been a much more active part of the team since that time.
"I've had, multiple, man," he noted when asked about his favorite moment with the Bucks thus far. "It's just awesome playing with the team every single time. The preparation part is probably the best part, how much fun we have as a unit. Just trying to get better every single day as a team with practices. Every single day, we get better as a team. There's no days wasted, so the preparation is really cool."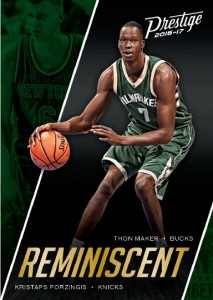 The effort to get to the NBA was a challenging one for Maker, but he is a keen student of the game. He talked about the players that inspired him along the way.
"NBA heroes early on were guys like Kevin Durant, guys like LeBron James, and guys like 'Melo also. There were guys that I'd watch on YouTube like Kareem Abdul-Jabbar, Hakeem Olajuwon, Michael Jordan, Magic Johnson. Those guys, I could pick something from their games and see something that I really like and go and rewatch it over and over again. Eventually, just having it naturally in a game."
Maker recently had the opportunity to face one of those heroes as the Bucks visited the Cleveland Cavaliers on February 27. He spoke about the experience of playing against James for the first time.
"It was cool, just to see how he leads on the court and off the court. Just to see how vocal he is as a leader for his team. Just managing a game and stuff like that. I felt like that's how I was in high school, when you go to a situation like that. But then now, at this point for me, is going to take some time. I've still got to have that mindset and just be a leader. Naturally it's got to happen. You can't force it. Just to watch that was pretty cool and also, the competitive nature you've got to watch and feel excited about it."
With several young and developing stars in the lineup, the Bucks are a team on the rise and are in contention for a potential playoff spot after missing the postseason in 2015-16. As of late, Maker has been thrust into a starting role due to an injury to Jabari Parker.
"For me, just going in there and playing is a big key because my development has been the main focal point this year. As a team, we know our goal is to make the playoffs, but at the same time, is to grow. Our whole team is young and we're trying to grow as a unit and learn how to win and how to win consistently. It's very exciting."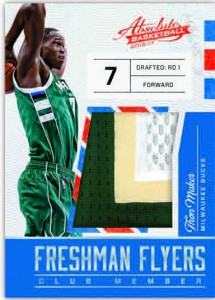 At just the age of 20, he is gaining some valuable experience during his rookie season and has fit in perfectly with his teammates as part of a group rather than focusing on building just a few friendships.
"As a team, we're so close, so it's really hard to pick one guy. It's very hard. Preseason, me and Malcolm (Brogdon) were just hanging out together every single day because we were in training camp and also for Summer League together and in the same draft class. As the season became closer, we became closer as a unit. The numbers defined which guys were going to stick on the team and we got closer and closer. I really can't answer that question, because I'm close with everybody on the team."
Maker is also paying attention to the advice he receives from veterans on the Bucks and named a couple of major influences on him thus far.
"Player-wise? I would probably say Giannis (Antetokounmpo). When have breaks in between games and get a chance to practice, we play one-on-ones a lot. Just helping each other get better. Teams will play you differently, and you're going to play lengths at all sorts of speed and quickness. For us, just playing one-on-ones and watching film together sometimes, or just talking about the games. Jason Terry's not far behind. Being the vet, as the game is going on, Jason Terry and I are always talking. Those guys are not far apart."
Another member of the Maker family may also be on the way to the NBA ranks soon as well. His brother, Matur, is eligible for the upcoming draft and is presently playing in the Prolific Prep North program in Sault Ste. Marie, Ontario.
"For him, he's grown so much in the past two or three years," he said. "His game has just lifted off. He hasn't played before coming to the States, and when he got here, he just kept getting better and better every single time. At this point, they're playing him at the one and he can handle the ball. His shooting has gone up like crazy. He can shoot the ball now. He's got great vision to pass the ball and his handles, he works on it every single day. His work ethic is just great. He's quiet and he loves to play the game. He loves to study the game. Off the court, he's always on YouTube just watching. Watching random plays, too, just referees talking to the players and stuff like that just because he enjoys the game that much."
Collectors that want to find out more information about Panini's NBA Player of the Day program can visit the official website, www.PaniniPOD.com.
Stephen Laroche is the editor of Beckett Hockey, Beckett Basketball, and Beckett Sports Card Monthly magazines. Have a comment, question or idea? Send an e-mail to him at slaroche@beckett.com or follow him on Twitter @Stephen_Laroche.