This Roy Rodgers card remains my favorite mystery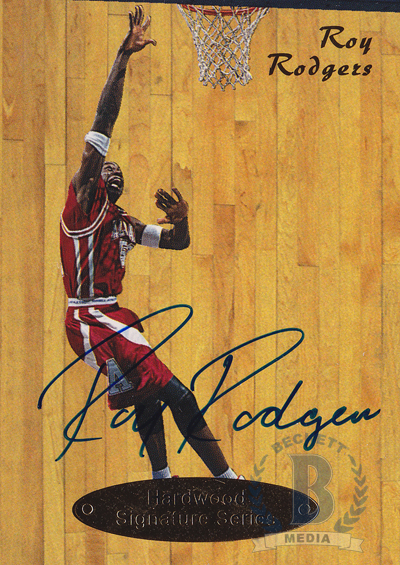 By Chris Olds | Beckett Basketball Editor | Commentary
A year or so before I attended the University of Alabama, there was one Crimson Tide card in my collection that stood out from the others because it was, well, a little bit different.
It's a 1997 Genuine Article Autographs card of Roy Rodgers, who went on to a decent rookie season with the Vancouver Grizzlies before four rather forgettable seasons in the NBA that signaled just one thing — the quick end of a career.
But that's not why this card remains a favorite card in my collection — it's because the $1 card packs a bit of a mystery. Not sure what it is? Compare it to another of his cards … after the jump.
Do you see a difference in the signatures? If not, look letter by letter …  Rodgers' name is actually Roy Rogers — though he apparently signed his name with an added letter for the Genuine Article card … right?
Genuine Article was a company that arrived in 1997 with an autograph in every pack as part of the draft picks card wave of the late 1990s that put more emphasis on autographs. It produced cards in basketball and football before quickly vanishing. What were the business-side stories, the gossip, back then? I don't know — all I know is that my card was "signed by Roy Rodgers in the presence of a representative of The Genuine Article Inc" and that "The signature is guaranteed authentic unconditionally" by Andrew Havens, the company's president.
It says so on the back of my card, which is, by the way, hand-numbered 2,454 out of 7,500.
Ironically, the "Rodgers" signature compares very favorably to any of the other "Rogers" sigs on the market. (Most of them actually look more like the "Rodgers" without the "d" than the "Rogers" one seen here from Score Board.) Maybe the former Alabama star signed all of the Genuine Article cards that way as a joke — there is a distinct pause on that letter on other signed copies — or maybe someone signed them for him. (Want to see an example of this? Go do some research on the 1994 Signature Rookies Autographs card of Errict Rhett. Things can happen.)
Or, maybe something else took place here.
We'll probably never know.
I've met Rogers and got an autograph — there was no "d" for the record — years ago at an Alabama basketball fund-raising event, but I wasn't able to ask about the card. (I should have brought it to the event to show and ask.) Because of that, it remains one of my favorite unsolved mysteries on cardboard.
If there's one thing that collectors on the Internet love, it's a conspiracy. Is there one here? Who knows … anyone else notice any Genuine Article anomalies through the years?
—
Loading ...
—
However, there is a lesson or two to be learned with this card — whether it's legit or not.
First, mistakes can happen and we see those all the time. That's a possibility.
Second, fakes can happen — though we shouldn't have to worry about certified signatures as league licenses should prevent fakes from knowingly being distributed. Then again, there was no league license with Genuine Article. (In theory, leagues should frown upon these types of errors — and punish for them by revoking licenses or adjusting deals. Has it happened? Who knows … that's probably another story.)
Third, trust the company whose products you are buying — or at least its history. If you're weary of a company or think their practices could be in doubt, then try something else.
Fourth, a guarantee — a certificate of authenticity — is only good if it can be backed with a name, a face or a company to support it. If Company X is here today and gone tomorrow, then the guarantee is no good, whether it's on a card or a piece of memorabilia. A company that's here today can't fix a mistake tomorrow if they are no longer around.
Chris Olds is the editor of Beckett Baseball magazine. Have a comment, question or idea? Send an email to him at colds@beckett.com. Follow him on Twitter by clicking here.