This Is One of the Greatest Photos Ever Put on a Baseball Card
When you click on links to various merchants on this site, like eBay, and make a purchase, this can result in this site earning a commission.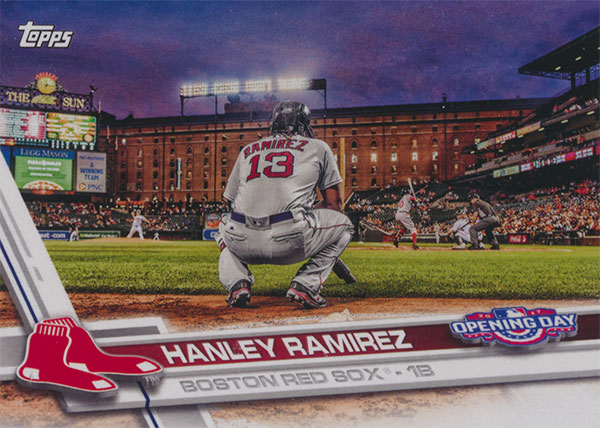 By Ryan Cracknell | Hobby Editor | Commentary
Close your eyes for a second and imagine your favorite card of all-time. Chances are you can see it vividly. You probably don't even need to close your eyes to see every line, movement and facial gesture.
Great sports cards are a dance of design, image and time. When all three work in unison, they become classics, even iconic.
Design is the foundation of a great set. Without a nice border or design elements, it's hard to make any card stand out. Images are a card's personality. They present the moment. Time is that nostalgic piece that cement's a card's place in history. This is personal. While many baseball cards have universal appeal, if you do a personal inventory of your collection, there are likely to be plenty that you connect deeply with that you rarely here about.
I'm not going to call the 2017 Topps Opening Day Hanley Ramirez variation short print a classic card. I saw it for the first time last night on a computer screen. I don't have a copy and given how rare it is, I doubt I ever will. But I will say that it's one of the most beautiful photos ever committed to a baseball card.
Here's why.
First, I'm a fan of different compositions. Normally, I don't like cards that show the back of a player because it often lacks personality and character. This is different. You may not see Ramirez's face, but his crouch tells a story. Rather, it invites us to watch the story unfolding in front of him.
The crouching player baseball card is nothing new. That in itself doesn't make this photo great. If this were cropped vertically and focused of Ramirez's back, I'd think nothing of it. If it were an empty field in front of him, I'd think little of it either.
But it's that action that helps set this image apart and make it unique.
The setting is Camden Yards in Baltimore. If the team colors of the pitcher don't give it away, the brick wall of the B&O Warehouse looking on from right field certainly does.
If you're a stadium scoreboard connoisseur, that would be the other giveaway.
On the field, there's a baseball game going on. And it's happening at the very moment. Ramirez is crouched, watching the game mid-pitch. He's one of the crowd, an active admirer of this thing we call baseball.
And that's what this image is. Baseball. The action, the setting, the beautiful purple summer sky — it's a love song to what makes the game great.
Just by looking at the photo, it's impossible to tell what game this shot was taken. And as far as this card goes, that's a good thing.
Today, sports cards often use sourced pictures from outlets like Getty Images. They're photographers are among the best in their profession. But a lot of the great photos we see on cards today come from moments we've seen in newspapers or online news stories. They're already familiar by the time the card is in hand. The story is already written.
Personally, I'm okay with that. I want to have a card of Kris Bryant raising his arms in celebration after the final out of the World Series. I want a card of an emotional Cal Ripken honoring his 2,131 consecutive games streak.
Sometimes, though, I want the story on a card to be vague. I want to fill in the gaps myself. I want to use my imagination. I want a card to stand out on its own. I could hop on the Getty Images website and discover that the shot was taken during the first inning of a September 19, 2016 game but that takes away from what's happening here. To me, it's simply baseball.
But just because the 2017 Topps Opening Day Hanley Ramirez variation is a beautiful card, is it a classic?
That I'm not so sure about. It has one of the three pillars in a great image. Personally, I'm still pretty non-committal on the design, which is essentially the same as regular 2017 Topps Baseball.
It's the time piece that I think hurts this card the most. The best way to connect with a card is to own it. The 2017 Topps Opening Day variations are so rare that few are going to have a chance to own this card.
This underlines a concern I've had with variations for a while. Many of them have great photos and make for beautiful cards. Usually the images are better than the ones used on the much more plentiful regular cards. Why not opt for the best image available for a a card?
In this case, the base card image is strong as well — really strong.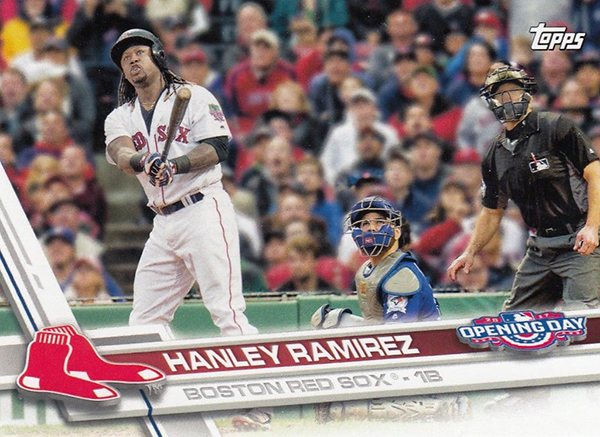 Is it as good as the variation? I don't think so myself but there's certainly some interesting stuff happening and one could make a case for it.
Often, though, the variations clearly have more interesting shots. Just take a look at the most recent ones included in 2017 Topps Series 1 and 2017 Topps Opening Day. Producing baseball cards is complicated. It's possible the image choice is connected to licensing. Maybe it's a conscious decision to go with one for the base and one for the variation. But as a collector, I'm always going to prefer the unique photo over the tight batting stance shot or mid-stride pitcher.
At this point, whether the 2017 Topps Opening Day Hanley Ramirez variation becomes a baseball card classic remains to be seen. But even if it doesn't and most of us only ever see one on a screen shouldn't take away from the image' beauty and baseball majesty.
Comments? Questions? Contact Ryan Cracknell on Twitter @tradercracks.