This Article Won't Tell You How to Get Rich Off of Chicago Cubs Cards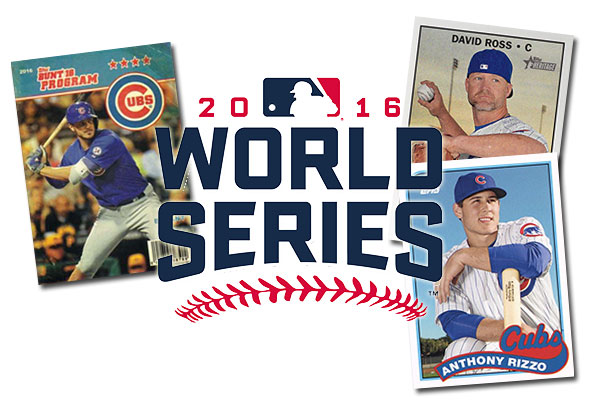 By Ryan Cracknell | Hobby Editor | Commentary
Here's to Ernie Banks. Here's to Ron Santo. Here's to Harry Caray and Jack Brickhouse. Here's to your mothers and fathers, grandpas and grandmas who waited their entire lives. Here's to those who dedicated their summers to the bleachers of Wrigley Field.
Here's to the children who will never understand what was meant by the lovable Cubbies — you know, the team with lots of personality and heart but never seemed to have the pieces to win it all.
The Chicago Cubs are World Series Champions. Next year has finally arrived.
While there's bound to be plenty of intrigue as to what this all means for prices of Kris Bryant rookie cards, this isn't that piece. This is a love song to baseball and how the 2016 World Series is going to make me appreciate some of my cards a little more.
Even if you're not a Cubs fan, it's hard to deny that the magic of the moment. Seven games filled with epic comebacks, big names doing big things, and lesser names doing bigger things.
They all converged for a moment 108 years in the making.
Sitting there, watching the game, it reminded me what I love about baseball cards. No matter what happens in the years ahead — at least 30 of them, at least — these players are heroes. It's not just Kris Bryant or Anthony Rizzo, either.
It's not about what Javier Baez's first Bowman Chrome autograph will be worth in five years, either.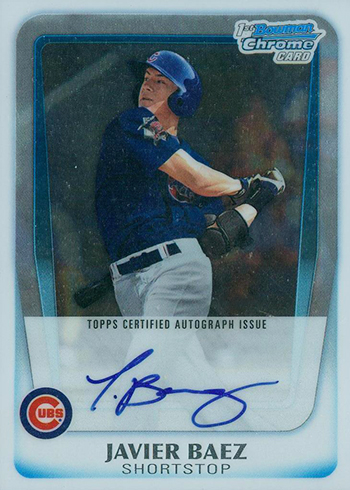 Well, maybe it is, just a little.
It's about coming across a forgotten David Ross card when you're going through a stack of commons and remembering his home run in his final game.
It's about having a new-found appreciation for the many Carl Edwards Jr. autographs that didn't seem so spectacular at the start of the season.
It's about Ben Zobrist and cards with bikes.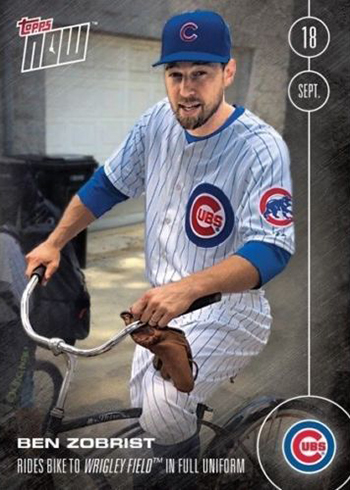 And then there's Theo Epstein, a baseball warlock who has now engineered the demise of two longstanding baseball curses. But he doesn't have many cards so it's tough to go looking for them.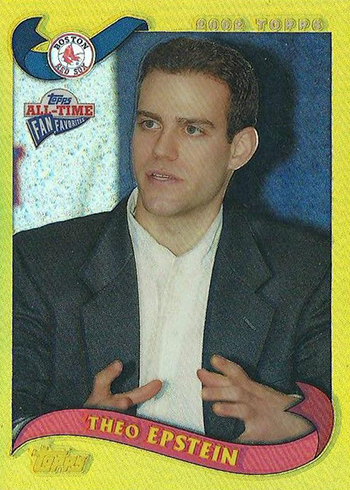 All of a sudden, a ton of cards have a deeper story to go with them. It's not just the stats on the back or the signatures on the front. They're members of baseball history, something that any fan can recognize. That in itself takes cards back to a simpler time.
Call me a purist. Call me an optimist. But these simple takes are important. It's how the hobby came to be. For decades there was a shared experience in chasing Rookie Cards and superstars. We all had a legitimate chance to find them.
The hobby's evolved. I get it. That same community can still be found, but it's either at the hobby shop — if you have one nearby — or maybe in a chat room during a group break. We cheer each other on when a Kris Bryant autograph makes an appearance or some crazy-rare Rizzo is pulled.
But it's still not the same.
We're often chasing the same things, but we're not all going to find them. Many cards are rare from the start. So that shared experience is different. Most of the time we're dreamers and congratulators.
Now just about any 2016 Cubs card has significance. And so will 2017 Cubs cards. They tell the story of how the curse ended, a time when Bill Murray was a regular on our televisions for a few weeks and David Ross cards became cool.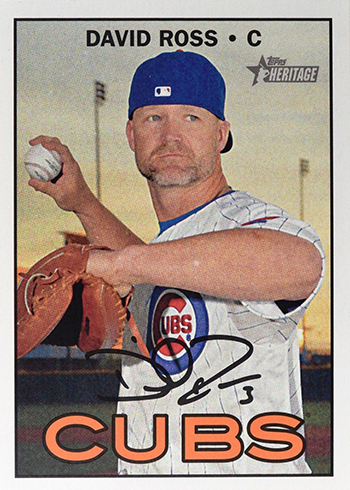 There's going to be plenty of opportunities to ponder how the 2016 World Series will influence card prices both short-term and long. But for a moment, let's enjoy it, Cubs fans and baseball fans alike. Let's sift through our cards and look for the heroes and the stories without worrying about values and what something's worth — for a moment. Let's enjoy cards for what they are right here and now, not what they might become.
The Cubs are World Series Champions and we're never going to be the same again.
Comments? Questions? Contact Ryan Cracknell on Twitter @tradercracks.