Third Annual Superhero September

As the calendar turns from August to September we are prepping for our 3rd Annual Superhero September event which will begin on September 5th.  Just as in years past we will be giving away a vast majority of the artist sketches, relics, and autographs that we have pulled from various products during the last calendar year. If you haven't joined the fun in previous years, here's how it works. Each week we will offer up two daily prizes that will run on Monday's and Wednesday's and then we will end the week with a Friday grand prize. All you need to do is watch our Fat Packs Podcast Twitter feed for entry details for each giveaway. What's up for grabs this year? Check out the gallery after the break.
As stated above each week will feature a grand prize, here's what you can look forward to on Friday's during Superhero September.
September 8th – 2015 Upper Deck Ant-Man Michael Peña Blue Prints Autograph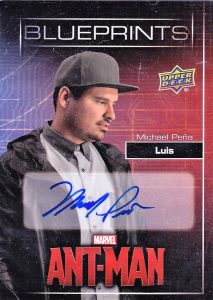 September 15th – 2017 Upper Deck Marvel Premier B.A.D. Girls, INC Triple Panel Sketch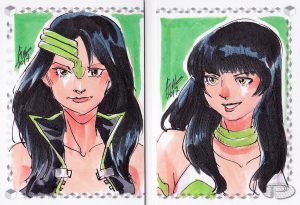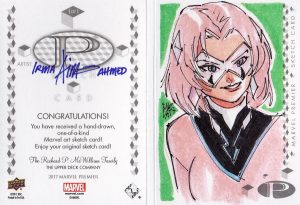 September 22nd – 2017 Upper Deck Marvel Premier 7 Panel Sketch (rear panel featured above)

September 29th – 2017 Cryptozoic Flash Season 2 Peyton List as Golden Glider Autograph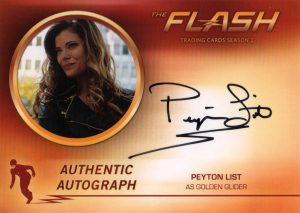 As for the daily giveaways, check out the gallery of some of the items that you can look for.