Thinking pink? NFL auctions pink equipment from October games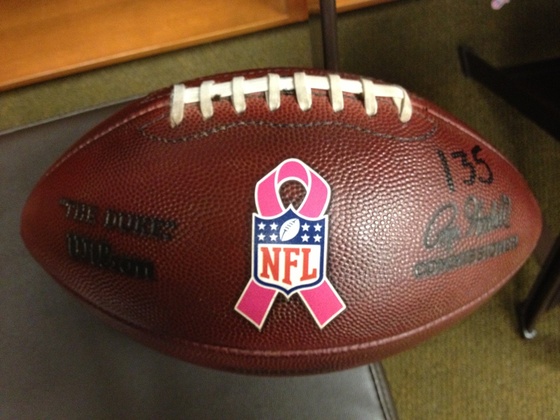 By Susan Lulgjuraj | Beckett Football Editor
If you watched any NFL games this weekend, you noticed all the pink.
Every October, in conjunction with Breast Cancer Awareness Month, the NFL adds pink to the playing field with players wearing pink equipment, officials using pink flags and just splashing the color wherever it can.
The NFL is auctioning pink products. You can find game balls, game-worn jerseys and Sofia Vergara signed memorabilia.
Currently, the highest bid is a Super Bowl 48 ticket package at $10,540. It has no pink in it but 100 percent of the net proceeds will go to the American Cancer Society's Community Health Advocates. It's a program that increases access to breast cancer screenings.
After the ticket package, the top items are all game-worn jerseys from games in October.
Leading the way is Aaron Rodgers with his jersey from this past weekend. The current bid is up to 7,550 with the auction ending Oct. 15. Next up is Colin Kaepernick whose game-worn jersey is up 6,059.01.
Rookies have gotten into the mix. Eddie Lacy's game-worn jersey is up $2,010 and Geno Smith's jersey from the Monday night thriller is up to $1,811, which ends on Oct. 16.
Some of the less expensive items belonged to actress Sofia Vergara. She signed a number of items including t-shirts, gloves, caps and cleats.
Bidding will take place all month and collectors can check out the auctions here.
Susan Lulgjuraj is an editor at Beckett Media. You can email her here with questions, comments or ideas. Follow her on Twitter here. Follow Beckett Media on Facebook and Twitter.