Thinking and Thanking: A Heartfelt Farewell on My Last Day at Panini America
Way back in the day, late, great Marcus High School football head coach Que Brittain was fond of telling me that if I didn't think too well, I shouldn't think too much. And yet, 35 years later, here I am… thinking. A lot.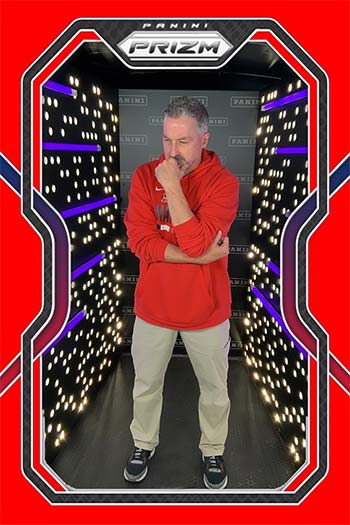 As it turns out, arriving at the most difficult decision of one's professional career requires quite a bit of brainpower.
After more than 11 spectacular years at Panini America, I'm moving on. I'm leaving one dream job for another one (more to come on that). I didn't make this decision lightly. I thought long and hard about it (which, as Coach Brittain knew well, was never one of my strengths); I consulted my family, I listened to those I trust the most, I looked inside myself, I reflected, I prayed . . . and I decided. The next chapter of my work life starts really soon and I am beyond excited about it. But I'm really going to miss this place and, most importantly, these people.
Here's something they don't teach you in college: A job isn't just a job. If you're lucky, as I have been, a job becomes an extension of who you are; the people with whom you battle in the trenches may start out as co-workers, but the best ones become family. So I'm not just leaving a job at Panini America, I'm leaving family. But the memories? Man, those will last a lifetime, as will the most special relationships I've formed during the last decade or so.
I willingly and gladly poured my heart and soul into this role and I'm extremely proud of the work we accomplished during my time here. But what I gave this job pales in comparison to what it gave me. It gave me opportunities that I never dreamed possible . . . it gave me a brother for an office mate and a few others just down the hall . . . it reconnected me with special people I'd known in previous stints with Beckett or Donruss . . . it colored my world with rich, new friends and family members sure to outlast any vocation. It reinforced the notion that, at least for me, the combination of hard work, passion and positivity wins every . . . single . . . time.
As my 26 years in this glorious industry have passed, I've come to understand and appreciate that life really is all about the people you touch and the people who touch you. When it comes to the latter, I've gotta be one of the richest people on the planet.
I leave Panini America forever thankful and with a full heart. Thank you to the collecting community (I'll see you all again really soon), and to those special people both inside and outside Panini America HQ that I'll be riding with from now on no matter where we work.
New challenges and new family members await, so I bid you farewell for now. Thanks again . . . for everything.
Beyond Blessed,