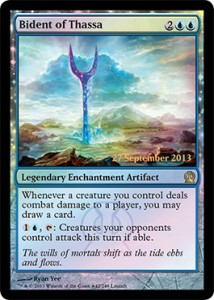 By Elliot Ross | Beckett Card Gamer
This Friday marks not only the release of a new expansion set for Magic: The Gathering, but also a whole new standard tournament block. That's right, it is time to say farewell to Innistrad and hello to Theros. The Theros expansion set goes on sale and becomes tournament legal on Friday.
The Theros set contains 249 cards (101 common, 60 uncommon, 53 rare, 15 mythic rare and 20 basic land), as well as a complete foil parallel set.
Also, starting on Friday, only the following sets will be legal for standard play:
Return to Ravnica
Gatecrash
Dragon's Maze
Magic 2014
Theros
As is the custom with Magic releases, if you are able to attend a Friday Night Magic session this week you can participate in the Theros launch and receive the above promo card. Just don't forget to remove your Innistrad cards from your deck before you head to the store.
Elliot Ross is editor of Beckett Card Gamer. You can email him here with questions, comments, or funny pictures. Follow Beckett Media on Facebook and Twitter.