There he goes: Green Bay's Randall Cobb becomes first rookie to make noise this season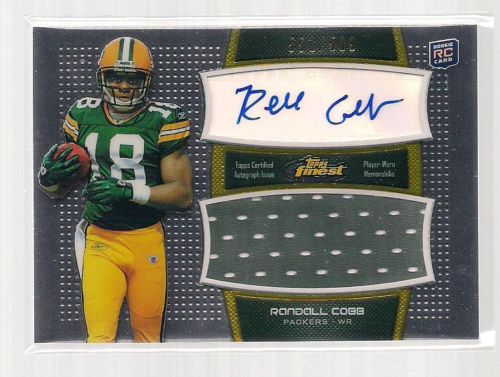 By Susan Lulgjuraj | Contributing Editor
If you weren't watching the Green Bay Packers too closely tonight, you may have missed Randall Cobb's 108-yard NFL record-tying kick return for a touchdown.
Thankfully, the Packers second-round draft pick out of Kentucky has enough cards out already so you won't miss those with just a glimpse.
We're talking 389 cards in just 2011 so far, according to Beckett's database.
Here's a breakdown of those cards:
Memorabilia: 77
Rookie Cards: 13
Autos: 173
Serial-numbered: 293
Wow. Doing a little math in my head – 45 percent of his cards are autographed. That's a pretty lofty number and anyone looking to grab a Cobb auto could probably find one for a decent price with that many cards out there. Well, at least before the game.
His autograph cards could be had for $10 – sometimes less – to around $100.
Recently, a four-card lot of Cobb's 2011 Leaf Ultimate variations sold for $494. Included in the lot were his Red auto 1/1, Purple (/5), Gold (/20) and Silver (/49) cards.
Cobb, who is the first NFL player born in the 1990s, has been able to provide some excitement for Green Bay fans in what early looked to be a blowout game. However, the New Orleans Saints have held on to at least make the game interesting.
When it comes to rookies this season, Cobb may be one to watch.
(Editor's note: At the time of this writing, it's the end of the third quarter. Cobb already has two touchdowns, including a 32-yard catch in the first quarter)
However, what rookies are you looking at this year?
Susan Lulgjuraj is a contributing editor for Beckett Media. You can email Susan here. Follow her on Twitter here.