There are plenty of firsts when it comes to presidential autographs …
First, there were cut autographs of former U.S. Presidents, but now in 2011 Topps Allen & Ginter there's another first.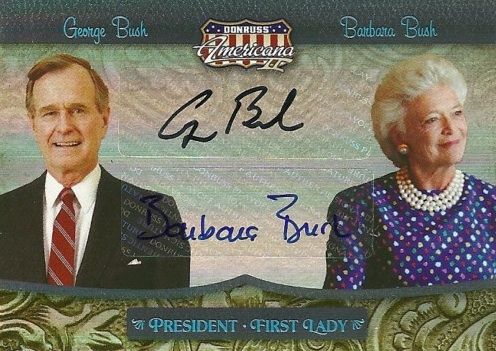 Well, sort of. Here's what Topps had to say Wednesday about its 200 George W. Bush autographs in Ginter:
"Our 2011 Allen & Ginter product will continue Topps' historic tradition of chronicling heroes both on and off the playing field," said Topps VP, Mark Sapir. "We're thrilled to announce that this year's set will include limited edition autographs of our country's 43rd President, George W. Bush – marking the first time ever that a living President has made their autographs available in a trading card product."
The first time ever that a living president has signed for a card product.
Well, maybe a baseball product, but a few collectors (and others) were quick to point out that two other presidents had signed for card companies in the past — George H.W. Bush and Gerald Ford.
Bush — and his wife, Barbara — both signed for Donruss' 2008 Americana II (above). Meanwhile, Ford signed for a University of Michigan football set, Michigan TK Legacy, which was released in the 2000s (below).
First card signed for Topps? Yep, and that's what our story said (but not the quote).
First card signed by a living president for a card company's product? Nope.
The unfortunate part of the wave of national mainstream media attention that will undoubtedly help sell some cards?
Most outlets took their word for it.