The world is officially crazy about Cam Newton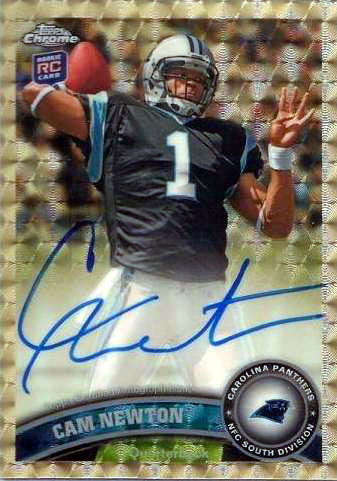 By Andrew Tolentino | Football Editor | Commentary
Whoa.
As the eBay bidding closed at $7,956 for a one-of-one autographed Superfractor, one thing became very clear to me. The world has officially gone bonkers for Cam Newton.
From time to time in the hobby, we've seen current baseball and hockey players commanding ridiculous cash. And of course, there are a handful of vintage auctions that end in lottery-like numbers. But as far as modern football cards go, the sale of this particular Superfractor is freaking insane.
With such a spectacular first season, Newton will likely (and rightfully) walk away with the Offensive Rookie of the Year award — and if by some bizarre anomaly he doesn't, he can still put this auction on his resumé. Never mind those loose arguments about his lack of wins. The fact that somebody would spend nearly $8,000 for a piece of cardboard (albeit a shiny one) with his signature should lead us to one conclusion.
People respect what Newton has done and they believe in his potential. That, or the person with the winning bid sleeps on a pile of money in a house made of gold and drives a car made of diamonds.
Realistically, someone with that much money would actually have a chauffeur to drive said diamond-mobile, so we'll go with the first scenario. Despite the win column, No. 1 pick Newton was quick to convince this season, and it doesn't look like he'll be trending down any time soon.
He easily emerged as a top rookie passer and sealed the deal with his record-breaking 13th rushing touchdown in Week 13. If he keeps it up and puts the Panthers on a steady victory march, Newton's rarer cards could reach double-digit insanity.          

But is it really all that crazy for a card to sell for that much? For the extravagant gazillionaire who used it as a toothpick, maybe. For the seller who just woke up because he fainted 10 seconds before the auction closed, also maybe. But to an outsider who just believes that much in Newton's potential?
Probably not.
As much as critics enjoy a love-hate relationship with No. 1 draft picks, it's should be no surprise that the head of this year's rookie class is still on top. Still in the early stages of his career, Newton has a long way before he can be called a legend, but there's no denying that his potential is legendary.
If this Superfractor super sale is a sign of things to come, the hobby is in for a wild ride with the prolific Panther and the other pleasant rookie surprises featured in the coming issue of Beckett Football.