The wonder years and 2015 Panini Contenders Baseball Old School Colors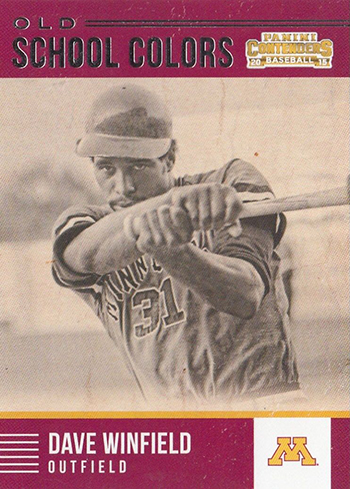 By Ryan Cracknell | Hobby Editor
Time is a funny thing. Just as we age, so do those around us. Yet, when we sift through our collections, we're met by something that's timeless. Our heroes and those that we root against are frozen in time. For many, these cards take us back to another time. Stats come back to us and moments are relived.
We usually see them when they're already pros. At least that was the way it was until not long ago when cards started coming out earlier and earlier. But for those of us who grew up in the 1960s, '70s, '80s and even '90s, we haven't seen much of players from before they reached the big leagues. There are some minor league cards, but they're not prevalent like today's prospect releases.
2015 Panini Contenders Baseball Old School Colors offer glimpses at a handful of Hall of Famers and greats from the previous couple of generations. And we're not even talking minor leagues. These cards show stars from their college years.
The full Old School Colors checklist has 47 cards. Many are current prospects but almost half come from the past using rarely seen photographs of such Hall of Famers as Bob Gibson, Dave Winfield, Randy Johnson and Reggie Jackson. There's also John Elway who was a standout on the diamond at Stanford as well as the football field.
2015 Panini Contenders Baseball Old School Colors aren't tough inserts. They don't use fancy technology or card stock. It's unlikely that they'll ever be particularly valuable. But if you're looking for a nostalgic trip back, you're probably not worried about that anyway.
Check out a bunch of yesterday's stars when they were young. There's also a full checklist for the insert set at the bottom.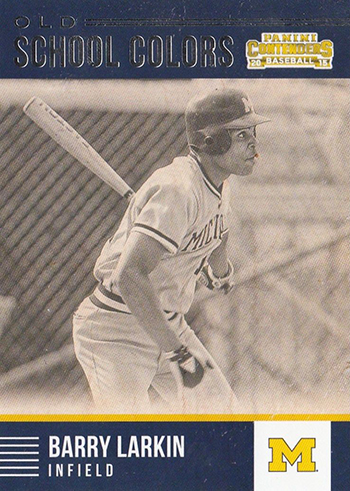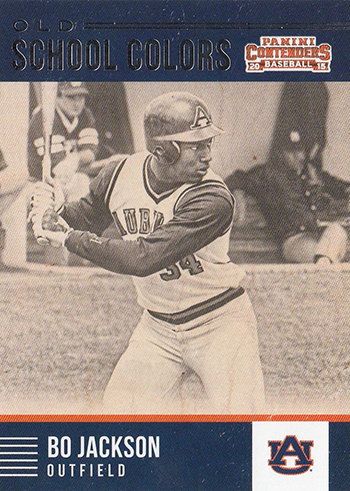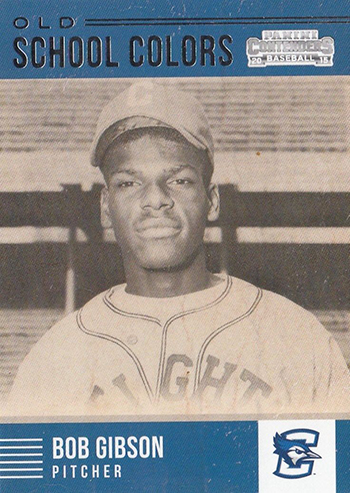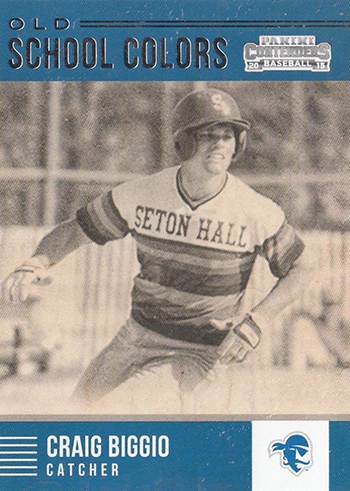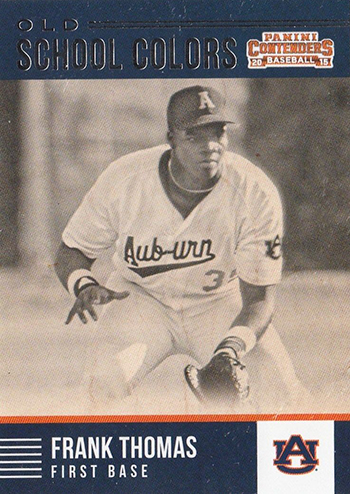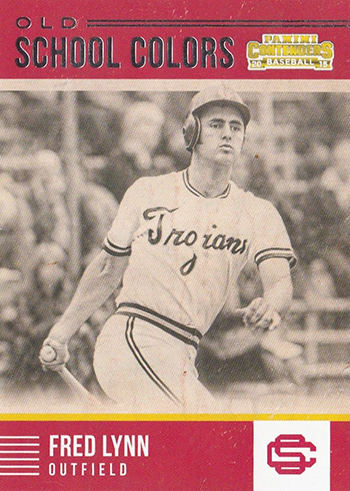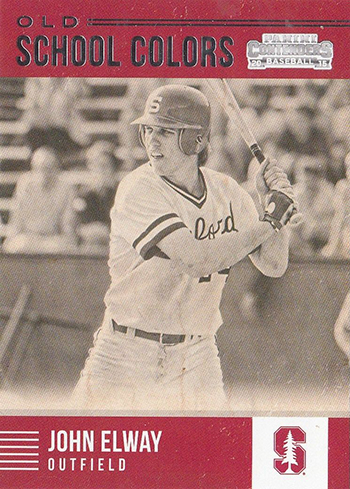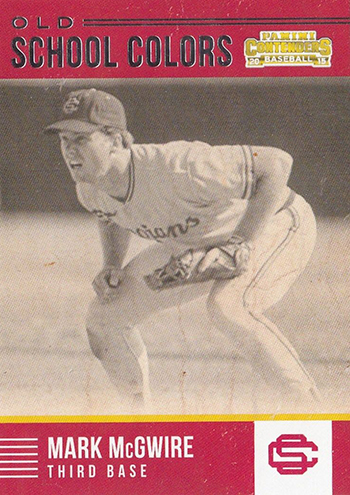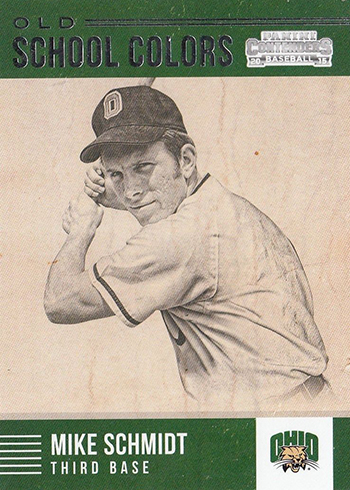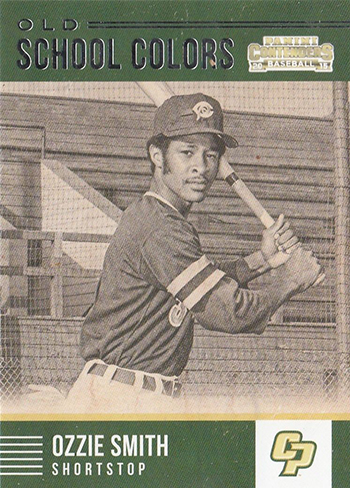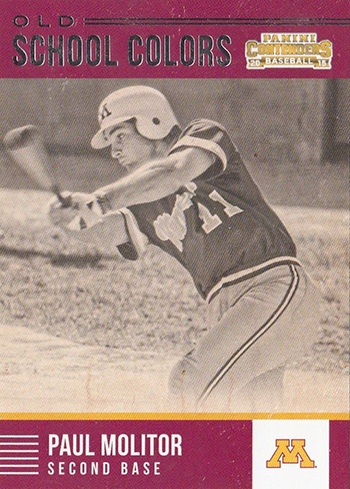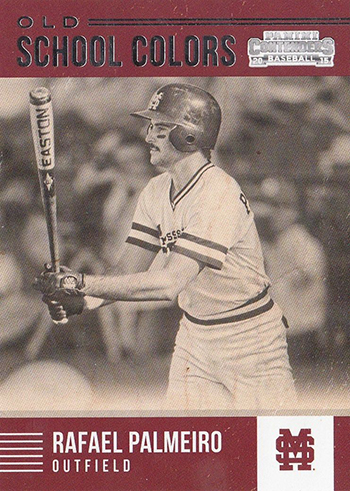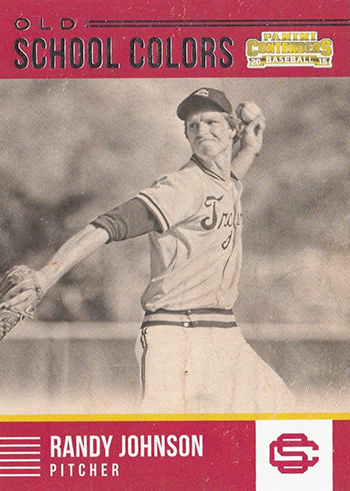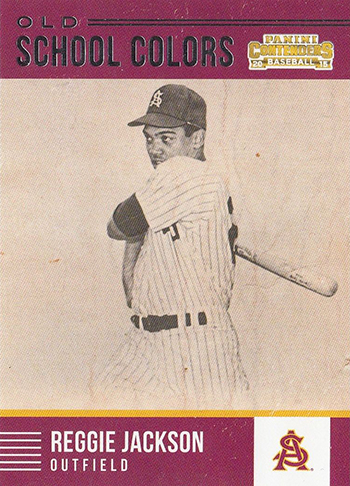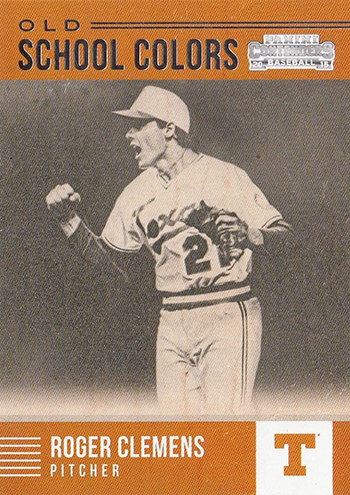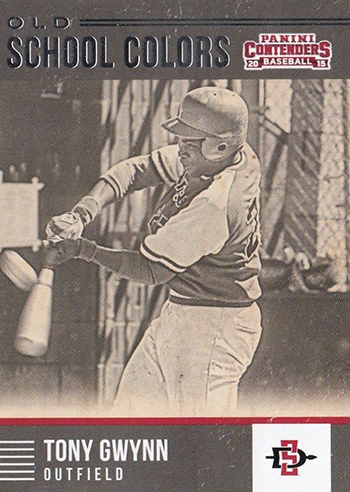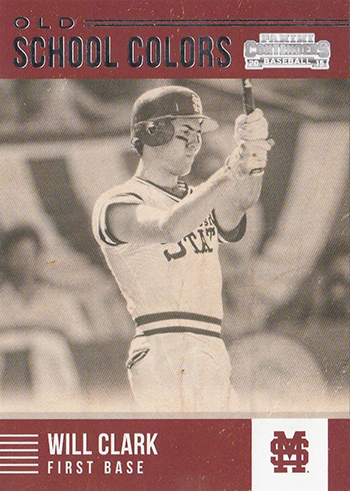 2015 Panini Contenders Baseball Old School Colors Checklist
1 Roger Clemens, Texas Longhorns
2 Reggie Jackson, Arizona State Sun Devils
3 Randy Johnson, USC Trojans
4 Craig Biggio, Seton Hall Pirates
5 Frank Thomas, Auburn Tigers
6 Will Clark, Mississippi State Bulldogs
7 Barry Larkin, Michigan Wolverines
8 Mike Schmidt, Ohio Bobcats
9 Dave Winfield, Minnesota Golden Gophers
10 Bo Jackson, Auburn Tigers
11 Rafael Palmeiro, Mississippi State Bulldogs
12 Paul Molitor, Minnesota Golden Gophers
13 Richie Martin, Florida Gators
14 Tony Gwynn, San Diego State Aztecs
15 Frank Howard, Ohio State Buckeyes
16 John Elway, Stanford Cardinal
17 Fred Lynn, USC Trojans
18 A.J. Reed, Kentucky Wildcats
19 Aaron Nola, LSU Tigers
20 Kevin Newman, Arizona Wildcats
21 Peter O'Brien, Miami Hurricanes
22 Stephen Piscotty, Stanford Cardinal
23 Aaron Judge, Fresno State Bulldogs
24 Braden Shipley, Nevada Wolf Pack
25 D.J. Peterson, New Mexico Lobos
26 Erick Fedde, UNLV Rebels
27 Hunter Dozier, Stephen F. Austin Lumberjacks
28 Hunter Renfroe, Mississippi State Bulldogs
29 Kyle Schwarber, Indiana Hoosiers
30 Luke Weaver, Florida State Seminoles
31 Michael Conforto, Oregon State Beavers
32 Robert Refsnyder, Arizona Wildcats
33 Trea Turner, NC State Wolfpack
34 Tyler Naquin, Texas A&M Aggies
35 Alex Bregman, LSU Tigers
36 Andrew Benintendi, Arkansas Razorbacks
37 Carson Fulmer, Vanderbilt Commodores
38 Dansby Swanson, Vanderbilt Commodores
39 Breckin Williams, Missouri Tigers
40 Dillon Tate, UC Santa Barbara Gauchos
41 Ian Happ, Cincinnati Bearcats
42 Andrew Suarez, Miami Hurricanes
43 Mark McGwire, USC Trojans
44 Ozzie Smith, Cal Poly Mustangs
45 Bob Gibson, Creighton Bluejays
46 Tyler Jay, Illinois Fighting Illini
47 Phil Bickford, Cal State Fullerton Titans