The Warriors are Golden once again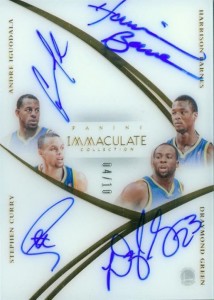 By Derek Ficken | Beckett Basketball Analyst | Commentary
First off, as a Bay Area native, I want to congratulate the Golden State Warriors players, front office, and especially the fans.
What an amazing 2014-15 NBA season that was capped off with "dethroning" the King, LeBron James. With this recent NBA championship, many collectors should start buying into their stock. This team is compiled of many role players and it was the reason opponents had such a hard time figuring out their game plan.
With veterans like David Lee and Andre Iguodala, as well as young leaders in Stephen Curry and Draymond Green, this team is stacked for a long-run of potential success. Will the recent success of Iguodala translate into big values on cardboard? Has Curry exceeded his value this season?
Many analysts and experts counted Curry out with his weak ankles back in 2009-10, but somehow he has exceeded expectations. Now, he has become a household name in the NBA, and over the course of this season, his values have risen to the upper tier of the hobby. Throughout the playoffs, Curry's prices have continued to increase in the Beckett Online Price Guide, especially his key rookie-year cardboard and certified autographs.
At the beginning of the NBA Finals, Curry's 2009-10 National Treasures RC was priced at $1,500. Recent secondary market sales have warranted an increase up to $4,000. Other key Curry RCs include 2009-10 Exquisite Collection AU ($1,200), 2009-10 Absolute Memorabilia JSY AU ($300), and 2009-10 Topps Chrome ($250). He has been on collectors' radars throughout the playoffs, but the Finals pushed him further into the spotlight.
For those looking for a bargain certified autograph, his 2013-14 Court Kings Studio Signatures (/49) is currently priced at $100, but he has dozens of memorabilia cards priced at $15 and $20. One of his coolest cards is the 2013-14 Panini Preferred Warriors Memorabilia (/199) booklet card including memorabilia swatches from Curry, Iguodala, Andrew Bogut, Harrison Barnes, Green, Lee, Jermaine O'Neal, and Klay Thompson and is currently priced at $80 in the Beckett Online Price Guide.
2009-10 Playoff National Treasures #206 JSY AU RC ($4,000)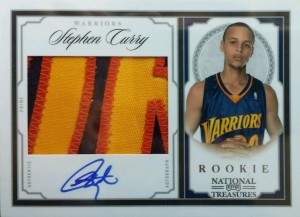 2009-10 Exquisite Collection #64 AU RC ($1,200)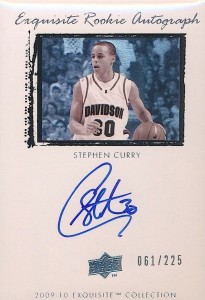 2009-10 Topps Chrome #101 RC ($250)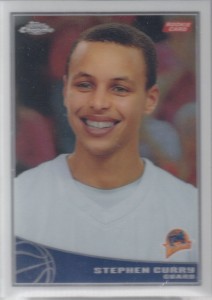 The NBA Finals MVP, Andre Iguodala had a long and interesting road to get to this exact moment. He was the successor in the Allen Iverson legacy in Philadelphia, which didn't pan out exactly the way Sixers fans wanted, and he had a short stint in Denver, before signing a maximum contract with the Warriors in the 2012-13 offseason. The move seems to have paid off for both him and the Warriors. The good news for collectors is that the majority of Iguodala's key cards are reasonably priced and readily available on the secondary market.
With this being his 10th season, his card values have plateaued in recent years. With more than 3,200 cards listed in the Beckett Online Price Guide, bargain cards aren't hard to come by. He's got 40 Rookie Cards listed in the OPG ranging in value from $1.25 (2004-05 Topps Luxury Box) to $200 (2004-05 Exquisite Collection). In addition the Exquisite RC, his other key rookie-year cards include: 2004-05 SP Authentic AU RC ($25) and 2004-05 SPx JSY AU RC ($30). With the Warriors giving Barnes a more active role in the rotation, it is likely that the spike in prices for his MVP performance will be short lived. If you want to cherish the recent playoff success of Golden State, look at the fantastic inserts Panini America did in the recent release of 14-15 Immaculate Collection called Trios Autographs (/25), which features on-card autographs of Curry, Thompson and Iguodala ($1,000). For a much cheaper route, get the Immaculate Collection Trios Materials (/ 75), with memorabilia swatches of Bogut, Lee, and Iguodala, and is currently priced at just $10.
2013-14 Panini Preferred Silhouettes Prime #356 ($100)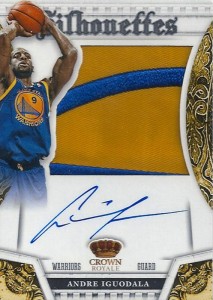 2004-05 Ultimate Collection Signature Patches #AI ($150)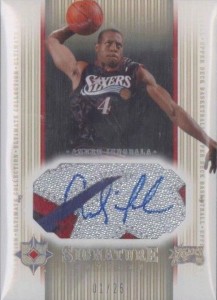 2004-05 Exquisite Collection #85 JSY AU RC ($200)