The Walking Dead trading cards continues with a tribute to the comics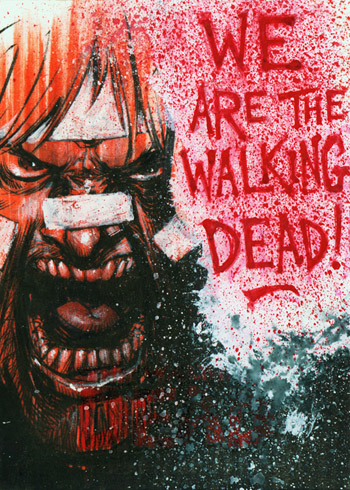 By Susan Lulgjuraj | Contributing Editor
The Walking Dead didn't start as a hit cable television show. The origins of the show started with comics in 2003.
Writer Robert Kirkman and artist Tony Moore – who was later replaced by Charlie Adlard in the seventh issue – got together to create a story about a zombie apocalypse. The story follows survivors of the apocalypse and what they do to get through it.
Cryptozoic had a hit when it issued trading cards from the television show's first season. The company is coming back with the second season on trading cards, which will be released in the fall.
But the celebration of The Walking Dead continues with a trading card set devoted to the comics, where it all started. The Walking Dead Comic Book Trading Cards are scheduled to be released at the end of July.
About 80 artists were employed as they took the series and created sketch cards with their own unique rendition of moments from the comics. The sketch cards are considered inserts and found just one per box for The Walking Dead Comic Book Trading Cards.
There are 90 cards in the base set with foil parallels to go with them. Chase sets include Mini-Book, featuring nine monthly comics and Killed in Action highlighting nine characters. Printing plates will also be found in the product.
There is a redemption card for the set: an oversized signed art card by creator Robert Kirkman and artist Charlie Adlard.
The Walking Dead Trading Cards Second Season won't be out until later this year, but collectors could expect more of what they got in the first series with autographs, wardrobe cards and more sketch cards.
Susan Lulgjuraj is a contributing editor for Beckett Media. You can email Susan here. Follow her on Twitter here.