The Ups, Downs & Flatlines of the 2017 Mega Box Shohei Ohtani – Beckett Pricing Insider
Like this year, 2017 Bowman Mega Box was a Target-exclusive product. It brought something that regular 2017 Bowman was missing, Japanese pitching/hitting phenom Shohei Ohtani.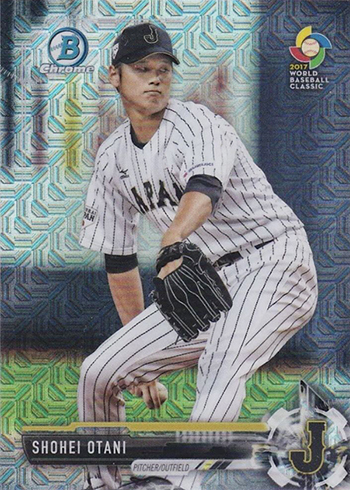 The Mega Boxes included five 2017 Bowman retail packs along with two Mega Box Chrome packs, each containing five Chrome cards not available anywhere else. Different from the regular 2017 Bowman Chrome set, they have a patterned background along with four parallel levels: Purple (/250), Green (/99), Orange (/25) and Black (1/1).
Along with having Ohtani's first North American baseball cards (and the misspelling of Otani), the Bowman Mega boxes had a unique distribution. When initially released in late April, you were lucky if you could find a box. On top of the fact not everyone has a Target down the road from their house, Topps realized early on that there were a few issues so they had to ask their distributor to delay the release of any more boxes. But the Mega Boxes did return to shelves in October. No changes were made from the original release.
In May, 2017, the Ohtani sold for around $200 and was strong for a few months before falling to around $100 in September. It went as low as $50 when the product hit shelves again in October.
In November, when it was announced that Ohtani would ask to be posted by his Japanese team so he could join an MLB team, the value rose back to $100 level.
After Ohtani signed with the Angels at the beginning of December, prices were all the way to $200 again.
By spring training, sales were back down into the $100-$150 range, where they remain today.
This edition of the Beckett Pricing Insider is sponsored by MVP Sports Collectibles.