The Two-Sport Cards of Deion Sanders – Beckett Pricing Insider
With so much news and coverage surrounding Kyler Murray and his decision to make himself eligible for the NFL Draft, it made me think about the other multi-sport athletes who have tried to play multiple sports.
One of the first names to pop in most peoples' head is Deion Sanders.
Sanders played 14 years in the NFL from 1989 to 2000, retiring for three seasons before returning to the NFL for the 2004 and 2005 seasons. Deion also played baseball from 1989 to 1997 (taking 1996 off from the sport). After another three-year break, Sanders returned to baseball one last time in 2001.
Sanders is the only person to play in both a World Series and a Super Bowl.
Later this week, ESPN is premiering its 30 for 30 documentary "Deion's Double Play," a look at Sanders' attempt to play in both an MLB and an NFL game on October 11, 1992.
While Deion was successful at baseball when he played, we know the gridiron is where he really shined. That is where he earned his eight Pro Bowl appearances and where he was elected into both the College and Pro Football Halls of Fame.
As Deion would often explain it to reporters who asked about playing both sports, "I'm married to football, baseball is my girlfriend." There was clearly something out there that drove him to prove himself at both levels.
Recently interviewed by 103.3 ESPN Radio in Dallas, Sanders surprised a lot of people when he said that Kyler should, "Drop the football, go burn all your equipment and play baseball now." Deion knows how desired Kyler is in baseball and has the experience doing both so maybe Kyler should listen to what he has to say.
We will wait and see. Deion has over 1,000 baseball cards and more than 4,000 football cards in the Beckett database.
Here are a few of his baseball cards that hint at his multi-sport ability.
1990 Classic Blue Deion Sanders #21
This card is a variation. The original one only says "Prime Time" in the place for Deion's name. Shortly after it came out, Sanders requested for his full name to be included along with his nickname. There were 200,000 total sets produced and it is estimated that less than 10 percent feature the original version. Both of these are available for just a few dollars.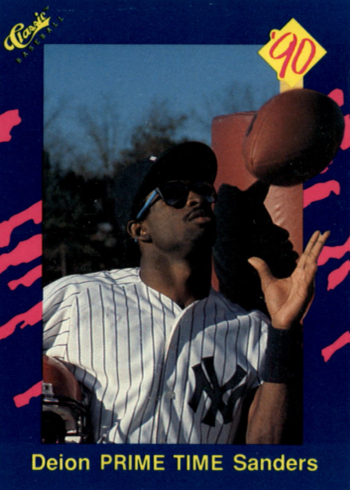 1992 Upper Deck Deion Sanders Prime Time's Two #SP3
A special insert card included in 1992 Upper Deck Baseball, this card this card displays one of the company's earliest innovations to the hobby, multiple exposure cards. This card of Deion took it to another level, showing him transform from a cornerback into an outfielder running the bases.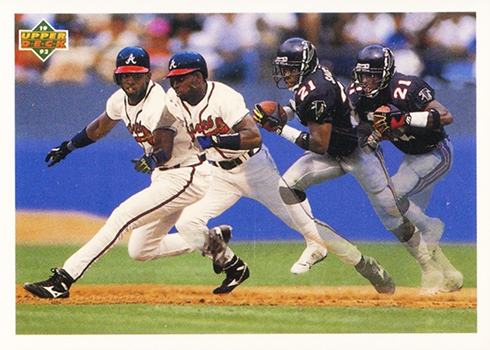 2013 Topps Supreme Dual Autographs Bo Jackson/Deion Sanders
This is just one of the many combo cards featuring the two multi-sport greats. This one from the old Topps Supreme brand is numbered to just 25. A version graded a BGS 9 sold for $125.