The Tops of Topps Tier One Baseball: Past and Present Edition – Beckett Pricing Insider
2019 Topps Tier One Baseball released this past Wednesday. Year in and year out, it's a product that combines dynamic designs with an assortment of autograph and relic cards. Tier One is all hits with two autographs and one relic card to a box. Most of the autographs are on-card and many of the cards feature relics you don't won't see in other products.
Every year we see big sales from Tier One and based off some of the early sales, 2019 should be no difference. But there are also a lot of big sales for Tier One cards released in previous years. Here are some notable sales:
While it's still early and not a lot of major sales have closed yet, I had to include one from 2019. Over 900 of the cards in 2019 Topps Tier One are one-of-ones including all of the gold ink autograph parallels. Arguably the best catcher to ever play the game, the Binger, Oklahoma native has almost 2,000 autographed cards in the Beckett Database.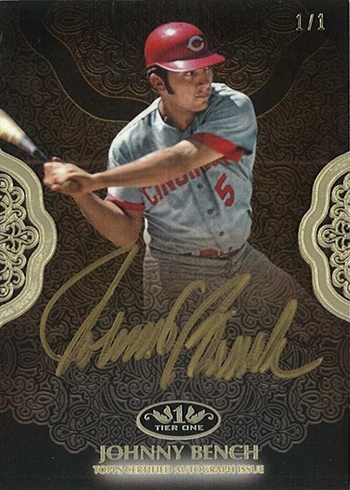 Each year, Tier One includes a Triple Autographs insert set with on-card autographs. It's hard to argue about pulling this group of three. Between the three of them, they already have four MVP Awards, 15 All Star Game appearances and three Rookie of the Year Awards. Oh, and none of them have even reached their 28th birthday so there is still a lot more to come.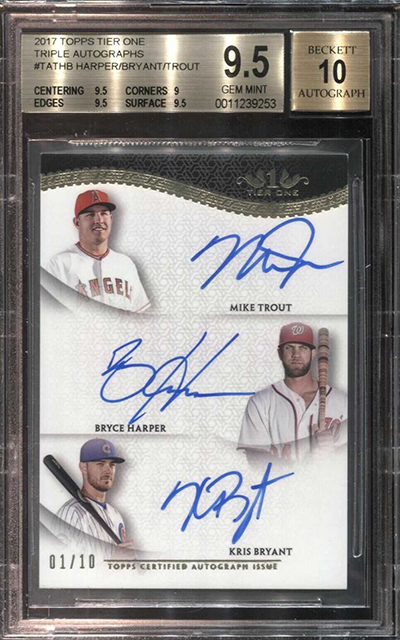 One of the distinct features in Tier One is its use of bat pieces. The Limited Lumber cards are all one-of-ones with a piece of a players bat barrel. Biggio was one of the best all-around players in the game. Along with Jeff Bagwell and later Lance Berkman, would form the "Killer B's" who led the Astros to the 2005 World Series. Biggio was elected to the MLB Hall of Fame in 2015, receiving 82.7% of the votes by the Baseball Writers' Association of America.