The Story Behind the 2001 Upper Deck Avalanche All-Star Game Set
When people talk about the freewheeling nature of the NHL All-Star Game being a nightmare for goaltenders, they immediately think back to the 2001 contest in Denver. It was there that the two star-studded squads engaged in a back-and-forth thriller that featured a record 26 goals as North America knocked off the World, 14-12.
The barrage of rubber faced by the six netminders – 98 shots in total – left them all a little shellshocked. "They just kept coming and coming," said Team World's Roman Cechmanek.
The onslaught actually started the night before during a high- scoring Skills Competition. Team North America stopper Sean Burke was dumbfounded to learn that his rough night had somehow earned him a prize.
"I win a car just for that?" Burke said to the assembled press after emerging as the least battered from the Goaltenders Competition. "I let in, what, four goals in 15 shots? If that was a regular-season game, I would have got pulled and my confidence would have been shaken. I might not even get to start the next game. Out here, I give up four goals and they give me a car."
He wasn't the only player to take home a new ride. Boston's Bill Guerin was named MVP after he be- came the first American-born player to register a hat trick in the All-Star Game. He also was the first player to do so in his first All-Star appearance.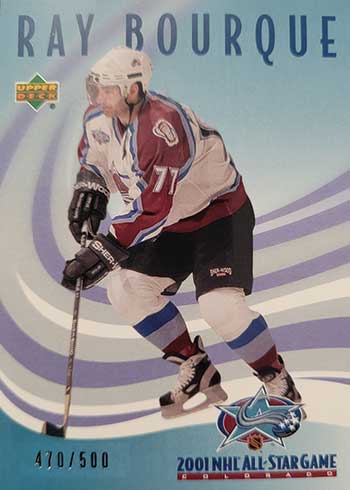 But as brightly as those two stars shined, all eyes at the Pepsi Center were on the massive contingent of hometown heroes. Five of the 12 starters were members of the Colorado Avalanche, including future Hall of Famers Patrick Roy, Ray Bourque, Joe Sakic, and Peter Forsberg. Milan Hejduk, who was in the midst of his first 40-goal campaign, was a late addition to the World starting lineup after Alexander Mogilny was sidelined by injury.
Roy delivered a solid outing between the pipes, allowing just three goals in the first period to push his All-Star record of career goals allowed to 24, while Sakic, Hejduk, and Forsberg each contributed a tally. Bourque made his mark during the Skills Competition, nailing four targets on six shots to claim the eighth Accuracy Shooting title of his career.
But as memorable as the action on the ice was, there was something equally compelling going on at the nearby Colorado Convention Center, site of the NHL FANtasy event. That's where Upper Deck sparked a minor frenzy with an event-exclusive 15-card giveaway set that focused on the Avalanche.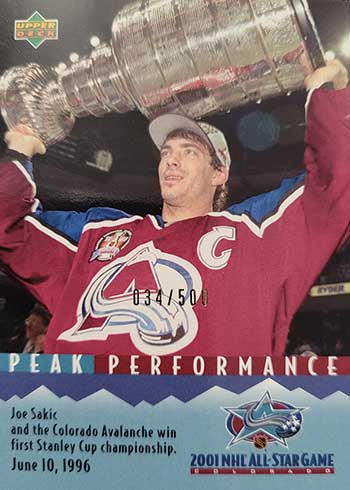 The set, which was offered via redemption at the company's booth, was issued in three five-card cello packs and consists of a trio of unique subsets. The first is a six-card group listed as "regular" cards which feature Bourque and five non-ASG Avs players pictured against a swirled background. These are denoted by a CA prefix on the card number and serial numbering on the front out of 500. The second six-card set features some of the team's top players under the banner Peak Performances and showcases memorable moments in franchise history. For example, the Sakic card (#PP2) pictures the team captain hoisting the Stanley Cup in 1996, while Chris Drury's card (#PP4) shows him with the 1999 Calder Trophy. These also are serial numbered out of 500.
The final grouping is a three-card header set with each card picturing two players.
These cards feature an HH prefix but are not serial numbered like the others in the set.
If you haven't added any of these cards to your collection in the ensuing two decades, you're not alone. Event giveaways are a great way to introduce the fun of collecting to an audience of passionate hockey fans who might not otherwise have any experience with collectibles, but they create problems for established team and player collectors who couldn't be on hand. After all, while some of these cards were likely treasured, many more likely were discarded or damaged by inexperienced collectors. That's why they pose a real challenge to find, and what makes them so collectible.
There's no way of knowing exactly how many survive today in varying conditions, but based on secondary market data, the numbers are maddeningly small. We have tracked fewer than a dozen confirmed sales over the past two years, and just two singles were available online at the time this article was written.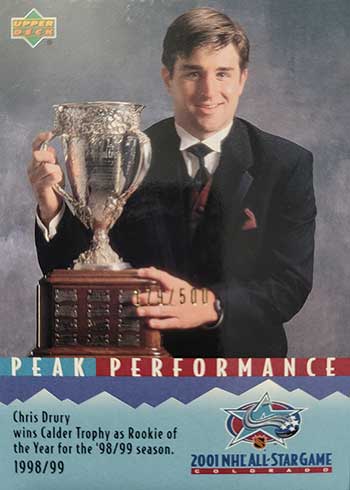 The scarcity of these cards is emphasized by their graded populations. PSA has slabbed one Bourque single (it earned a NM 7). BGS has yet to grade even one. Given the popularity of the stars in the set, those numbers speak volumes.
In a crowded and complex marketplace that's largely fixated on the latest shiny release, it's understandable how this limited-release set sailed under the radar for the past 20 years. But for those who were there, or those Avs fans fortunate enough to have tracked them down, this exclusive All-Star giveaway set is a real treasure.
2001 Upper Deck Avalanche All-Star Game Checklist
CA1 Ray Bourque
CA2 Adam Foote
CA3 Adam Deadmarsh
CA4 Alex Tanguay
CA5 Aaron Miller
CA6 Stephane Yelle
PP1 Patrick Roy
PP2 Joe Sakic
PP3 Peter Forsberg
PP4 Chris Drury
PP5 Milan Hejduk
PP6 David Aebischer
HH1 Patrick Roy/David Aebischer
HH2 Peter Forsberg/Milan Hejduk
HH3 Joe Sakic/Ray Bourque