The Skinny on ITG's 2011-12 Heroes & Prospects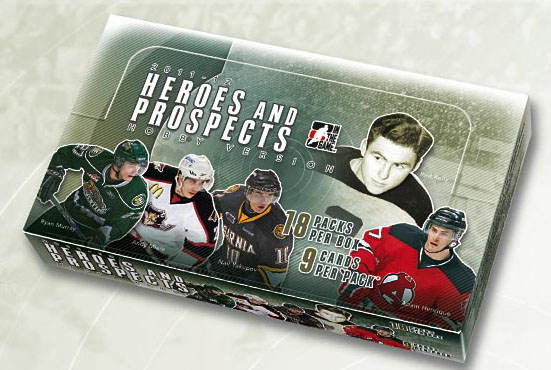 By Andrew Tolentino | Hockey Editor
Start pumping your fists, hockey collectors.  In The Game's better-bang-for-your-buck Heroes & Prospects release will hit shelves before you know it.
Actually, you should know it as the company has revealed key details about the 2011-12 release, including an anticipated Feb. 23 arrival date.  From the card-per-pack count to the chase-worthy prospect names and more, we've got the skinny (after the jump).
The Box by The Numbers
18 packs
9 cards per pack
2 Game-Used Memorabilia cards (based on  stated 1:8 pack odds)
2 Autograph cards (based on stated 1:8 pack odds)
2 Non-memorabilia insert cards (based on stated 1:8 pack odds)
Set stats
200-card base set
125 autograph cards from the CHL, AHL, international prospects and established hockey heroes
Not to downplay legendary names like Red Kelly and Tony Amonte, but Heroes & Prospects has become a particularly popular resource for collectors looking to land cards from top prospects on the verge of NHL breakouts. The company boasts a number of players like Max Domi and Curtiz Lazar from the CHL.
Then again, those lesser-known names often pale in comparison to signatures from Sean Couturier depicted on their way to eventual super-stardom.
At this point, the company has not revealed further details about memorabilia other than Game-Used Jersey, Number and Emblem cards and supremely-sized Subway Super Series cards. Stay tuned to Beckett.com to find out what else 2011-12 Heroes & Prospects has to offer as we approach the release date.