The Rockets Traded For Chris Paul, You Should Trade For This Paul RC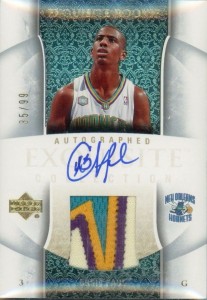 Chris Paul appears to be headed to the Houston Rockets to team up with James Harden (and maybe some other superstars). Paul's most valuable Rookie Card is the 2005-06 Exquisite Collection #46 Chris Paul JSY AU/99 RC.
Though Harden and Paul haven't played together, they did both play in Oklahoma City before joining the Rockets. Paul was on the New Orleans/Oklahoma City Hornets when they played home games in OKC as New Orleans recovered from Hurricane Katrina, while Harden played on the Thunder for the first three seasons of his career.
If you want to know how much CP3's cards are worth, check them out in the Online Price Guide.