The Richter Scale: Joe Copetto and His Impressive Mike Richter Collection
By any measure, Joe Coppeto owns one of the hobby's greatest collections of New York legend Mike Richter.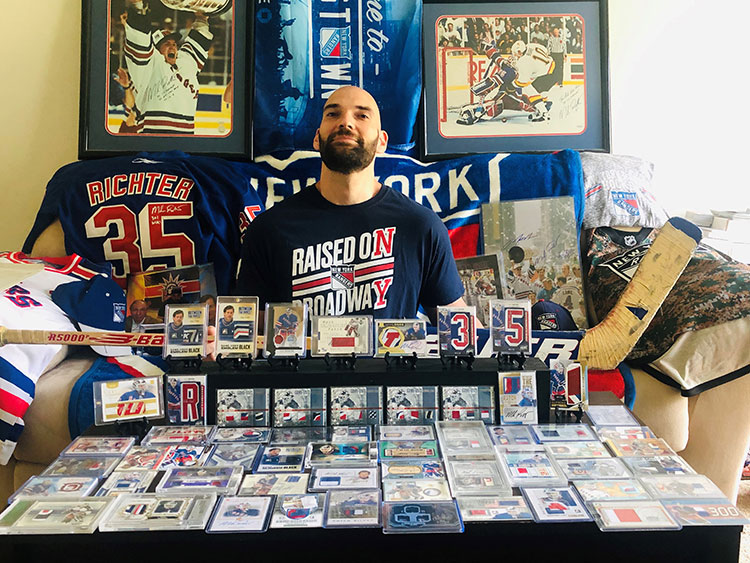 Meet Joseph:
"Hey, my name is Joe. I'm 35-years old and I live in Old Bridge, New Jersey. I currently work in sales. I'm a Rangers season ticket holder, section 224 WHOOP WHOOP! I've been a diehard Rangers fan since 1991."
Getting Started:
"I started collecting hockey cards in 1991. I had just moved to New Jersey from New York and I would always see these older neighborhood kids playing hockey outside, so I did what any kid would do…I went outside and asked if I could play. From then on, I was hooked on the sport. Once we became better friends and started spending more time together, I noticed they all traded cards when going to each other's houses. I immediately went home and asked my mom to take me to the store so I could get some hockey cards. My first purchase was a box of the timeless 1991-92 Pro Set Platinum."

The Collection:
"Although I collect memorabilia and cards from all sports, the stuff that means the most to me is my Mike Richter collection. I collect Richter-signed memorabilia, game-used items, and cards. My card collection is mainly focused around multi-colored patches, swatches, and stick pieces. When it comes to memorabilia, I tend to focus on fun inscriptions. It's one thing to have an autograph, but inscriptions can take a collection to a whole new level. Some of my favorites that I own are '94 SC Champs, The Puck Stops Here, 301 Wins, and 94 All-Star MVP.' I also have a game-used goalie stick that is accompanied by letters from the Rangers and MeiGray Group, but that is not the coolest part. The stick is also photo-matched to an actual hockey card – the 2002-03 Between the Pipes Goalie Nightmares card featuring Richter and Jarome Iginla."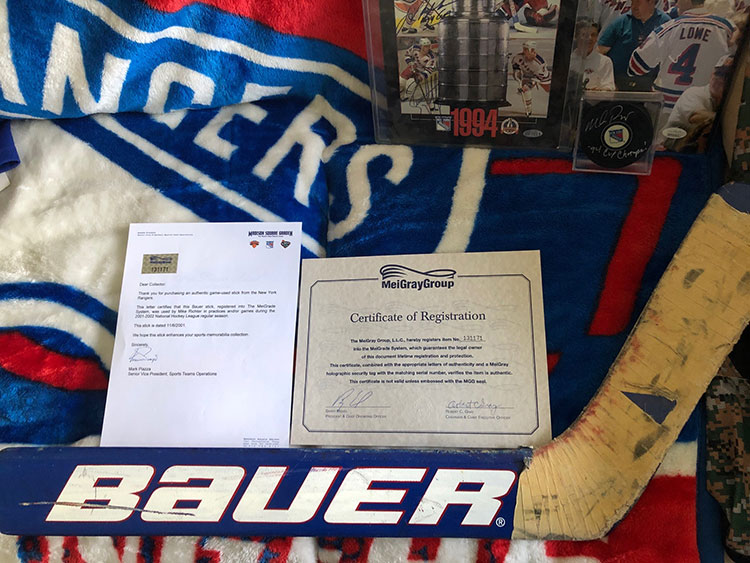 Why Richter?:
"He was my favorite player on the Rangers while I was growing up. Hearing Sam Rosen's 'SAVE BY RICHTER!' calls and John Davidson's 'OOooOOOhh-HHH Baby, what a save!' used to give me the chills as a kid. While Mark Messier, Brian Leetch, and Adam Graves were lighting up the scoreboards, Richter was literally saving games. His quickness and agility were awe inspiring. To me, everything he did was highlight-reel quality. I mean, think about this: His penalty shot stop on Pavel Bure in the 1994 Stanley Cup Final is known 'The Save.' When a goalie has a widely known highlight called 'The Save,' you know they are something special. Even now, 25 years later, if something is falling and I catch it, I will yell 'SAVED BY RICHTER!' Those memories, coupled with him leading Team USA to the 1996 World Cup championship while be-ing named MVP, made Richter my easy choice for a PC."
Favorite Cards:
"My all-time favorite set is the 2006-07 Between the Pipes Game-Used Triple Patch cards. ITG used patches from jerseys worn by Richter with the Rangers, Team USA and in the 2000 NHL All-Star Game. I think the set is so clean and absolutely gorgeous!
"Some of my other favorites are the 2010-11 Between the Pipes Game-Used Emblem, 2016-17 Artifacts Game-Used Patch/Tag, 2013-14 The Cup Limited Logos, 2013-14 Dominion Stickside Signatures, and 2013-14 Panini Prime Numbersakes. But my all-time favorite, and the cornerstone of my collection, is the 2001-02 Mask Collection Signature Patch."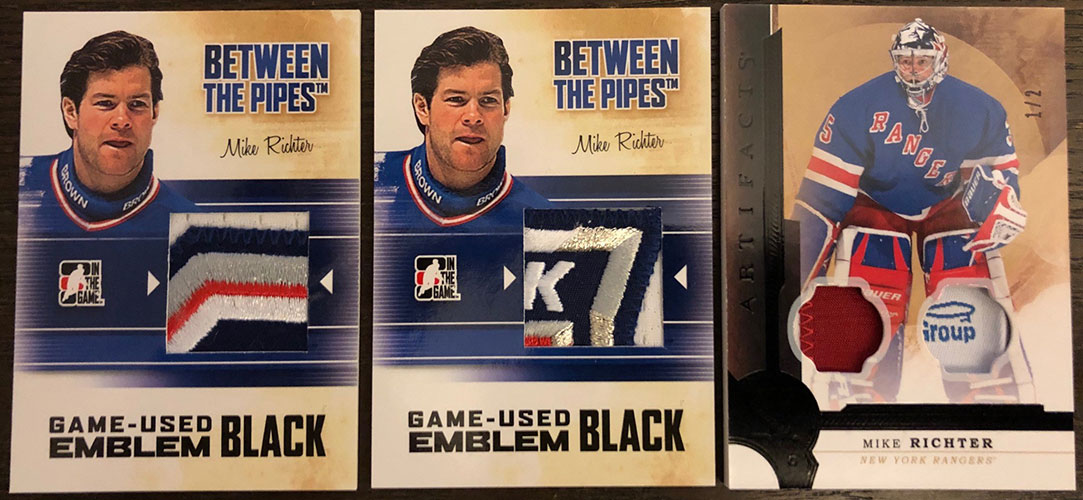 Challenges of Collecting Richter:
"When I first started collecting Richter around 15 years ago, his stuff was fairly easy to come by and there wasn't much competition for his cards. I wish I could say the same today. There has definitely been an increase in interest. There are a handful of collectors that beat me out on some key pieces, but that's what keeps the drive fresh and exciting. I can only guess that with Henrik Lundqvist on his last legs, the push to collect a Stanley Cup-winning Rangers goalie that was watched by my generation leads to only one player, and that's Richter."
White Whale:
"It's the 2011-12 ITG Canada vs The World Complete Worldwide Jersey. It has four swatches (jersey, number, emblem, fight strap) with a Silver version /9 and a Gold 1/1. I have yet to come across either version."
Brush with Greatness:
"One of my favorite moments is the first time I met Richter back in 2011. He was doing a signing at this restaurant a few towns over called Park East. When it was my turn I walked up, shook his hand and said, 'Hey, would you mind writing 301 Wins for me?' One of the members of security standing next to him immediately yelled 'No inscriptions!' Richter just looked at him, rolled his eyes and hit my jersey with a beautiful silver '301 Wins' inscription. I was so happy! I thanked him like crazy and went behind the table for my photo … and this is where the coolest part happened. The photographer tried to snap a photo and realized his memory card was full. He said he had an extra in his car and ran out to get it. Because of that little twist of fate, I got to hang out with my hero and chat without being rushed. It was definitely the most memorable hobby-related moment of my life."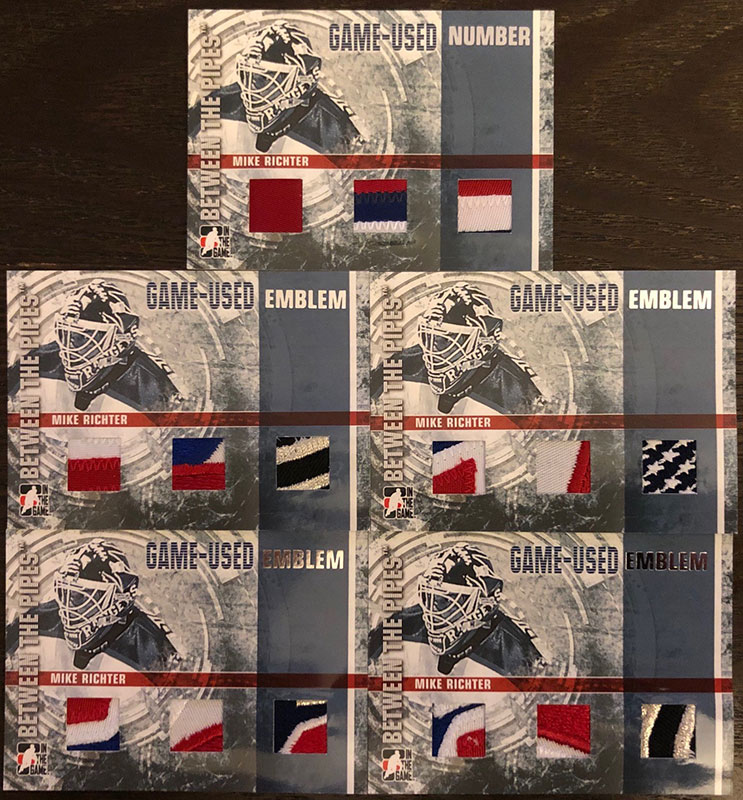 Connect with Joseph:
"I can be reached on Blowout Cards Forum as Wiseguy917 or via email at Josephc3594@gmail.com."