The Return of White Chocolate 'Graphs and Why They're So Sweet – Beckett Pricing Insider
Twenty years ago, Jason Williams was one of the most exciting young players in the NBA. Hailed as the second coming of Pete Maravich, Williams took the league by storm with his creative dribbling and flashy, no-look passes. He would go on to have a solid 13-year career playing with the Kings, Grizzlies, Heat and Magic. An NBA Champion with the Heat in 2005-06, Williams averaged 10.5 points, 5.9 assists and 1.2 over the course of his 788 game NBA career.
Thanks to his style of play, Williams amassed legions of fans in the hobby. Although he has 1,548 cards in the Beckett Basketball Online Price Guide, he appears on only 125 certified autograph cards, 53 of which have been released by Panini in the last three months.
2017-18 Panini National Treasures, which was released in early May, featured the first Jason Williams certified autograph cards in ten years. Since then, he's had certified autograph cards in 2017-18 Panini Dominion, 2017-18 Panini Essentials, 2017-18 Panini Encased and most recently, 2017-18 Panini Cornerstones.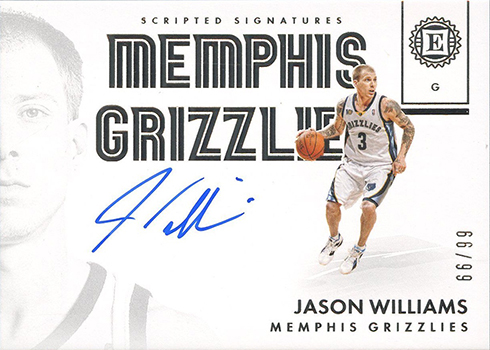 Every one of his 2017-18 certified autographs feature a serial number ranging from 1 to 99 copies each, with a combined print run of 1,555. So in the grand scheme of things, the number of different cards may sound like a decent number. But if you pool them all together, there really isn't a lot of quantity thus far with these new cards.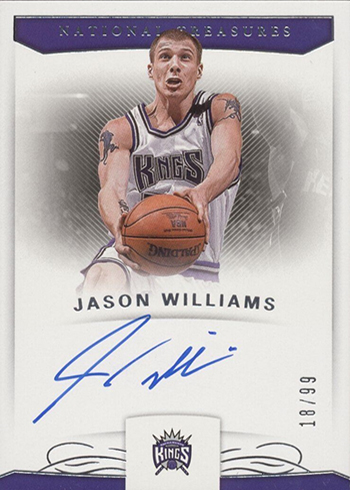 His 2017-18 Panini Encased Scripted Signatures and 2017-18 Panini National Treasures Signatures cards, both serial numbered to 99, have been strong sellers in the $30-$80 range. One collector reportedly paid $1,200 for his 2017-18 Panini National Treasures Hometown Heroes Autographs Platinum one-of-one.
As more of certified autograph cards hit the secondary market, it may be difficult to sustain these prices, but one thing is for certain – Jason Williams certified autograph cards are some of the most chased cards in the hobby right now.