The quotable Yogi Berra and a line of Topps tribute posters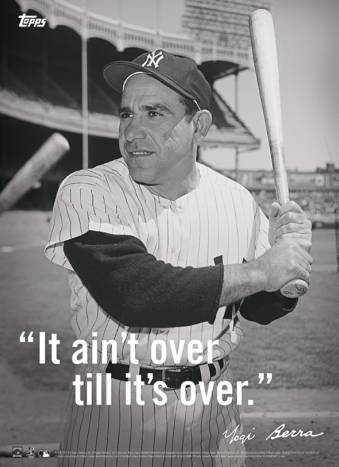 By Ryan Cracknell | Hobby Editor
Yogi Berra was one of the greatest catchers of all-time with a rich history of cards, both vintage and modern. He was a standout coach and manager as well. However, his many memorable quotes helped make him a household name even decades after his retirement.
2015 Topps Yogi Berra Famous Quotes pay tribute to the late Yankees legend and many of his most memorable Yogisms.
Available individually as posters and as a set of over-sized cards, they're produced as an exclusive for the Topps website.
2015 Topps Yogi Berra Famous Quotes capture a total of ten different sayings. Each is presented as a black-and-white photo from different parts of Berra's playing, coaching and managing careers. Images come from the Topps archives. In addition to the saying, each also has a facsimile of Berra's signature.
Posters are sold on their own. They measure 10 x 14. Basic versions, which are hand-numbered to 99 copies each, cost $29.99 each. Gold posters are limited to eight copies each and run $88.88 each.
Complete sets of ten 5 x 7 cards are also available. The black-and-white set (/99) carries a price tag of $24.99 and the Gold set (/8) is $88.88.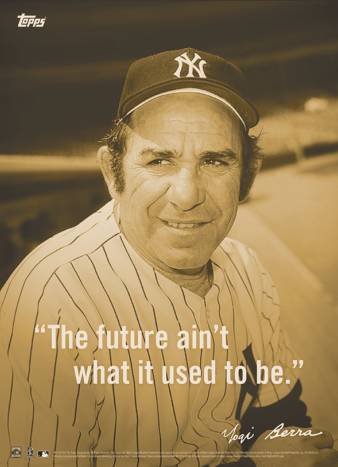 2015 Topps Yogi Berra Famous Quotes Checklist
1 It ain't over till it's over.
2 You can observe a lot just by watching
3 I usually take a two-hour nap from one to four.
4 A nickel ain't worth a dime any more.
5 When you come to a fork in the road, take it.
6 How can you think and hit at the same time?
7 The future ain't what it used to be.
8 Baseball is 90% mental and the other half is physical.
9 It's like Deja vu all over again.
10 Slump? I ain't in no slump…I just ain't hitting.