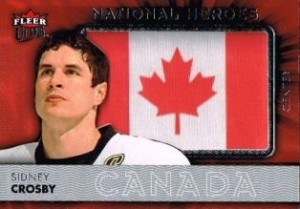 By Eric Norton
Do you hear that? It's the sound of excitement thundering down the corridor and onto the rink. It's the slashing of skates, the rattling of the glass, and the bonecrushing hits administered on open ice. It's slap shots, wristers, and one-timers. It's the cheers in the stands, the chatter in the box, and the horn when the home team scores. It's hockey, and it's back.
The puck dropped a week ago today and in that short time, NHL fans have seen no shortage of great names giving them a chance to stand and applaud. Thus far, it has been the usual suspects that the lights have shone brightest on. Sidney Crosby is no stranger to the spotlight and he is proving why yet again as this week, he has netted three goals and helped out on three others giving him a total six points. Crosby has also shown up early in Upper Deck releases this year as well, giving collectors no shortage of new cards to chase like this National Heroes insert featuring a satin flag piece from 2014-15 Fleer Ultra.
Another early surprise this season has been Rick Nash of the New York Rangers. Elated fans of the Rangers have seen him score in each of their four games this season. He has a total of six goals and seven points, putting him atop the leader board in the NHL in both categories. He also shows up strong in early releases this season, and has been featured on this very nice quad stick card from 2014-15 Artifacts that pairs him with netminder Henrik Lundqvist.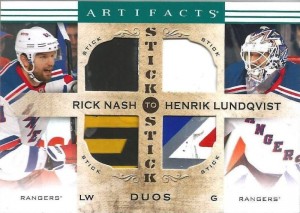 On the rookie front we have been surprised by names that perhaps weren't exactly on the radar. Instead of Jonathan Drouin, Johnny Gaudreau, or Evgeny Kuznetsov making headlines; it has been guys like Damon Serverson, Mirco Mueller, and Andre Burakovsky. While they are not yet available in this year's products, there is a pretty good chance that the rookie redemptions in both Ultra and Artifacts may yield some of those names. Of course 2014-15 Upper Deck Series 1 is due in card shop shelves on November 5. We'll find this season first installment of Young Guns, falling 1:4 packs, which should land the collector six per box. We're only a week into the season and hockey fans have already been given their fair share of thrills and there is no reason to believe it won't continue throughout the season.