Oklahoma Sooners are getting their own set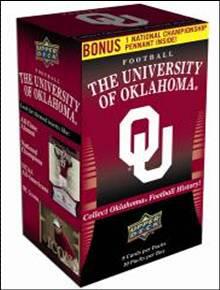 By Susan Lulgjuraj | Contributing Editor
Saturdays in the fall are special days for many people across the country. The players, the colors, the feeling you get when you're college football team is in a hunt for a national title.
Upper Deck seems to get the passion of college football fans and is releasing another school-dedicated product.
This time: The University of Oklahoma Sooners.
As you can imagine, the set will be filled with recent stars such as quarterback Sam Bradford and running back Adrian Peterson. But UD is also digging into the steep history of the Sooners by including running back Steve Owens and defensive lineman Lee Roy Selmon, who died on Sept. 4.
The 100-card set will feature 80 regular cards and 20 monumental moments. The inserts include All-Time Alumni Autographs (in dual and triple form as well), National Champions Autographs, NCAA All-American Autographs and Icons.
Every 24-pack hobby box should contain an autograph. In addition, retail blaster boxes will have exclusive replica championship pennant banners (1950, '55, '56, '74, '75, '85, 2000).
The scheduled release date is Nov. 8.
Susan Lulgjuraj is a contributing editor for Beckett Media. You can email Susan here. Follow her on Twitter here.