The "No Autograph" Returns in 2016 Panini Contenders Football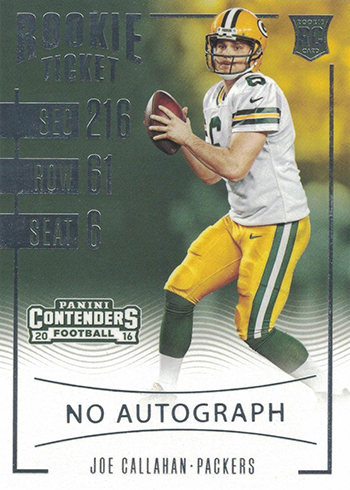 By Ryan Cracknell | Hobby Editor
More that 125 players have Rookie Ticket Autographs in 2016 Panini Contenders Football. Two simply have Rookie Tickets with a big note saying there's, "No Autograph."
Green Bay's Joe Callahan (#274) and Tommylee Lewis (#294) of the New Orleans Saints both have some of their first football cards in 2016 Contenders. However, neither signed their cards. Likely to prevent confusion as to why all the other Rookie Tickets have autographs and these don't, a large foil stamp noting the lack of ink was added to both cards. Rather than opting for a less-intrusive note on the card back, the stamp was added to the intended signing area. This should prevent after-market autographs being added as well.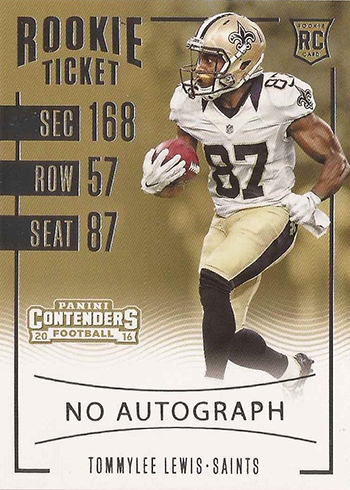 In addition to the base versions, parallels also have the No Autograph note.
Panini has said whether the cards are short prints yet. Based on what's surfacing on eBay, if they are they don't look to be extremely tough pulls compared to some other players.
While other players in the product have redemptions, it's possible Panini doesn't have an autograph deal in place for either or they didn't feel they'd be returned in a timely manner.
Panini, and Playoff before them, have used the No Autograph stamp several times in the past including 2015 Contenders Football with Jarryd Hayne. However, usually the No Autographs were issued after redemptions were issued and it was determined they couldn't be fulfilled.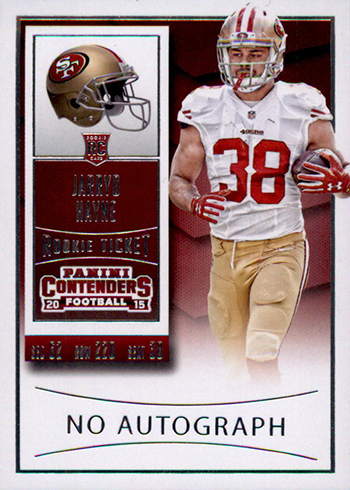 Callahan is already on his second stint with the Packers. The undrafted quarterback has also been signed and waived or released by the new Orleans Saints and Cleveland Browns in 2016.
The Saints signed Lewis, a wide receiver, to a deal after he went undrafted.
2016 Panini Contenders marks the second football card appearance for both. They're also in the Target-exclusive 2016 Rookies and Stars.
Comments? Questions? Contact Ryan Cracknell on Twitter @tradercracks.