The NHL All-Star Game has a strong cardboard history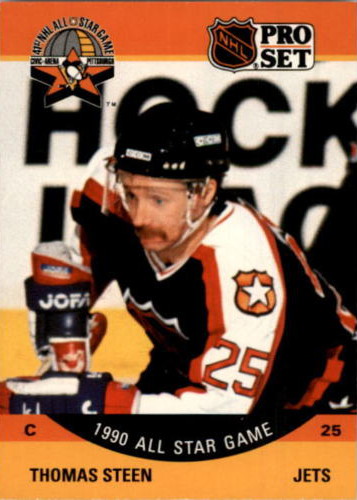 By Stephen Laroche | Beckett Hockey Editor
For 25 years, hockey collectors have been able to experience the excitement of the NHL All-Star Game at home with their cards and as strange as it seems, it started with one of the most-maligned sets of all-time, 1990-91 Pro Set Hockey.
During the Parkhurst, Topps, and O-Pee-Chee era that lasted nearly 40 years, the NHL All-Star Game was an afterthought to trading card manufacturers. While there was occasionally recognition for players who made the First or Second All-Star Team at the end of a season, the game itself was never commemorated on cardboard until the hobby boomed. With each card maker looking for an edge to draw in collectors, Pro Set was able to get photography of all 40 players that appeared at the 1990 NHL All-Star Game, which was held in Pittsburgh.
Since Pro Set rushed their debut release to market, there were a few regrettable errors made along the way. In addition to a couple of factual errors that were never corrected, the Jari Kurri card was updated to reflect his signing with the Milan Devils and the spelling of Shayne Corson's name was fixed. The biggest error of them all, though, was not rectified as Doug Smail's photo is on the Thomas Steen card. Steen did not appear due to injury, so Smail was a last-minute replacement and Pro Set declined to confirm this fact when producing their cards.
Later in the 1990-91 season, Upper Deck added some star power to packs of their high series cards and paid tribute to the 1991 NHL All-Star Game that took place at Chicago Stadium. For the first time, there were also cards created for winners of various events at the Skills Competition. That same contest was covered in 1991-92 Pro Set Series One Hockey, but the Upper Deck took it to a new level in January, 1992 with the release of the first McDonald's hockey card set. Featuring 24 top talents and a checklist, it also boasted a hologram sticker in each pack.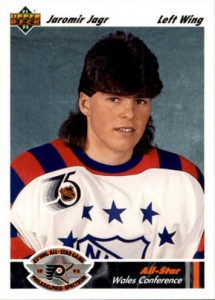 The 1992 NHL All-Star Game took place in Philadelphia and to coincide with the league's 75th anniversary, the teams wore throwback jerseys in the style worn during the earliest All-Star Games. Upper Deck primarily covered the contest once again in their high series once again with a Jaromir Jagr card featuring the then-20-year-old's epic mullet. The McDonald's set returned for another year with the All-Star theme and a 28-card collection, but the checklist card was short printed and the holograms were now cards that were also tougher to pull. Topps also finally made the plunge into All-Star cards with its 1992-93 Bowman Hockey product and the players were depicted on the one-per-pack gold foil inserts. At the time, it was claimed that certain cards were short printed and the hobby was hot for them then.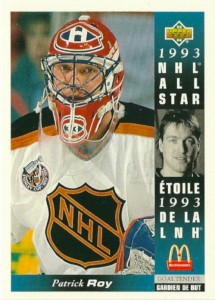 Moving forward, the contest's presence on hockey cards slowly started to decline. The 1993 NHL All-Star Game was the first to see a clash between the Eastern Conference and Western Conference and the players were paired up on dual-sided inserts in 1993-94 Topps Stadium Club Series One Hockey packs. Pinnacle also jumped in with one of 45 glossy inserts in each pack of 1993-94 Score Hockey and collectors could send away for five additional exclusive cards which can be tough to find today. McDonald's delivered their third, and last, All-Star themed set and it was quite similar to the previous edition. Additionally, there were oversized cards of Patrick Roy made along with a tough-to-find autograph from Doug Gilmour.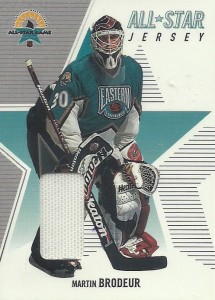 All-Star Game photography would turn up sporadically on cards in the years that followed, especially in 1994-95 Topps Stadium Club Members Only and 1996-97 Pinnacle Be A Player. By 1998-99, though, a revolution was afoot and In The Game began to include pieces of jerseys worn in the game as inserts to chase. This trend continued throughout the time the company produced NHL-licensed cards and reached a fever pitch with the release of 2002-03 Be A Player All-Star Edition which depicted active players in the game plus had a bobblehead in every box. Even after In The Game lost its NHL and NHLPA license, it still regularly used All-Star Game jersey pieces and patches in its products.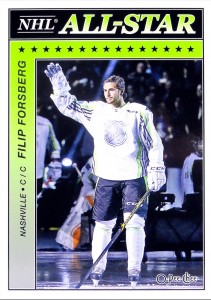 In recent years, Upper Deck has made an effort to utilize pieces of All-Star Game material. This is particularly evident in SP Game Used, which is big on using pieces from historical NHL games, and there have been significant jerseys cut for cards of Wayne Gretzky and Jean Beliveau along with today's top names. Packs of 2014-15 Upper Deck Black Diamond Hockey also had quad diamond subset cards showing legendary players at the All-Star Game. In 2015-16 O-Pee-Chee Hockey, there is a glossy insert set featuring last year's roster.
While the history of the NHL All-Star Game on cardboard is somewhat recent when compared to how long the event has been around, it has a strong cardboard legacy which should continue for years to come.
Stephen Laroche is the editor of Beckett Hockey, Beckett Basketball, and Beckett Sports Card Monthly magazines. Have a comment, question or idea? Send an e-mail to him at slaroche@beckett.com or follow him on Twitter @Stephen_Laroche.