The National can be overwhelming to first-timers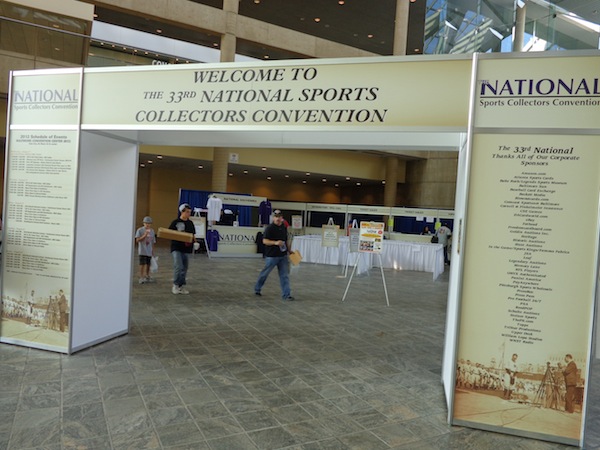 By Ben Aguirre | Contributing Writer | Commentary
BALTIMORE — Where do I start?
No, seriously. Where do I start?
That's the question I asked myself Thursday when I walked into the Baltimore Convention Center for my first day of the 33rd National Sports Collectors Convention.
I walked through the door, saw one booth and then another, and then a dozen more. And the room kept going like this several times over like some sort of funny carnival mirror.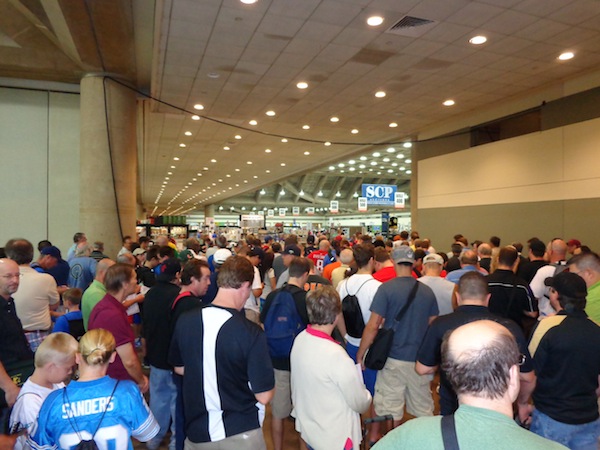 It was surreal to know that I was at The National, an event I had only read about. And for a person like me, who is currently celebrating my 25th year as a collector, this was a pretty big deal. The physical size of the show seems to be almost 10 times the TRISTAR show held annually in my neck of the woods, the San Francisco Bay Area.
And no matter how much I told myself to just dive in somewhere and start shopping, it was impossible – there was too much good stuff to see all at once. I was in awe.
That overwhelming feeling eventually subsided – even with the lack of sleep on the night prior. I actually worked a 10-hour day on Wednesday, went home, packed my bags, then hit the airport for a red-eye flight from San Francisco to Baltimore in a crammed airplane. Bottom line … I was exhausted before I even stepped foot on the showroom floor.
And while I wound up making some smaller purchases – ones that will be showcased on Beckett.com later this weekend — I was not ready to make any major purchases on Thursday. I decided instead to spend the majority of the first day merely soaking in the atmosphere and trying to determine if my eyes were playing tricks on me.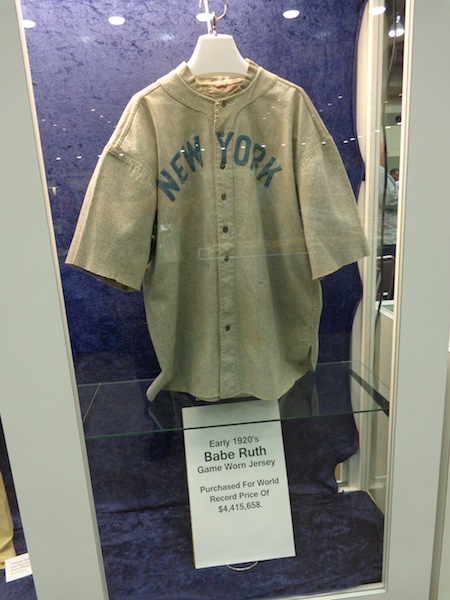 Did I really just walk past four 1952 Topps Mickey Mantle cards all graded by PSA?
Was that really a game-used Babe Ruth bat? And his jersey?
Heck, did I see Babe Ruth?
Did a certain auction house really have Muhammad Ali's boxing trunks from the infamous "Thrilla In Manila."
It was items like these that really had me in full-on museum visitor mode, which really goes against my basic rules for attending card and memorabilia shows. But, this is The National. This is not the run-of-the-mill stuff you see elsewhere. Besides, I knew I was going to be here for the remainder of the weekend; I'd have time to play later. My only real rule for this weekend was to not have any hard-and-fast rules.
Aside from the game-used and sports memorabilia, which in and of itself should draw collectors to the show, seeing the interaction at the show between dealers and sellers, dealers and dealers and card companies and their consumers was interesting. Hat tip to Topps for having a two-hour question and answer forum in which they listened to collectors complain, praise and prod for answers.
It was neat to see the network of relationships I had heard about, the types that really laid the foundation upon which "The National" as we know it was constructed, really do exist.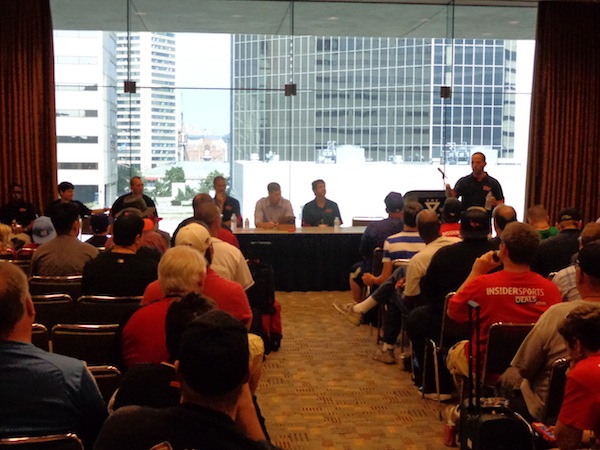 It was clear to me that the hobby is not dying. And it sure as heck wasn't already dead as some elsewhere would have us believe.
I saw husbands and wives talking shop; fathers buying cards with their sons; and teenagers and grown 50-something-year-old men talking about a common interest – sports memorabilia and cards.
And while the country may still me mired in an economic slump, the cash is flowing freely here. You should hear some of the numbers being thrown around for certain items, show-stopper pieces – cards and memorabilia – that would easily become the iconic item of that persons collection.
Speaking of collections, how could I forget the now infamous "Black Swamp Find" cards that went up for auction and on showcase to collectors. I like to indulge in vintage cards from the same era as those exemplary copies in the thick showcase, only mine are definitely on the low-end of the grading spectrum.
With that said, I'm looking forward to Day 2 as I should be a little more rested and not overwhelmed by the sheer volume. I should be able to get back to my roots and find some thrifty treasures.
Ben Aguirre is a Contributing Writer for Beckett Media and author of the blog Cardboardicons. You can follow him on Twitter.