The Martians are coming: Mars Attacks returns for 50th anniversary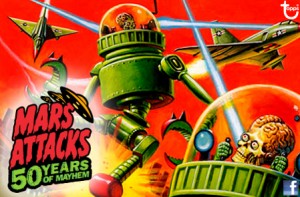 By Susan Lulgjuraj | Contributing Editor
Remember when the Martians invaded Earth? With their huge heads and ginormous eyes encased in a glass helmet? Fans of the Mars Attacks series remember it all too well. But it's been 50 years since the Topps science fiction trading card set came out.
Mars Attacks spawned dozens of merchandising options from comics to re-issued sets to toys. The series was so interesting and obscure, film director Tim Burton adapted the storyline into a movie in 1996.
It's time again to remember when the Martians attacked. In conjunction with the 50-year anniversary Topps is releasing a commemorative set.
Mars Attacks won't be out until at least July, but the company is putting together a conclusive set for its fans. Topps will reprint the original 55 cards and adding another 25 previously unseen cards. In addition, 10 cards will be painted by Jason Edmiston and are based on the storyboard sketches by the guys who brought Mars Attacks to us first, Wally Wood and Bob Powell.
With the cards, there are also comics in the works. And because comics give us more options, 15 cards in the Mars Attacks set will feature artist John McCrea's work, the illustrator of the upcoming comics.
Topps will include limited editions cards: multi-colored parallels, 3D lenticulars and sketch cards from various artists.
Because of the uniqueness of the product and its popularity, Topps will use its Heritage-based process in the development process, trying to give them that old time feel of when the originals came out in 1962.
"The original Mars Attacks series enjoys the distinction of being the most sought after and valuable non-sport trading card set of all time," Topps Licensing Manager Adam Levine said in a press release. "Its legacy status has earned the new series Topps' full 'Heritage-style] treatment.  In order to preserve the product's retro sensibility, all cards will be printed on thick, old fashioned card stock. Similarly, the design treatments for the display box and wrapper mimic the now-classic 1962 packaging."
This product certainly seems to be popular with sports and non-sports fans. If social media is a gauge, the Mars Attacks' Facebook page has more than 52,000 followers, which you can find here.
Susan Lulgjuraj is a contributing editor for Beckett Media. You can email Susan here. Follow her on Twitter here.