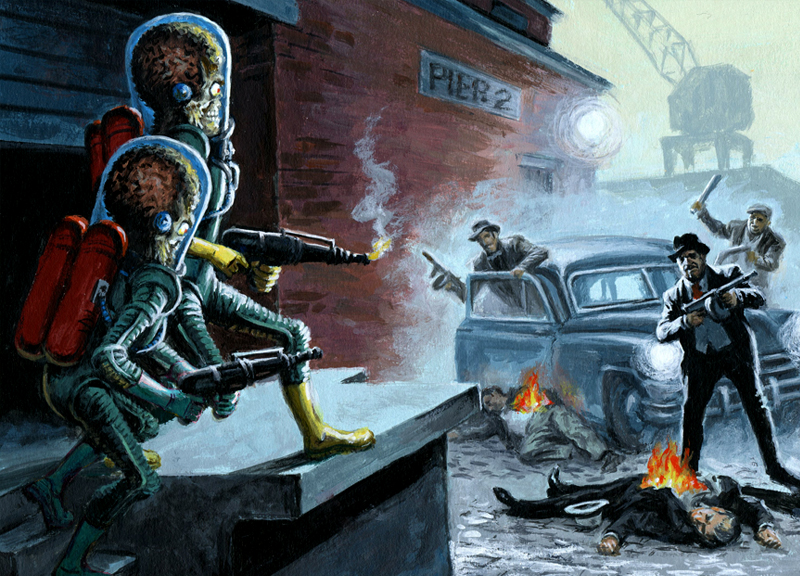 By Susan Lulgjuraj | Beckett Sports Card Monthly Editor
If the first story of the Martian invasion wasn't enough, fans of Mars Attacks should get ready for another.
Topps is producing a new set of trading cards Mars Attacks: Invasion, due out in October, the company announced on Monday.
This new set comes on the heels of the successful launch of last year's remake of the original Mars Attacks, celebrating the 50th anniversary of the iconic card set.
"Last year's Heritage re-issue was a smash hit with fans," said Topps' Adam Levine, who has overseen the recent resurgence of Mars Attacks, "and this brand-new series is what we've been building to. It will be a fresh re-imagining of the original series and will stay faithful to Mars Attacks pulpy, classic sci-fi roots. This means all-new, traditionally hand-painted cards illustrated by a group of artists carefully selected to carry forward creator Norm Saunders' legacy."
The 63-card story will be divided into themed subsets where different artists such as Earl Norem, Joe Jusko, Ed Repka, Glen Orbik and Gregory Staples will depict the harrowing tale.
While Topps hasn't given specific details of the set, it did announce collectors would get a chance to find original cards from 1962 set inserted randomly into packs.
Stay tuned to Beckett.com as more information becomes available on Mars Attacks: Invasion.
Susan Lulgjuraj is an editor of Beckett Sports Card Monthly. You can email her here with questions, comments or ideas. Follow her on Twitter here. Follow Beckett Media on Facebook and Twitter.