5 Awesome Mariano Rivera Cards to Chase
Mariano Rivera is the greatest closer ever and is certain be a first-ballot Hall of Famer when the results are announced in late January. Collectors have valued Mariano Rivera cards for a long time and that will likely continue once his HOF status is official.
Many of his cards are already selling for the highest prices. And while there are no guarantees these prices will continue to rise, their popularity and place in the hobby will endure. Here are some of the top Mariano Rivera cards to chase.
Top Mariano Rivera Cards
1996 Leaf Signature Mariano Rivera Autograph
1996 Leaf Signature is the first MLB set to guarantee an autograph in every pack. Before this, many certified autographs were minor league cards or extremely tough pulls like the 1990 Upper Deck Reggie Jackson. The 1996 Leaf Signature Mariano Rivera autograph is important for a couple of reasons. First, it's his first certified autograph card. Second, they're his only autograph cards from his rookie season. Available in Series 1 packs, it has three different versions: Bronze (3,500 copies), Silver (1,000 copies) and Gold (500 copies. Each is noted by the medallion on the front.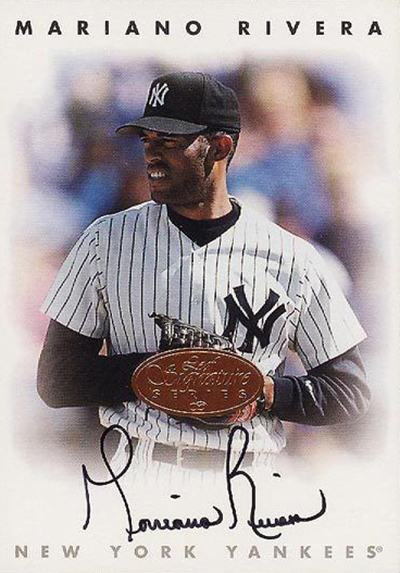 Pricing trends for  Bronze version have increased in the lead up to his probable Hall of Fame announcement.  A BGS 9 closed at $200 on eBay auction in early December. A PSA 9 also sold for $206. PSA 10s have been in the $700-$800 range in the same timeframe. While not a direct comparison, in the early fall you could have bought the card ungraded in the $60-$100 range.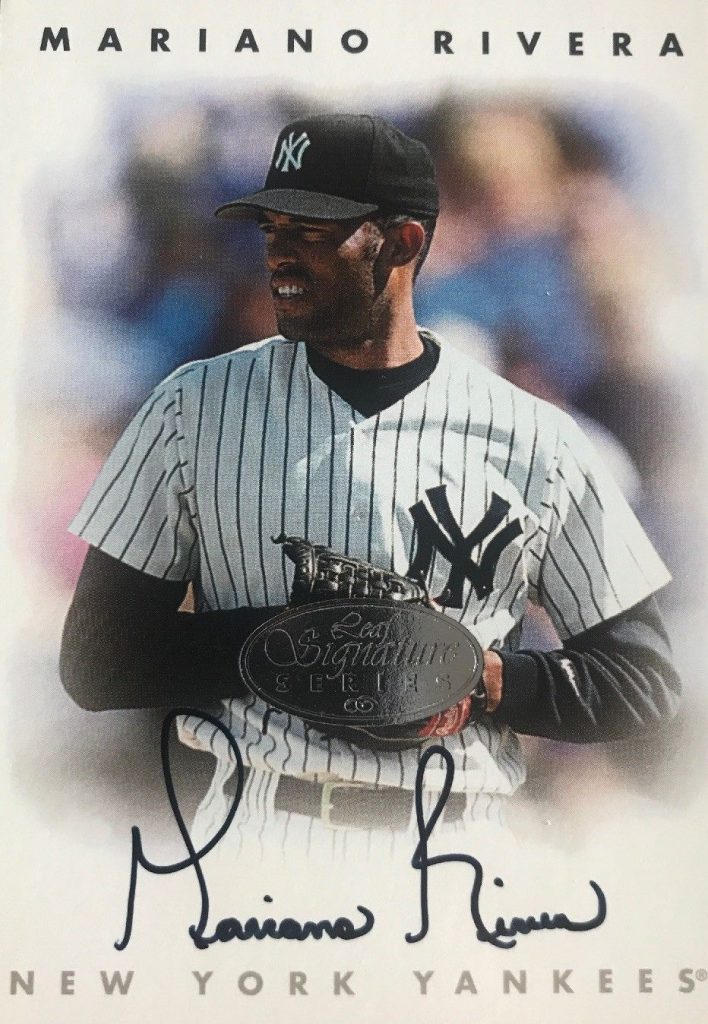 Silver versions usually doesn't sell for much more than the Bronze despite being more than three times as rare. The most recent eBay sale on a Silver version is $130. The Gold version, however, is a lot tougher to find. Its most recent sale, a BGS 8.5/10, was for around $400.
1998 Donruss Signatures Mariano Rivera Autographs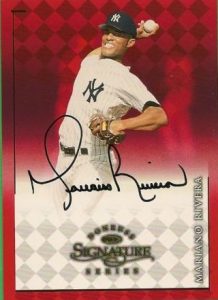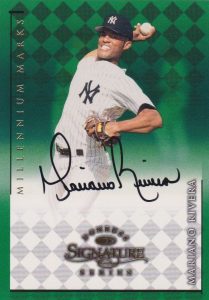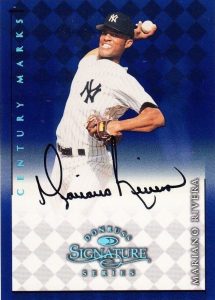 This card is another rare Mariano Rivera autograph card. Like 1996 Leaf Signature, the card has three different color variations. Although instead of the medallion, the versions are more easily spotted due to the border and background colors.
Red is the most common with a print run of 1,000. The red Millennium Marks is a little tougher with 900 copies. Finally, there's the blue Century Marks that is extremely rare with a production run of just 100. One of the blue versions recently sold on eBay for $600. The red and green versions are much more affordable, having recently sold in the $85 range.
All Mariano Rivera autographs are good pickups. However, these early ones from the late '90s have the added bonus of being among the first the pitcher signed and coming from hobby-favorite releases.
1990 Tampa Yankees Diamond Mariano Rivera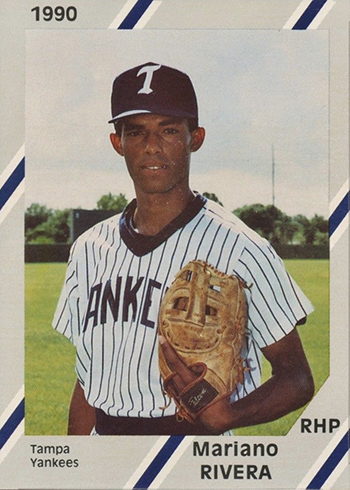 This rare minor league issue is actually the very first Mariano Rivera card. Rivera was signed by the Yankees that same year as an amateur free agent for just for $3,000.
The card was only available through a sealed Tampa Yankees team set. This card has become one of Rivera's most sought after cards and many casual collectors still might not even know about this card.
The card has reached its highest prices within the last couple of months, including a BGS 9.5 selling for $600 and a PSA 10 selling for $1,175. Ungraded examples or grades in the 8 or 8.5 range tend to sell for around $250-$350.
The scarcity of the card should make it worth the search.
1992 Bowman Mariano Rivera Rookie Card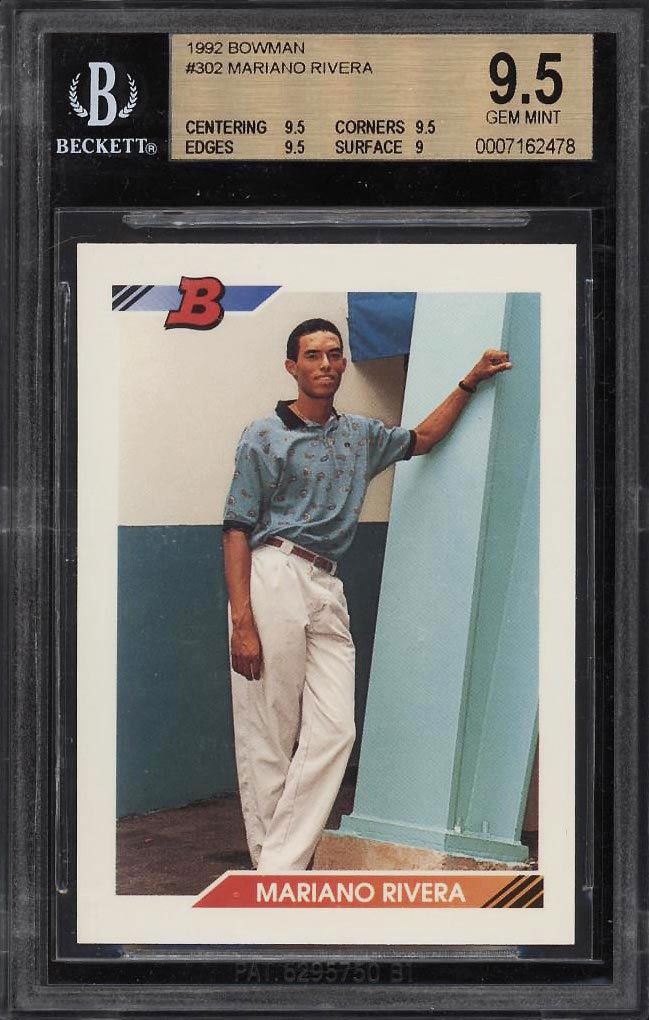 The 1992 Bowman Mariano Rivera is one of the most recognizable Rookie Cards from the early 1990s. The 1992 Bowman set features many future Hall of Fame players and this is among the most popular.
The card has doubled in price over the last couple of months. Ungraded examples were selling for $20-$25 just a few months ago. Now they're reaching as high as $45-$50 online.
A BGS 9.5 recently sold for $200 when just a few months ago they were selling for around $150. PSA 9s are also selling for the highest ever, typically in the $80-$120 range.
His only Rookie Cards, the 1992 Bowman Mariano Rivera will always be one of his most popular cards.
1992 Bowman Mariano Rivera Rookie Autographs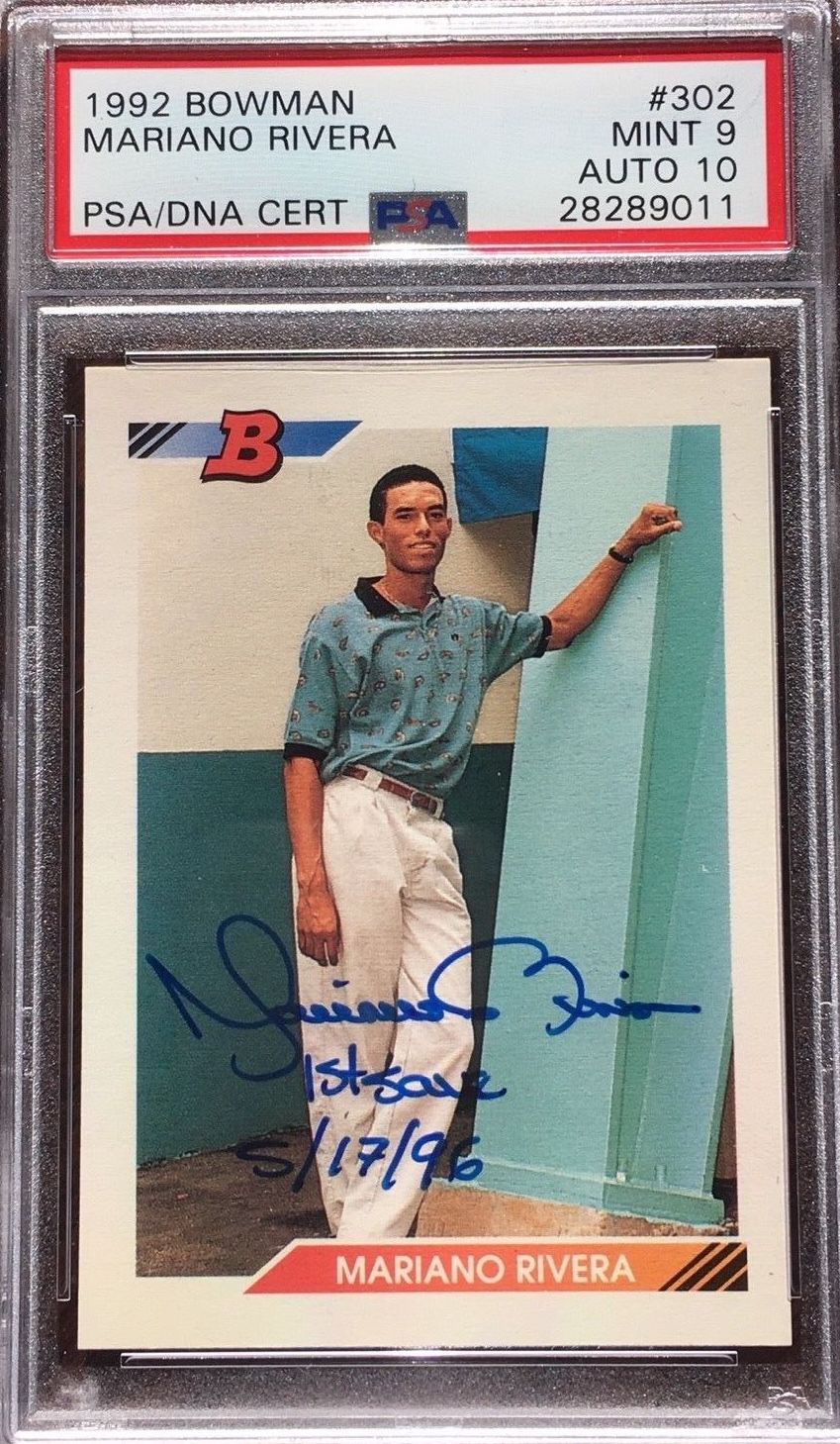 Certified and slabbed 1992 Bowman Mariano Rivera autographs Rookie Cards have seen tremendous growth over the last few years. The card came out at a time when signatures were still scarce on cards. So these have all gotten their autographs after the fact.
But that isn't stopping authenticated copies from fetching $250 to $600 within the past couple of months. Understandably, examples with inscriptions add even more value. A couple to look for include "Last to Wear 42" and "Enter Sandman."
One thing that's important to note here is that there's no stopping Rivera from signing more copies of this card as it's an aftermarket addition. His signing fee isn't cheap, but over time, it's possible there could be noticeably more on the market.
Rivera will be getting the call on January 22, 2019 to be enshrined in the National Baseball Hall of Fame. The only mystery is whether he will receive the highest voting Hall of Fame percentage ever and break Ken Griffey Jr.'s record of 99.32 percent.