The Last Dance Collection: Toni Kukoc
Part 3 – Toni Kukoc
The best way to describe Tony Kukoc is clutch. He wasn't the greatest defender, but he didn't have to be. What he did bring to the table was a great passing ability and the versatility to play multiple positions.  He could run up and down the court and wasn't afraid to take the big shot. All of that added up to a perfect role player in Jackson's Triangle Offense and the results were three NBA Champions.
Jerry Krause drafted Kukoc in the second round of the 1989 NBA Draft but Bulls fans didn't see him on the court until the '93-94 season. What they got in lieu of Kokoc in a Bulls jersey was a heavy dose of Krause's admiration for the Croatian born player. That led to some hard feelings from Jordan and Pippen in the 1992 Olympic games. Tired of hearing how good Kukoc could be they locked him down on defense and made him pay Krause's debt. When it was all said and done, the Dream Team topped Croatia by 33 points. Kukoc appeared to be human.
When the '93-94 season came around Toni was 25 and NBA ready. During the '97-98 Bulls run to the title Kukoc averaged 13 points on 45% shooting. He grabbed four rebounds and added four assist a night as well helping the Bulls to 61 wins on the season.
Let's take a look at a few Toni Kukoc cards to add to your Last Dance collection.
1989 CAO Muflon Yugoslavian #32:
This is a tough set, as one might expect a Yugoslavian sticker set to be. The checklist almost reads like someone at CAO Muflon just wanted to see their favorite NBA players in a set. This Kukoc is the earliest card (sticker) in our database with his likeness and is a must-have for Kukoc collectors. Toni's Last Dance teammate, Michael Jordan, has a few cards in the set as well. The asking prices for those can get a little crazy sometimes.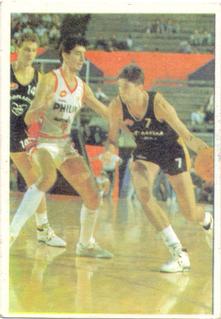 1993-94 Finest Refractors #14:
Though this card does not get the rookie designation in our database I will let you call it one if you want. '93-94 Finest Basketball is great for so many reasons and the advent of the Refractor is at the top of that list. In recent days, since the premiere of ESPN's The Last Dance, this card has seen a bit of an up-tick on the secondary market. All the more reason to grab one for your collection now before they are listed for just out of control prices. In fact, here's one from a Beckett Marketplace dealer.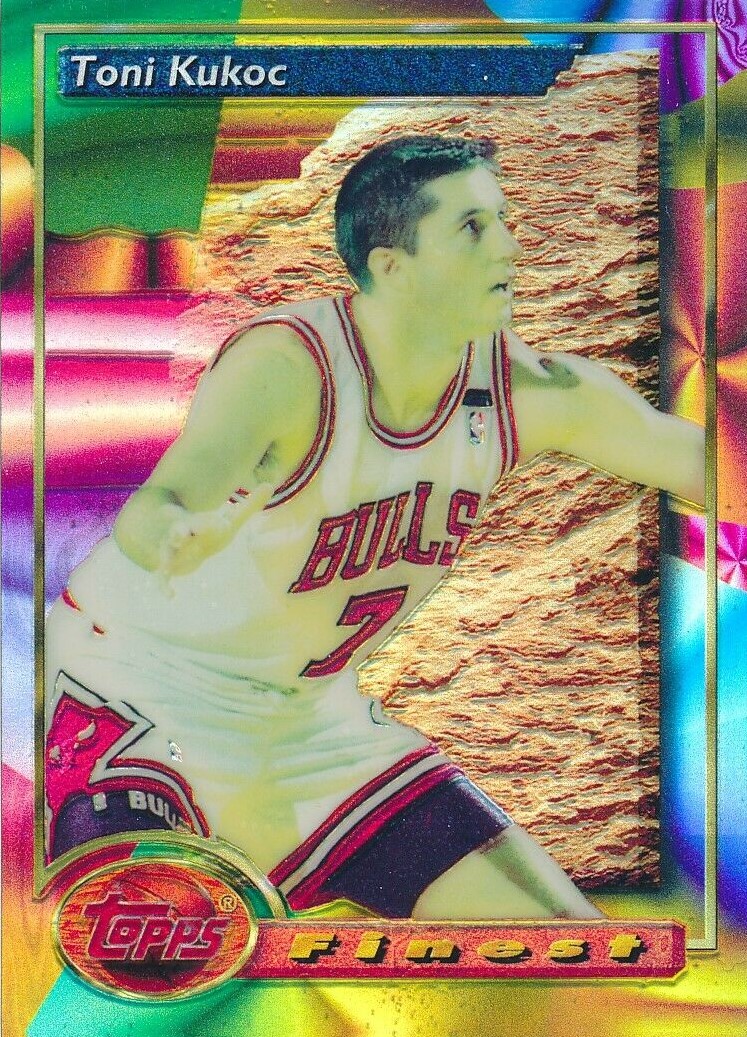 For the high-end collectors out there this card is a given if you can find it. It's not the lowest print of the parallels, but seeing as how it's only numbered to 10 it a tough pull just the same. The gold foil pairs well with the design of the card and the image of Kukoc is perfect. He looks poised and ready, which is what you will have to be should you decide to grab one of these when it hits the market.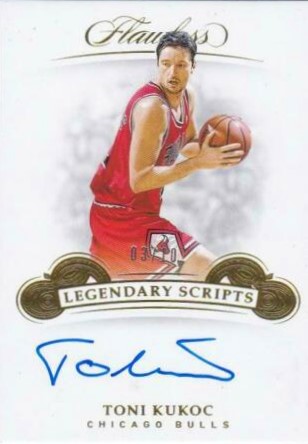 To see even more Toni Kukoc cards check out the Beckett Marketplace.