The Kings of Contenders Football – Beckett Pricing Insider
This edition of the Beckett Pricing Insider is brought to you by GTS Distribution. Watch Go GTS Live – The Hobby's Web Show, every Thursday at 9 PM EST.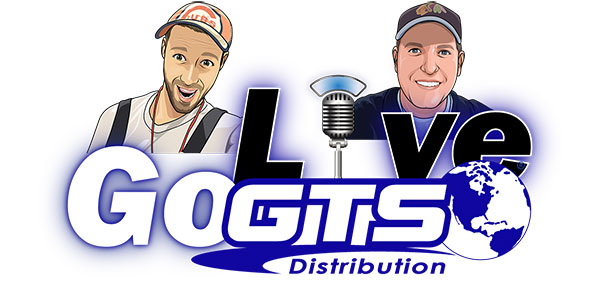 2018 Panini Contenders Football has been out for a little over a month now and the secondary market remains strong. There are currently almost 18,000 active sales and 26,000 sold items on eBay. No other football product released this year has come close to those numbers.
With boxes selling for $250, it is a pretty high price tag, but you do get five autographs. Traditionally, Contenders is one of the most anticipated releases of the year (aside from maybe National Treasures). 2018 Panini Contenders has been helped by a strong rookie class.
The best selling rookie this year is Baker Mayfield with his base autographs selling close to $800. Philip Lindsay is the surprise with a high book value of $300.
Parallels are where the numbers get even bigger. Top-selling Cracked Ice cards, which are numbered to 24, can sell for thousands.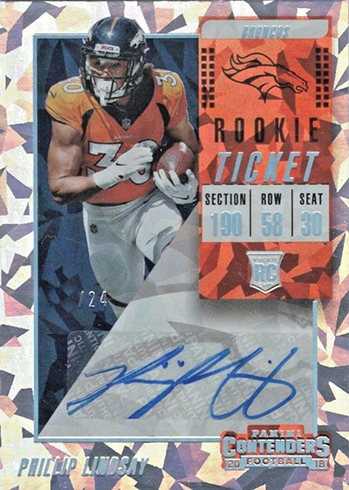 Every year, it seems that the top-selling Contenders Rookie Cards have the most appearances on the Beckett Hot List. Possibly the greatest autographed Rookie Card of all-time comes from 2000 Playoff Contenders — Tom Brady. A Mint BGS 9 copy of this card recently sold for $14,000 online.
Looking back on the history of the line, here are my personal five favorite Contenders Football rookie autographs.
5. 2012 Panini Contenders Russell Wilson
This card spent almost an entire season on the Beckett Hot List when the Seahawks made their Super Bowl run.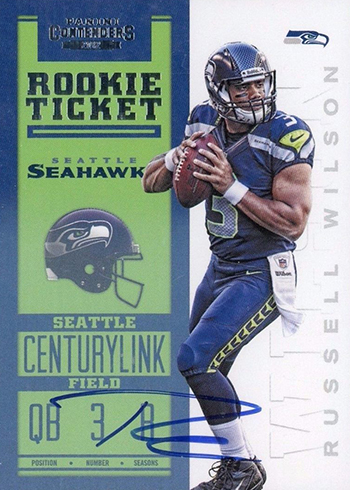 4. 2001 Playoff Contenders Drew Brees
This season saw the value of this card skyrocket in value as Brees continues to cement both his legacy and his name in the record books.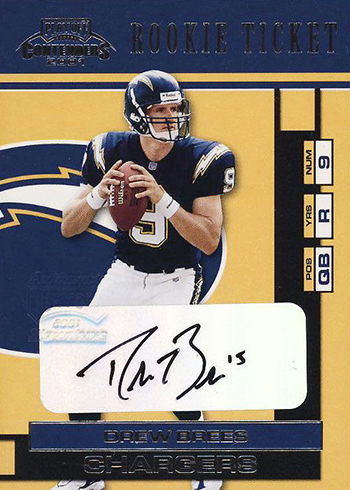 3. 2018 Panini Contenders Baker Mayfield
This is the hottest card so far this year for the 2018 class.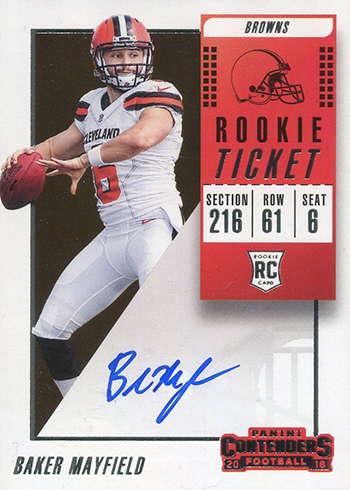 2. 2012 Panini Contenders Andrew Luck
2012 was one of the best rookie classes ever and this is the best card in the set, even without a Super Bowl.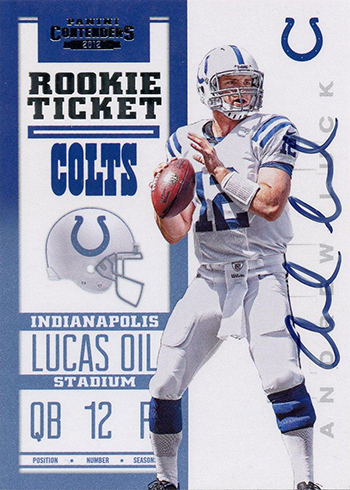 1. 2000 Playoff Contenders Tom Brady
This is quite possibly the most sought after and highly collected card of all-time. Enough said.