The inside story of how Upper Deck's e-Pack came to life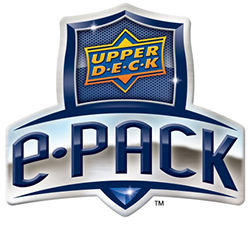 By Stephen Laroche | Beckett Hockey Editor
The recent announcement of, e-Pack, Upper Deck's foray into the world of digital trading cards created waves in the hobby as it will be the first company to offer collectors the opportunity to take their virtual cards and give them the opportunity to eventually hold them in their hands.
Upper Deck President Jason Masherah was present at the 2016 NHL All-Star Fan Fair in Nashville, Tennessee to present the company's latest initiative and discussed what motivated him to take trading cards to a new level.
"For me, the vision was to essentially bridge digital and physical," he said. "You can't replace a game-used jersey card. You can't replace an autograph card digitally. It just doesn't work and people always want those types of items, so the question was, how do you use the digital technology to make trading cards and trading card packs more accessible? The vision was if a consumer wants to be on a subway in New York and open a pack of cards, give them that ability. If you live in a town of 50 in northern Canada and you don't have a trading card store within miles and you want a pack right now, it gives you the opportunity to satisfy that need. That's really what this is about, getting packs of trading cards out to every possible consumer worldwide."
In order to get the e-Pack from concept to collectible, Upper Deck needed to partner up with individuals from companies that could ensure both fulfillment of the physical cards and also provide a secure method for collectors to make their online purchases. They found that in Tim Getsch of Check Out My Cards (COMC) and Jeff Mullen of Dynamics Inc.
"I think first and foremost, both of those guys understand the industry," said Masherah. "I can go out, especially on the dynamics side, I could source app makers or website builders or back-end transaction people, but they don't understand the industry. Quite frankly, having to bring a company up to speed like that, it's very difficult. Jeff's been involved in the hobby for a long time and having him involved has been a godsend. The other thing was, we worked on a trading platform with those guys several years ago. I really liked what they put together and the thought process, most importantly having secure transactions on the back end and knowing that they work with banks was a huge plus for us.
"On the COMC side, Tim, again another industry veteran, really understands the vision. When we sat down for the first time, he really understood where we were coming from and, honestly, having the ability to scan each individual card and to have all that data and to have somebody knows how to process that data, was invaluable. Those guys are both valuable people to have as a part of this."
Mullen, who is the founder and CEO of Dynamics Inc, expressed his excitement about working on E-Pack with Upper Deck.
"We're excited to have been asked to be a part of E-Pack. Being a collector myself, Upper Deck since 1989 has always been the leading brand from the perspective of quality and innovation," he said. "We started working with Upper Deck in 2012 on the Upper Deck e-Plate, which was a credit card where you had an online trading system. You could trade cards that you earned by spending with that credit card. You could trade with your friends and then you could redeem them for exclusive physical cards and physical packs.
"Based off of some of the initial response to that, we were approached by Upper Deck to start building the infrastructre. We do loyalty systems and payments, so when you make purchases with large retailers, those purchases may come through us. We do engagement systems and gamification systems. We're really big on social loyalty where you can earn rewards and share them with people. What we also have is PCI-compliant data centers that are very stable and that have multiple levels of redundancy and that has credit card-level security.
"Upper Deck approached us because they wanted a very secure platform to engage their consumers, provide game-type elements, and social trading elements. We had already worked with them on an initial system, so we were happy to partner with them. We have been working on this for a very long time. There has been a lot of energy by both companies put into this. Based off of today's launch, there is an entire road map and we are well into building the features and testing the features of that road map. We're very excited about today's launch and we're very excited to see how consumers react."
Getsch, who created COMC and serves as its CEO, discussed his company's role within the e-Pack partnership.
"As several people have mentioned, Upper Deck was the brainchild of the concept, but he (Masherah) saw right away that to pull this off, you need really good, consistent, and reliable fulfillment, and at COMC, that's our bread and butter. That's what we do on a scale that nobody's done before. At the moment, we have more than 12,000,000 cards that we have scanned the front and back of that are currently for sale. People have consigned more than 20,000,000 cards with us. We're used to handling lots of cards. People consign their items with us, we scan them, take their physical items and make them visual.
"We wanted to do this service and we were a natural fit. Jason, he did a great job with the concept, coming up with all the details of how they're going to deliver their product and we've got the infrastructure to actually pull it off."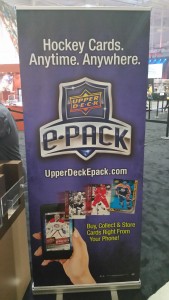 Masherah spoke to why e-Pack was so appealing to him.
"The ability to quench the desire of being able to open a pack anytime I want. To know know that it is safe. To know that it is coming directly from the manufacturer," he said. "Also, what's important to me is that I owned a card shop. It's important to me to preserve the card shop and keep traditional pieces of the hobby and I see other digital trading card apps that have no tie back to the hobby and the hobby shop. Here, we're still promoting the physical cards and the trade within the hobby, and we'll spend the next several months connecting with hobby shops and figure out how we'll work together to keep the hobby growing. That to me is very satisfying because as the only principal of a card company that owned a hobby shop, cards are important to us and that's been demonstrated through our brick and mortar program that we have that nobody else has. We look forward to spending the next few months to really connect with the hobby. That brings me a lot of satisfaction, because you can't do that with a digital-only product."
What was Masherah's reaction when he saw a functional version of e-Pack for the first time? He was very open about how pleased he was by the results.
"I was blown away. It was everything I wanted, and to see it live and to open that first pack digitally for the first time, it was an incredible feeling. I can only maybe compare it to the what the founders of Upper Deck did back in 1988 when they created the first card set."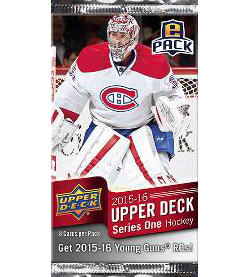 With the first e-Pack release being based on the popular 2015-16 Upper Deck Series One Hockey product which features the Young Guns rookie card of Connor McDavid, there is a direct connection with an established set. Going forward, expect Upper Deck to follow it up with the second series that will hit store shelves in a few weeks. The e-Pack cards can only be accessed online presently, but apps will soon be launched via Google and Apple with new features regularly being added.
"There will be more and more products that enter the system," he added. "We will see companion apps launched. You'll see trading launched and there's a whole list of other functionality that we look to add over time. Really, the problem has been narrowing it down to a handful of features to get it launched because there a so many different possibilities."
"We want people's feedback because we can develop whatever we want to develop," added Mullen. "We can add any feature we want to add. We look forward to the best feature on E-Pack being a feature that a new collector thinks of. We want everyone's feedback and you'll see us just constantly build new functionality and add new value to the consumer. We look forward to seeing how this evolves in the years to come.
"I believe that one of the strengths of a digital system like this is that you can create a strong community and very long social metrics. Trading is a very important feature because it's so social. When we do trading, you'll also see messaging, so that people can have conversations with one another. You really can't trade for something if you don't understand what people want. You need to understand what the preferences are, so when you see the features when this evolves, you'll see it becoming more social and more of a community, and as a result, you'll see more people being introduced and find more value.
"On e-Pack, you're constantly going to be discovering new things. It's a deep system. For example, some collectors may realize that when you buy the boxes or the cases, you don't have to open them up immediately. They stay in your account."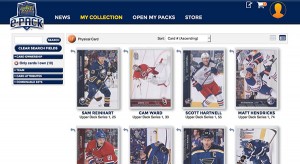 Getsch also added his thoughts about how his company is working with the others to help the hobby become more mainstream once again.
"The key for us, this is basically taking concepts that we've been developing, taking the physical and making them digital, and making it more mainstream. This is not just a fringe concept that COMC does things differently than others do. This is now a core piece in the birth of a trading card and we're very keen on helping people enjoy collecting with physical items in the digital world.
"Upper Deck is totally revolutionizing how that happens and for us to provide the fulfillment of that, it opens up so many new scenarios. Now, it's natural for someone to be able to open up a box in which you inherently get random cards and you can use COMC to put them up for sale. You don't have to wait. It's live and actually in our possession, so when somebody buys it, we can ship it out right away. We're able to change things to have a better pack opening experience. We're excited about being able to change the dynamics of how people enjoy the hobby. This is going to bring a lot of new people into the hobby that either left and are coming back now or people that have never been in the hobby but have seen digital cards before. They are familiar with digital ownership. It's an exciting time and can really change the way that people collect."
Several months ago, some collectors may have noticed that a green parallel version of base cards from 2015-16 Upper Deck MVP Hockey mysteriously surfaced on COMC and disappeared soon after.
"I guess that now the cat is out of the bag," said Getsch. "That was a test product that they gave to us to try some of our techniques and technology as we're ultimately preparing for this launch. That was just us testing out our systems. There was only a small window."
"It was basically the testing for the system at that time," added Masherah.
The system did get utilized with Upper Deck's successful promotion that was done with Canadian restaurant chain Tim Hortons. The autograph and memorabilia redemption cards were fulfilled via COMC.
"We actually didn't know which one was going to release first," noted Getsch. "We talked with them about doing redemption fulfillment because all manufacturers have this problem. They're in the business of building products large-scale and giving them to distributors to help get them to customers. When customers get redemption cards, manufacturers sending cards to the end distributor is not their bread and butter. They can never do it as efficiently as we do. We actually do more fulfillment of cards that all manufacturers combined by order of magnitude, so we're in the business of going directly to the consumer and it was a natural fit for Upper Deck to have us to do the fulfillment for this Tim Hortons product and you can piece things together and make sense for us to do more and more redemptions for them in addition to what we're doing for e-Pack as well."
With all of the work that went into getting E-Pack ready for consumers, is it possible to see future trading card releases that would be exclusive to COMC?
"That's a great question," said Masherah. "We're exploring all possibilities. Again, the biggest challenge right now is just to sort and prioritize all of the ideas. Especially now that it's launched, just in my email box today, I've got a ton of suggestions. A lot of good ones, including those from hobby stores, distributors, and consumers. There's a lot to get through, and quite frankly, just to get to this point has been a lot of work. I'm looking forward to the evolution of where we're going. It's just a matter of figuring out what we're going to do first."
How does Upper Deck e-Pack website work? Stay tuned to www.beckett.com/news for an interview with Upper Deck Content Manager Ben Swiderski.