The Importance of the 2020 Topps Series 2 Andrew McCutchen Variation
In case you haven't seen it, take a look at Andrew McCutchen's 2020 Topps Series 2 variation short print. And if you have seen it, you probably won't mind seeing it again.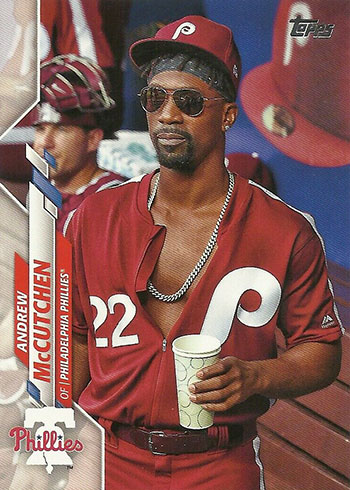 That is one cool card.
It's not fancy. It's not shiny. This card is fantastic because it's all about personality. Much more than the average batting or fielding card does.
Once McCutchen himself saw it, he liked it, too. In fact, he gave it even higher praise.
I must say this is my All Time Favorite card. https://t.co/PyCHXw52p3

— andrew mccutchen (@TheCUTCH22) June 26, 2020
Let's unpack this for a moment.
Dick Allen is one of the biggest personalities and coolest players in Phillies (and baseball) history. His appearance on the cover of Sports Illustrated in 1972, following his time in Philadelphia, offers a small dugout glimpse.
Allen sees the card as it makes the rounds on Twitter and gives his approval. McCutchen then lets all of his nearly one million followers that it's not only great, but his favorite. Ever.
Then ESPN posted the card for their more than 35 million followers to see.
.@TheCUTCH22 might have one of the best baseball cards of all time ?

(via @Topps) pic.twitter.com/j1MFXYCFuW

— ESPN (@espn) June 27, 2020
With that, a card that was less than $15 when the first few copies started showing up on Thursday has since soared with several copies topping $150 on eBay and some for over $200. Before ESPN mentioned it, several were already topping $75 or more.
It's not as common as a regular base card but it is part of the most common 2020 Topps Series 2 variations tier so it's not an extremely rare card.
Should prices be this high? Historically speaking from years of variations, no. Not even close. Will they sustain these highs? Probably not.
But that's not really the point here. Whether the card is selling for $200, $25 or $0.25, it's still fantastic and showcases who a player is. It gets people excited. Heck, it gets baseball players talking openly about it seeming without prompting on social media.
It shows that baseball cards can be cool. We might know this, but this is still a largely niche hobby. If an adult brings up trading cards, a line like "I used to do that when I was younger" is likely to come up at some point early in the conversation circle.
When a one of the game's biggest stars and a major media outlet draw attention to a baseball card, the reach goes far beyond the usual collecting crowd. It exposes cards to the used to do that when they were younger crowd or just knew about them from the periphery.
Usually, if sports cards go mainstream today it's because of a massive sale price. Here's, it's simply for a photo. The crazy prices since are simply a side story that has emerged. It's likely that many of the people placing these big bids and triggering the Buy It Nows aren't existing collectors. They probably don't really care what it should be going for or might drop down to in a few weeks or months from now. It's a card they wanted and they bought it.
I suspect that this is also very different from the Topps Project 2020 surges in May. While the series has done lots to reach beyond the usual hobby crowd, a lot of that appears to be driven by speculation. That can be seen in how the print runs shot up quickly then dropped just as fast. People were buying looking for an easy profit. When that didn't hold, they bailed. The base that remains may be smaller but it's more sustainable and probably healthier for it.
That's the place where the hobby should be aiming. Growing is important. But you want people to stick around. Over and over, speculation has shown that it's not sustainable.
Grabbing people's excitement and giving us a glimpse into  personalities — that's how fans are made. That's how you get collectors stick around.
I do think that the impact would been even greater if this was McCutchen's regular base card and more readily available than a variation, but that's another conversation.
Make cards fun. Make them cool. It's not easy as easy as it sounds. But it can happen. And when it does, you make fans.
That's why the 2020 Topps Series 2 Andrew McCutchen variation is important and has people talking.