The Hunt for Early Finn Balor Cards Spans the Globe
You're going to be hearing a lot about Finn Balor in the near future. He doesn't play baseball and he doesn't play basketball — at least not professionally. Balor is one of the most promising acts to hit WWE in some time. Although he's a "rookie" on the big stage with the company, Balor is a veteran of the ring having honed his craft for years all over the world. And while WWE Finn Balor cards are relatively easy to find, those from early in his career — where he wrestled under a different name — are much tougher.
Here's a look at some of the key cards out there right now as Balor kicks off his career on the WWE main stage.
Prince Devitt Cards
2007-08 BBM New Japan Pro Wrestling Prince Devitt #23
BBM has made some of the first cards of several athletes over the years, particularly when it comes to baseball. As WWE takes a more global approach, some of BBM's wrestling sets could be getting more attention in the near future. Case in point, 2007-08 BBM New Japan Pro Wrestling is heralded as having the first Finn Balor cards. Only, back then he was going by the name of Prince Devitt. Although not that old in the bigger picture, it's tough to find. The set was sold as a premium factory set with a total print run of 2,000.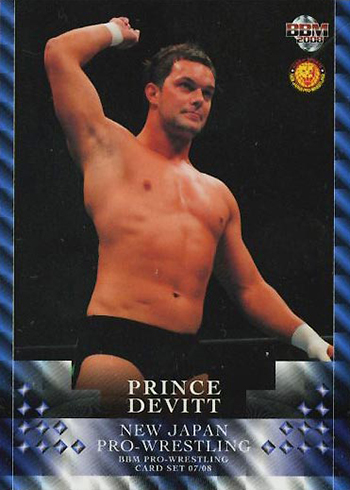 2007-08 BBM New Japan Pro Wrestling Autographs Prince Devitt
The premium nature of the set stems from the fact that each came with an autograph. Yes, there is a 2007-08 BBM NJPW Prince Devitt autograph. Good luck find one, though. It's limited to 60 copies.
Other BBM Prince Devitt Cards
BBM continued to include the man who would be Balor in their New Japan sets for the next couple of years. This includes both a base card and an autograph in both the 2008-09 BBM NJPW and 2011 BBM Legend of the Champions sets. The 2008-09 autograph has 82 copies while the Legend of the Champions has 90 copies.
Buy BBM Prince Devitt cards on eBay.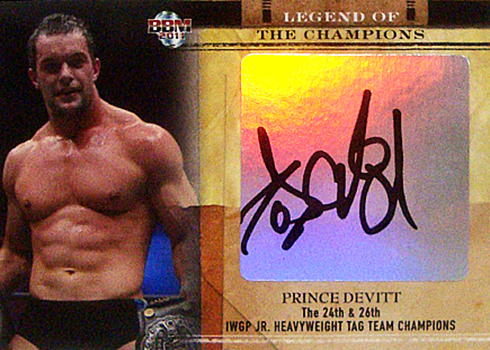 Finn Balor Cards
Once he reached WWE, the floodgates opened up for Finn Balor cards. Topps has given NXT consistent attention in their sets since Balor arrived and the brand continued to grow. This includes a fairly wide mix of base cards, inserts, autographs and memorabilia cards. Here are some of the key issues.
2015 Topps WWE Heritage Finn Balor #105
The first widely available Finn Balor WWE card came in 2015 Topps WWE Heritage. The card comes with a throwback design to 1985 Topps Baseball and has Black, Silver, Gold (/10) and Red (1/1) parallels. Balor is also on the checklist for the WWE 2K16 inserts, which is a fairly tough set to put together.
Buy on: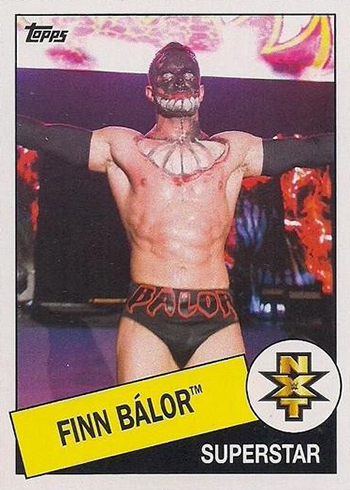 2015 Topps WWE Heritage WWE Autographs Finn Balor
2015 Topps WWE Heritage doesn't have just basic Finn Balor cards. It also has his first WWE autograph. Signed on-card, it uses a different photo from his base card but the same general design. Parallels include Black (/50), Silver (/25), Gold (/10) and Red (1/1).
Buy on: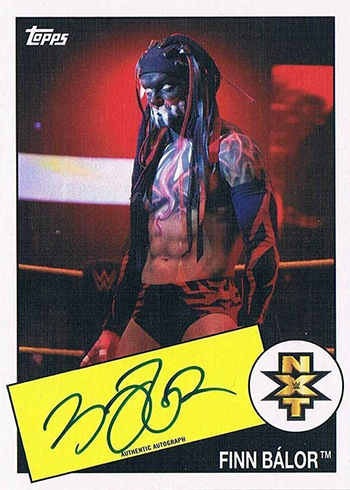 2015 Topps WWE Heritage WWE Relics Finn Balor
Like other sports, relics don't usually carry a ton of value in WWE releases. That said, there is significance to this being Balor's first. It comes with a swatch of a shirt worn by the wrestler. The vast majority have all-black swatches. However, some multi-color versions can be found on occasion. These can command a premium.
Buy on: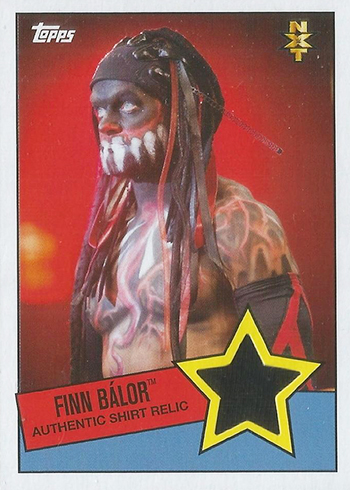 2015 Topps WWE Slam Attax Then, Now, Forever Finn Balor #165
A month before the Heritage card came out, Topps' UK arm released a couple of cards featuring the Irish superstar in their 2015 Slam Attax collection. This is a trading card game. His main card is #165. Balor's finishing move, the Coup de Grace, is featured on #63.
Buy on: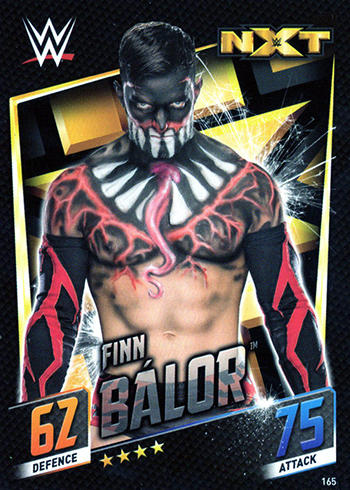 2015 Topps WWE Undisputed NXT Prospects Finn Balor #NXTFB
2015 Topps WWE Undisputed came out just a couple of weeks after Heritage. So while not "first," this card commands more attention than the Heritage base card. The reasoning is simple. 2015 Topps WWE Undisputed is the first super premium wrestling set. As such, base cards and basic inserts like this aren't as plentiful. Plus the cost is much higher and print runs likely smaller.
Buy on: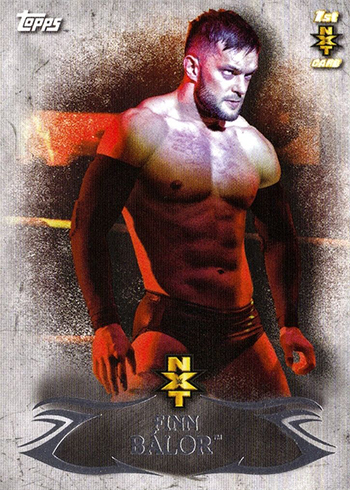 2015 Topps WWE Undisputed NXT In Line Autographs Finn Balor #NA-FB
Balor's 2015 Undisputed autograph is also likely to cost more than his Heritage signature. The reasoning remains much the same, primarily due to the high pack price. Parallels come in Black (/50), Purple (/50) and Gold (1/1).
Buy on: