The hobby impact of NFL trades, free agency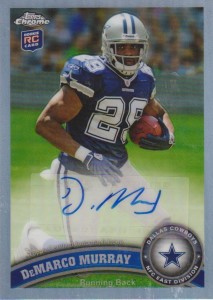 By David Lee | Beckett Football Editor
This off-season has seen tons of movement among NFL veterans, with star players being traded or sent off to explore the free agent waters. And there is more to come. Even while you read this there is probably another trade going down. We'll try to make sense of what's happened so far, what may still happen, and how it all could impact the hobby and your collection.
DeMarco Murray Testing Free Agent Waters
Last year's top running back and one of the hottest hobby veterans looks to be leaving Dallas. The Cowboys had secured receiver Dez Bryant with the franchise tag and Demarco Murray is exploring free agency. Murray's cards will lose Cowboys collectors but where he lands will also affect his hobby standing. He has several good years left in him but it's hard to imagine him matching his 2014 season with another team. Perhaps the most interesting aspect for collectors is the strong possibility of Adrian Peterson joining Dallas. It's no secret that Jerry Jones has been intrigued with the idea of landing Peterson for a while. If this plays out, Peterson's first Cowboys cards could be on fire. Cards down the road that combine him with Tony Romo and Bryant would be huge with Cowboys collectors.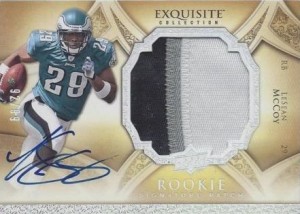 LeSean McCoy Sent to the Bills
The Eagles sent LeSean McCoy to the Bills in a trade for linebacker Kiko Alonso. McCoy is just 26 years old and totaled more than 2,600 yards from scrimmage the past two seasons combined. The bills rushed for just 92.6 yards per game last season, so McCoy will give them a boost. That could signal the end of C.J. Spiller in Buffalo, but could also give a boost to receiver Sammy Watkins. McCoy's cards are pretty soft right now so picking up a few like the 2009 Exquisite Collection #181 JSY AU RC—his top Rookie Card—might be a good idea for prospectors. The Eagles recently filled the void with former Charger back Ryan Mathews.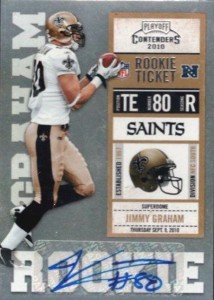 NFC Champs Land Jimmy Graham
One of the most dangerous tight ends in the game, Graham was traded to the Seahawks in March for center Max Unger. The back-to-back NFC Champs re-signed running back Marshawn Lynch and already look like a dangerous contender for 2015. Graham brings reliability and a nose for the end zone, with 51 touchdowns in his five-year career. His first Seahawks cards should be hot. With Graham, Lynch and Russell Wilson, the team known for its incredible defense looks like a new offensive power.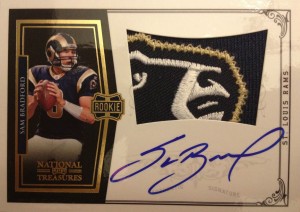 Nick Foles and Sam Bradford Swap Teams
The Eagles and Rams essentially bet against their quarterbacks by swapping them for one another. Bradford has had several injury issues, and Foles lost his starting job to March Sanchez last season. Foles had one of the hottest cards in the hobby during this time last year—2012 Panini Contenders #218A AU RC—but he certainly trended down this year. The Eagles' offense will look totally different in 2015, and don't be surprised if the team ends up moving Bradford for a more favorable draft pick. He's not a mobile quarterback, which is an odd fit in Chip Kelly's offense. Although, Bradford did command one of the highest-scoring hurry-up offenses in college football history while at Oklahoma.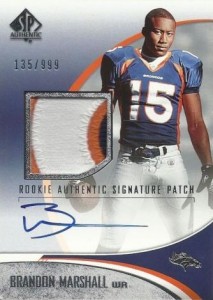 Brandon Marshall Jets Off to New York
He has been one of the most productive receivers in the NFL for eight years, and now Brandon Marshall leaves Chicago to join the New York Jets—the worst passing team in the league last year. This will be his fourth team, so most Marshall collectors are likely player-collectors who don't care about his ties to any one team. The Jets released Percy Harvin, which instantly makes Marshall the No. 1 target. But they will have to figure out their quarterback situation if Marshall is going to make a big hobby impact.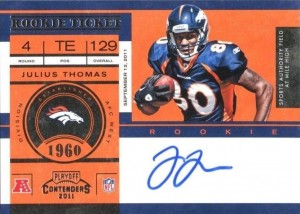 Broncos Let Go of Julius Thomas
The fourth-year tight end became one of Peyton Manning's top targets the last two seasons, scoring 24 total touchdowns. But Denver opted to keep receiver Demaryius Thomas and let Julius Thomas float into free agency. There are several reports of him likely landing with Jacksonville, which would create an interesting combination with second-year quarterback Blake Bortles and the team's 31st-ranked passing offense. Most of Thomas' Rookie Cards are priced no more than $50, but his 2011 Playoff Contenders #146 is autographed, limited to 99 copies and commands as much as $200.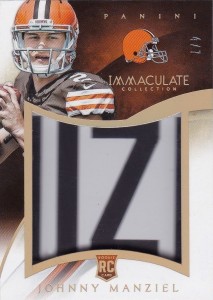 Brian Hoyer Leaves Opportunity for Johnny Manziel
The departure of Hoyer in Cleveland pretty much solidifies his career as a back-up quarterback. His few Hot List appearances last year might be his last. But the biggest impact of this move will be on Johnny Manziel. He's had a rough off-season with more off-field issues, but 2015 could be his shot at taking over the starting job. The Browns over-achieved last year at 7-9 and could certainly use offensive help in the draft.
Others to Watch: Frank Gore's career is winding down, but still proved to be a solid producer with more than 1,100 yards in 2014. He joins the Colts, which isn't good for former top pick Trent Richardson… Justin Forsett a free agent running back coming off a surprising 1,200-yard season. His departure from Baltimore could have the team drafting one of the top rookie running backs… Torrey Smith, the speedy free agent receiver from the Ravens, could give a team like Carolina a deep threat… Ndamukong Suh is the top defensive free agent lineman. Wherever he lands will instantly boost any defense but brings baggage that turns a lot of collectors off… Reggie Wayne made a recent Hot List appearance but his long career as a Colt is over… Jeremy Maclin and Michael Crabtree are two young receivers looking to finally rise to superstar status with a new team, while veteran Pro Bowl receiver Andre Johnson is still looking for a team.