The high-end bar to be set again with 2016 Upper Deck All-Time Greats Master Collection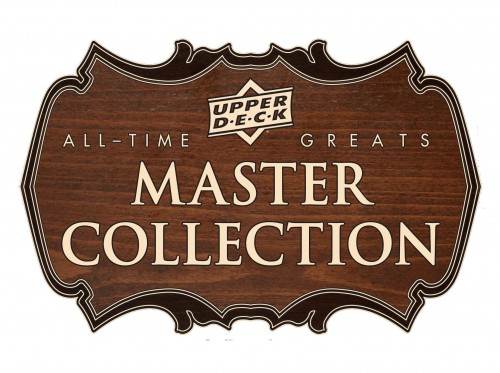 By Stephen Laroche | Beckett Sports Card Monthly Editor
In the seemingly never-ending competition to raise the bar for what is the most expensive and limited trading card release to date, collectors are about to see a new standard established with 2016 Upper Deck All-Time Greats Master Collection.
Limited to just 200 boxes and with a five-figure price point, Upper Deck proclaims that it will be "blurring the boundary between trading cards and artistic collectibles" with this product. Each box will contain over 50 cards and the roster of signers could be one of the most impressive ever assembled. Even the box itself is being touted as a collectible as each one is numbered and has an autographed acrylic box topper in the lid.
What will be found inside 2016 Upper Deck All-Time Greats Master Collection? Find out after the jump.

Base Set and Autographs
For starters, 2016 Upper Deck All-Time Greats Master Collection has a 25-card base set where each card is signed by a notable or legendary athlete. As expected, longtime Upper Deck spokesmen Michael Jordan, Wayne Gretzky, LeBron James, and Tiger Woods are featured. They will be joined by the likes of hockey's Bobby Orr, Mark Messier, and Mario Lemieux, football's Joe Namath, Jerry Rice, Peyton Manning, Barry Sanders, Emmitt Smith, and John Elway, baseball's Ken Griffey Jr., Mark McGwire and Nolan Ryan, and basketball icon Larry Bird. Rounding out the checklist are golfers Arnold Palmer and Jack Nicklaus along with boxers Oscar De La Hoya and Mike Tyson, NASCAR driver Danica Patrick, tennis star Maria Sharapova, retired UFC star Georges St-Pierre, and skateboarding legend Tony Hawk.
The autographs are split into several tiers (Silver, Gold, Red, Copper, Green, Blue, Purple, Sonic Blue, and Clear) and are limited to just 20 copies each.
There will be dual autographs called Masterful Pairings that are seeded once per box. The regular version these pair up two living athletes which are produced in varying quantities while the one-of-one Masterful Pairings Autograph & Cut Signature takes one of these talents and combines them with a vintage cut of a sporting icon from the early 20th century.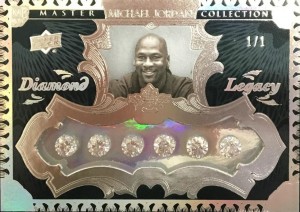 Inserts
As a throwback to old-school trading card sets, 2016 Upper Deck All-Time Greats Master Collection has a Master Collection puzzle made up of 30 cards. Depicting multiple athletes together, there are three tiers to collect with the basic Logo Collection puzzle being numbered to 125 while the Silver version is limited to 50 and just 25 Gold puzzles will be made.
Upper Deck's long-standing relationship with Michael Jordan has produced many desirable cards over the years, but this time, their Jordan Diamond Legacy cards are an instant classic out of the box. Every set will have one of these cards and they will have three (/30), four (/15), five (/5), or even six (one-of-one) diamonds embedded into them. Every 2016 Upper Deck All-Time Greats Master Collection box also contains a one-of-one Artistic Renderings card, which features autographed original art.
Perhaps the most compelling inserts of all are the Mystery Redemption cards. These cards can be exchanged for some hobby treasures such as game-worn uniforms, championship rings, autographed uncut sheets, game-used equipment from Hall of Famers, and premium signed items from Upper Deck Authenticated or even a motorcycle signed by Michael Jordan.
2016 Upper Deck All-Time Greats Master Collection at a glance:
Packs per box: 1
Cards per pack: 55+
Set size: 25 cards
Release date: March 22, 2016
What to expect in a hobby box:
hand-crafted wooden box with numbered plaque
one autographed acrylic box topper
25-card autographed base set
30-card puzzle
one Michael Jordan Diamond Card
one Autographed Masterful Paintings card
one Dual Autograph or Autograph & Cut Signature card
one Mystery Redemption card
Stephen Laroche is the editor of Beckett Hockey, Beckett Basketball, and Beckett Sports Card Monthly magazines. Have a comment, question or idea? Send an e-mail to him at slaroche@beckett.com or follow him on Twitter @Stephen_Laroche.