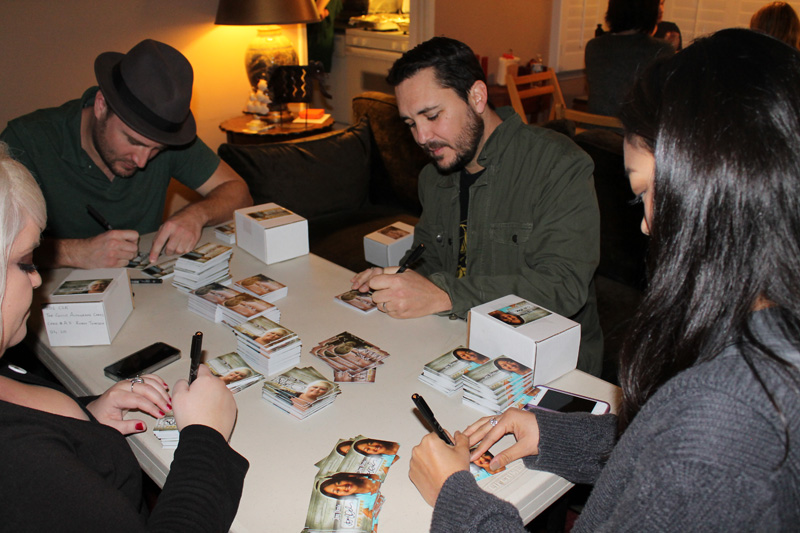 By Susan Lulgjuraj | Contributing Editor
Putting together The Guild trading card set was a unique undertaking for Cryptozoic Entertainment from start to finish.
It's based on web series about gamers where episodes range from three to eight minutes. Not your average television show. But the company saw all the perfect elements in The Guild to create a set – and throw a party to get it finished.
"As huge fans of the show, it was easy for us to see that it had everything we look for when we evaluate properties for trading cards: a large, dedicated audience, and creators who are passionate about what they do and are in touch with their fans," Cryptozoic's brand manager Miranda Anderson said. "The Guild is a hit show with viewership that can compete with many televised programs, but it has the freedom of being a web series. The other benefit is that their built-in viewers are gamers and collectors already, making them a very desirable market."
The set, which is scheduled to released in January, captures the first three seasons. There will be five cards per pack, selling for around $3.50 each. There will be a number of autographs and memorabilia cards, and two nine-card chase sets.
Most television or movie companies will send over pre-approved pictures for card companies to use, but in this case, The Guild allowed Cryptozoic to use screenshots of anything they wanted, handing over a huge amount of trust.
A daunting to task, considering Cryptozoic had to pare the set to just 63 cards, but they spent time on fan sites to get a greater understanding of what fans of the show wanted to see.
Show producer Kim Evey and creator and actor Felicia Day had final approval and made minimal changes to the checklist. Day also wrote original content for the back of the cards.
To get the autographs, Cryptozoic also did something a little different.
They had a party.
Getting to see the characters of the show in a different environment was intriguing to Anderson, especially considering this it the first time Cryptozoic has had a signing party – and hoping not to be the last.
"It was a lot of fun to watch the casual, off-camera interactions between cast members, and we tried to convey the festive spirit of the event for the fans to see," Anderson said. "The process of getting everyone over to producer Kim Evey's house and get everyone finished with autographs before any food got on them was a lot of fun."
Anderson's observations were great as well.
"Vincent Caso, Bladezz on the show, took a really long time to get through his cards." she said. "I love that in the photos, you can see all the other cast members sort of changing around Vincent, as he diligently works away. Amy Okuda, who plays Tinkerballa, had the best signature (especially for a lefty, who are normally notorious for smearing signatures). My favorite, however, was Jeff Lewis, a.k.a. Vork, who would get so caught up in the conversation around him he would often pause mid-signature to chime in."
Fans are excited to have Wil Wheaton and Felicia Day autographs in one set. The two have a great following and not many certified autographs.
On screen, fans have gotten to see the Day and Wheaton together – think ScyFy's Eureka, when Wheaton's character briefly wooed Day. In The Guild, Wheaton makes special guest appearances as the leader of a rival group, which made him a viable candidate for the set.
"We were very excited to have both Felicia and Wil sign for the set," Anderson said. "They are great celebrities that have a very dedicated following around them, so their involvement in the product has really helped boost awareness for the upcoming launch. We are very excited to offer fans a way to safely gain authentic signatures from actors they have been following for years."
Susan Lulgjuraj is a contributing editor for Beckett Media. You can email Susan here. Follow her on Twitter here.
The pictures were provided by Cryptozoic Entertainment. You could read more about the signing party and see more pictures on its blog.
To see an unobstructed view of the cards, click on the picture to make it larger.