The Great One: Wayne Gretzky in New York – Beckett Pricing Insider
Late last week marked the 20th anniversary of Wayne Gretzky's final game in the NHL.
On April 18th, 1999, "The Great One" laced up his skates for one last game against the Pittsburgh Penguins. The Rangers lost 2-1 in overtime as Jaromir Jagr netted the game-winner early in the session marking the end to, perhaps, the greatest hockey career ever.
Ask any hockey collector out there and the 1979-80 O-Pee-Chee Wayne Gretzky RC is Top 10 on their Rookie Card wantlist, if not Top 5.
But Gretzky in a Rangers uniform seems to go overlooked at times. There are plenty of base and insert cards from the era that can be added to a collection that won't break the bank and can be found fairly easily. Autographs and relic cards that can be a fun chase. Here are a few to keep an eye out for.
1998-99 SP Authentic Sign of the Times #WG Wayne Gretzky AU
By far the most expensive card in the set, this is a great example of a '90s era packed-pulled autograph. It features Wayne in the alternate Rangers uniform with the Statue of Liberty looking dialed in as always. The card itself was no doubt a must-have for Rangers fans. But it also carries weight with current collectors looking to add a Gretzky autograph but can't afford him in an Edmonton, Los Angeles, or, dare I say, St. Louis sweater.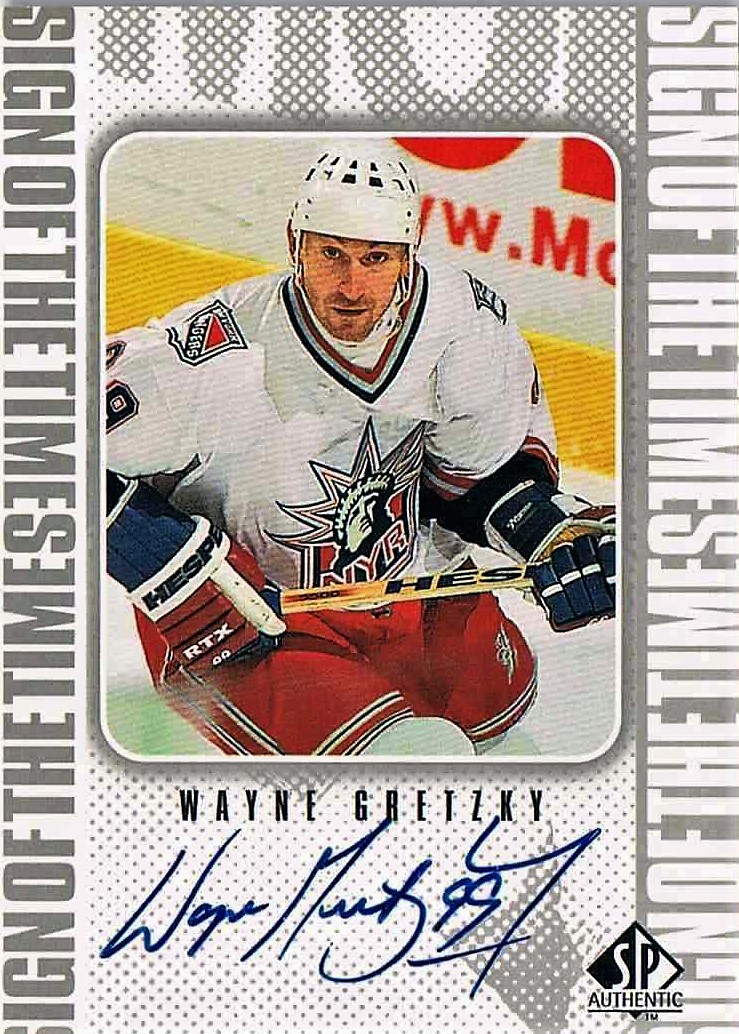 2002-03 UD SuperStars City All-Stars Dual Jersey #WGJG Wayne Gretzky/Jason Giambi
This one isn't going to break the bank by any means. I think this set is underrated as the checklist pairs two greats from the represented cities. Gretzky and Giambi together was an interesting choice. At the time, they were kings of the Big Apple. It's not a dual jersey card you will find in any other product.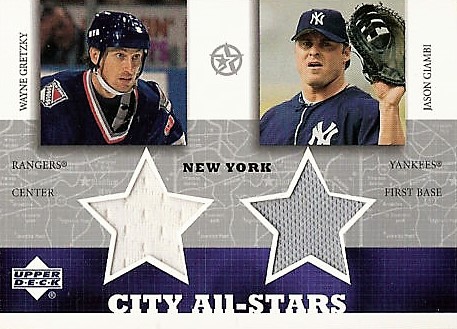 2014-15 The Cup Signature Renditions Combos #SRCGM Wayne Gretzky/Mark Messier
On the higher end of things The Cup has some beautiful cards featuring Gretzky in a Rangers uniform. Perhaps none are more symbolic of his stellar career than this one. It was the moment Wayne and Mark were reunited in New York and has both of their signatures on it in gold. It does hit the auction block from time to time but it's also highly sought after.