The Ginter Code Returns in 2020 Allen & Ginter Baseball
After taking a few years off, the Ginter Code is back.
Part of 2020 Topps Allen & Ginter Baseball, there's some sort of puzzle that needs to be cracked. What that puzzle is and how to solve it, well, that's part of the puzzle.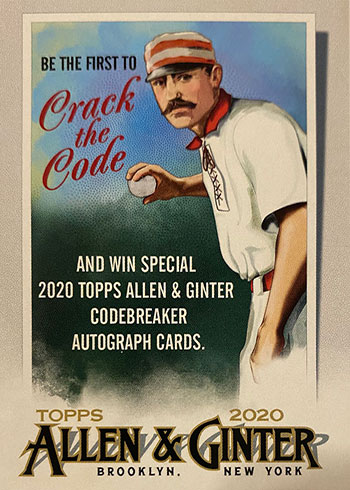 A promo card included in packs simply points collectors and would-be hobby sleuths to follow @TheGinterCode on Twitter. At this point, the account hasn't posted anything since 2017, although one could expect it to start back up in the near future.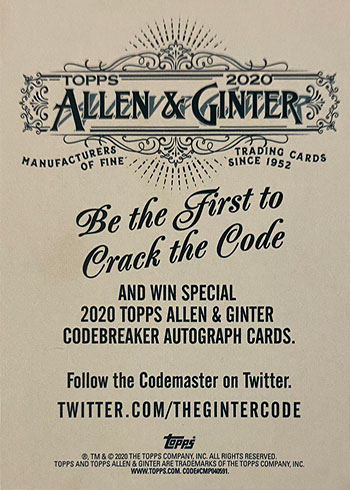 The first figure out the 2020 Ginter Code gets special Codebreaker Autographs.
The Ginter Code made its debut back in 2008 Allen & Ginter. The winner then received a card in the 2009 set. As the code continued, the prize evolved into special autograph parallels. Prior to 2020, the Ginter Code made its last appearance in 2015.
Typically, codes have opened up deep and complicated rabbit holes. Solving it has never been easy. To many, even a step-by-step breakdown probably sounds like Charlie Brown's teacher upon skipping a morning cup of coffee.
Where will the 2020 Ginter Code take to solve? That probably depends on how obvious the puzzle is and who's willing to try.