The Fantastic Photos of 2017 Topps Stadium Club Baseball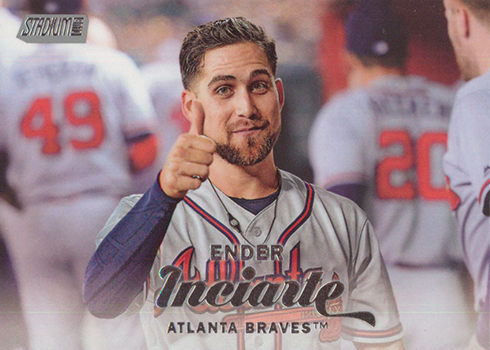 By Ryan Cracknell | Hobby Editor
I love great photos. Whether they're hung on a wall, printed in a book or on my screen, I like looking at the stories and emotion behind them, even if that means imagining them. Needless to say, I'm into card sets that focus on photos. When you're talking baseball cards today, that means Topps Stadium Club.
2017 Topps Stadium Club Baseball keeps with the brand's tradition of standout images. Even with a big list of autographs and other inserts, my attention goes right to the base set to see what sorts of images found their way onto cards.
It's not just action shots, either. There are plenty of cards that are posed portraits or capture softer moments of the game.
I've picked 11 of my favorite images from the 2017 Stadium Club base set (the variations have plenty more). I could easily pick 50 more but a lot of the fun is going through and discovering the shots for yourself.
11 Super Shots from 2017 Topps Stadium Club Baseball
53. Anthony Rizzo, Chicago Cubs
Composition-wise, 2017 Stadium Club has better shots. However, this is one of those cards where it's easy to trace where it's from — last August when the first baseman perched himself on the wall in foul territory, reached into the crowd and got the out. There's a good chance you've seen the video a few times. But with the photo here, you get a bigger story thanks to the crowd. There are looks of awe and excitement. And then there's a one guy in the front hoping not to get bulldozed by a man scaling and wall and bringing plenty of momentum with him.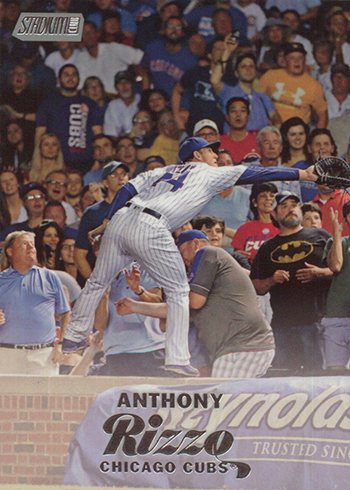 104. Ryon Healy, Oakland Athletics
Keep your eyes on the pies — especially when they come flying at you from behind courtesy of a bearded rock and roll ninja.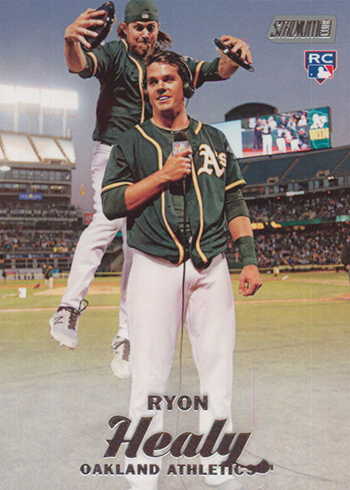 149. Andrew Benintendi, Boston Red Sox
Lots of cards showcase the athleticism that goes into making a wall catch. Andrew Benintendi's Rookie Card here is actually a little bit awkward. Sure, it looks like he made the catch. But the overriding theme here is the sacrifice that went with it. There's the physical collision with the wall as demonstrated by the ripples in the fabric as well as Benintendi's flying necklace. The cherry is totally unintentional. Just behind the catch is some sort of sign that appears to be for the Tampa Bay Rays. But the way Benintendi's body is positioned, it might as well be a cartoon explosion akin to the Biffs! and Kapows! of the 1966 Batman TV series with Adam West.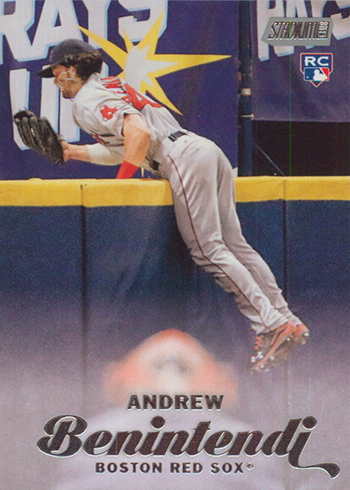 154. Lou Gehrig, New York Yankees
It doesn't really matter which bat Gehrig opted for. He was probably going to get a hit no matter what. But this image is all about the dynamic perspective. The bats are like a Hot Wheels track that draw you right to the Yankee legend's face. The photographer could have easily just done a portrait, but this is much more interesting, both visually and as portraying Gehrig as a master of his craft.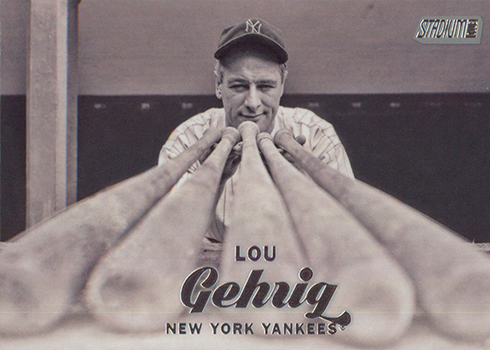 169. Don Mattingly, New York Yankees
There's a schoolyard innocence to this photo. Let's start with Mattingly — and a very young Mattingly at that. He's relaxed. The towel, the perched cap, the casual pose all give off a chill vibe. The backdrop is a perfect compliment. The ballpark looks empty. Grass stretches back. It's all in opposition to Mattingly's reality of being one of the baseball's biggest stars in the 1980s, playing on its grandest stage in New York.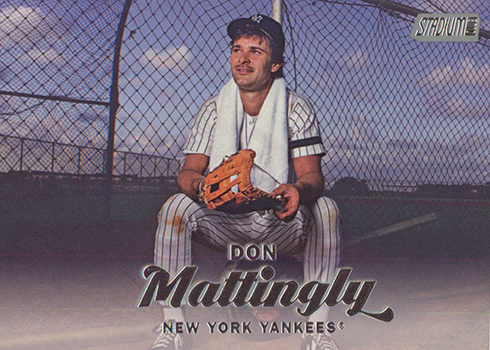 215. Willie Stargell, Pittsburgh Pirates
Is that personalized toque atop Pops' head? Yes, it is. And those bumblebee mitts. Those aside, this is the soft and kind, thinking man version of Willie Stargell. If ever there was a photo that captured an era of baseball without actually showing any baseball, this is it. It could also be used for making a baseball-themed version of the oft-used Condescending Willy Wonka meme.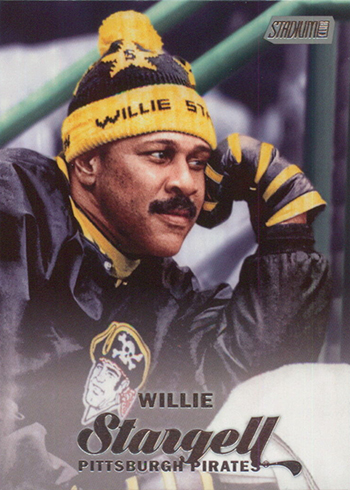 260. Ted Williams, Boston Red Sox
You might be tough, but are you Ted-Williams-doing-pushups tough? Probably not.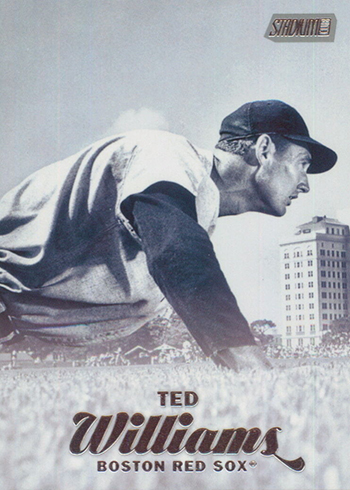 261. Luis Perdomo, San Diego Padres
This might be the tensest photo in 2017 Topps Stadium Club Baseball. It doesn't come from any sort of physical action, though, like a lot of other cards in the set. Rather, it's all in the body language. Even without being able to see his eyes, it's obvious that Perdomo is deep in thought, likely replaying a moment or strategizing the next out.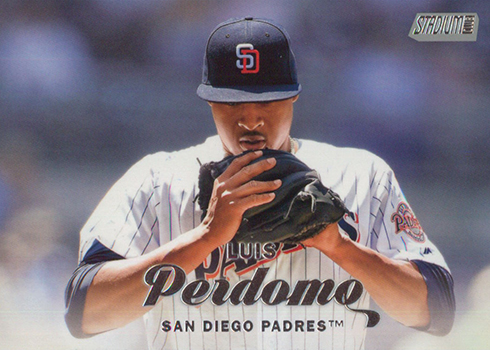 274. Ian Desmond, Colorado Rockies
Mond. Des-mond.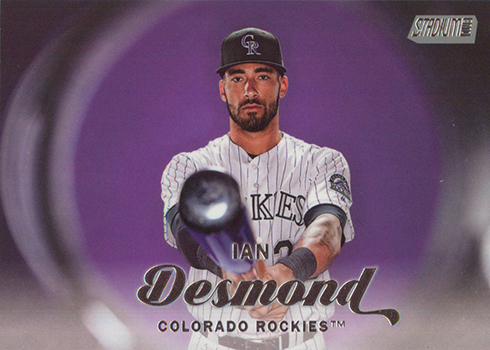 277. Billy Hamilton, Cincinnati Reds
Under normal circumstances, a blurry photo is a bad photo. But this one perfectly captures Billy Hamilton's tremendous speed. There's little that's crisp in the shot, but that just goes to convey all the movement of the moment and how dizzying it can be to keep up with him.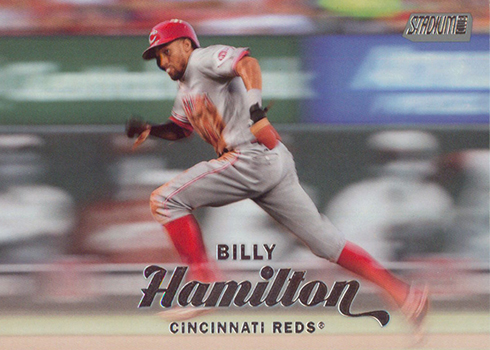 295. Jayson Werth, Washington Nationals
Jayson Werth is one of baseball's more charismatic players. His fabulous hair, both on the top of his head and on his face, only add to the persona. Here's a moment where he's particularly fired up. Take a look at his arm to see how tight he's clenching that fist. The composition is fantastic, too, with the crowd adding to the excitement.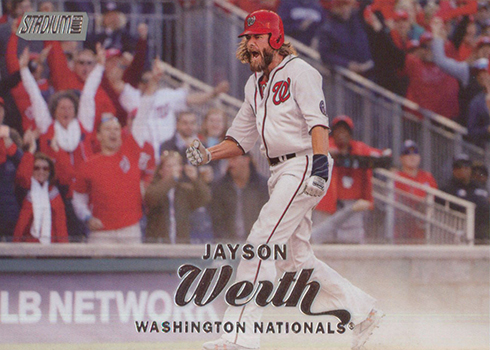 Comments? Questions? Contact Ryan Cracknell on Twitter @tradercracks.