The eBay 1-of-1 Needs to Die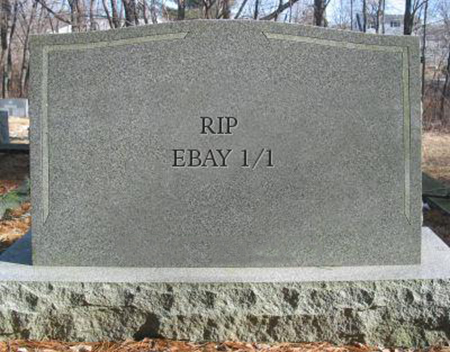 By Ryan Cracknell | Hobby Editor | Commentary
I don't know when the term was coined. I don't care. The eBay 1-of-1 is something that needs to go away. Now. Forever.
If you've never heard the term before, consider yourself lucky. It's used at an alarming rate on the site to describe a card that has something the seller considers unique. That might be a serial number that's the first in the run, the last one or some sort of patch.
But here's the thing, anything can be an eBay 1-of-1. No criteria exists. It's all just smoke and mirrors to make something seem better than it actually is.
As I write this, there are about 2,000 cards listed on the site with "eBay 1/1" in the title. Some of them might use it for legitimate reasons. But without any sets that I can think of that are actually connected to eBay, I'm guessing I could count these on one hand. The rest are likely trying to convince eyeballs that there's something special about the card that really isn't. Or they're trying to spam the title so that they can sneak into the search results of people looking for 1/1 cards.
Special serial numbers can be fun. Getting a player's jersey number adds to a card's appeal. The first one stamped can be interesting if there's a big print run.
But this is a very different hobby than it was ten or 20 years ago. Not every set had an abundance of serial-numbered cards. And those that were numbered usually came with print runs of 1,000 or more. So getting something 0001/xxxx was something special. It's an expectation that today's sets dedicate significant portions of the print runs to low-numbered stuff. In a lot of cases, even legitimate 1/1 cards have lost a lot of their luster because there are so many now.
So why are people hyping something that's 1/5 or 10/10? If the print run is 5, you have a 40 percent chance of having either the first or last card. Is that special? Not really, at least not any more so than any of the other three.
Great cards sell themselves. They don't need an over-the-top sales approach, especially on a forum like eBay. If it has a cool serial number, just put the serial number in the title. If people collect 01/xx, they likely have a search saved. It's the same with player collectors.
If there's no real criteria for an eBay 1-of-1 can there be anyone that collects them?
I suspect that using eBay 1/1 in your title might actually hurt sales. Every character in your title counts. A team name or card number are better uses of your limited letters. "eBay 1/1" is a waste of seven of characters that could be used to describe what the item actually is — things that potential buyers might actually be searching for.
When you go to a store and you have an over-powering salesperson, it's uncomfortable. You probably don't end up spending as much as you might have. And it's less likely that you'll return to that store if there's an alternative. Think of the eBay 1-of-1 in the same light (or any keyword spamming). People notice it and not in the good way. If someone is searching for real 1/1 cards and sees your listing for a card with a print run of 10, they're not going to click, let alone buy. You're just cluttering up their searches.
Some might notice your false listing and click through only to take note of the seller's ID to avoid in the future. That's definitely not helping matters.
If we really want to get into semantics and definitions, a valid argument could be made that every card is a one-of-one. There's only one 2015 Bowman's Best Mike Trout Green Refractor that's numbered 63/99. Somewhere in the world there's a 1989 Donruss Danny Tartabull that is the only one owned by John Smith of Springfield, North Dakota.
It's absurd to think that either of these are one-of-a-kind cards, right. It's the same with a card that's a 5/5.
The eBay 1-of-1 is a myth. We've said and heard it enough over the past few years to the point where I hear and read people use it like it's legitimate. It's not. If you pull a cool card that just happens to have an interesting patch, printing error or serial number, that's great. But to call it an eBay 1-of-1 is the cardboard equivalent of putting lipstick on a Gremlin.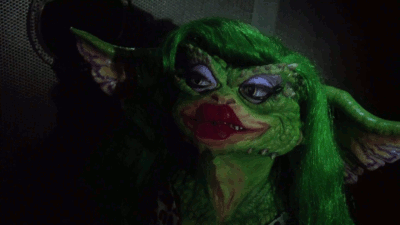 Comments? Questions? Contact Ryan Cracknell on Twitter @tradercracks.