For the past several years, I've lived life as strictly a pre-war card collector. Focusing my efforts on cards that were printed before World War II, frankly, just seemed less stressful and a whole lot less confusing than trying to chase everything under the sun.
Like many collectors, my collecting 'path' has changed through the years. When I first got into the hobby as a kid, I began as a 'modern' collector. I expect that's how most get into collecting. With limited resources, finding money to buy vintage issues as a kid, even if you wanted to, was probably difficult for most. But as I grew older, my tastes changed and, after reentering the hobby later as an adult, I was even less enamored with the potential rat race of collecting newer cards. I started with vintage and then found myself buying older and older cards.
But that sort of changed recently.
See, Dwight Gooden was my favorite player growing up and when kids talk about emulating their favorite player in Little League, the Doc was it for me. I tried (with little success) to mimic his iconic pitching motion and he was undoubtedly my favorite player when I first began card collecting in the late 1980s.
If you're too young to remember, Gooden was some kind of pitcher in the mid-1980s. He won 58 games through his first three years and his 1985 Cy Young, Triple Crown campaign (24-4, 1.53 ERA, 268 strikeouts) is still considered among the most dominant seasons of all time. But he had his share of struggles and hard living combined with drugs helped to taint what many predicted would become a Hall of Fame career. Now, with 194 career wins, a no-hitter, and two World Series titles, it's not as if his career was entirely wasted. But there is little doubt that he didn't reach his full potential.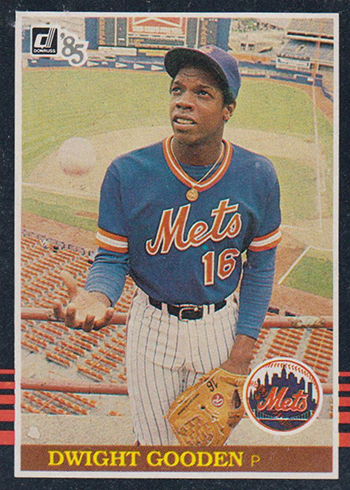 Despite my love for Gooden, I was never really a collector of his cards, per se. My first real card purchase of a single was Gooden's 1987 Topps card. But soon after that, I never managed to track down his cards on purpose. For one thing, I quickly branched out into collecting cards in other sports. Basketball cards became popular in the early 1990s with more companies producing them and that was a large part of my collecting focus. Even with regards to baseball, I was less concerned with Gooden than I was trying to find more valuable things like Ben McDonald Rookie Cards and other such nonsense. That, if you haven't checked your latest Beckett, didn't really pan out over the long haul.
Late last year, I officially decided to make room in my collection for Gooden's cards. I started with one – a lonely, solitary autographed 1984 Topps Traded card. After all, what could one card hurt? Despite vowing to cut myself off there, well, let's just say I've found slowing down difficult to do. I quickly bought a few others and the low prices made that incredibly easy. That got me to thinking, 'Could I collect all of Gooden's contemporary cards?'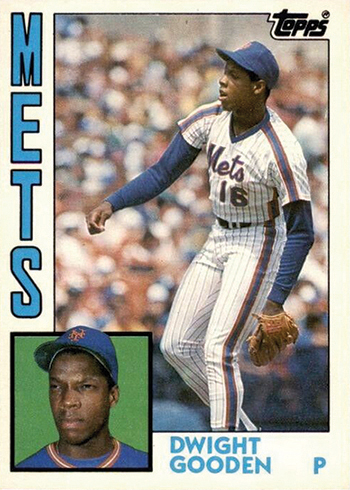 Sure, as card collecting grew, more issues were printed. And card collecting was arguably at its hottest in the early 1990s. But there weren't the unthinkable numbers of parallels, crazy tough autographs, or near-impossible 1/1s as there are today. That was especially true for players like Gooden, who was less popular when the industry started getting kind of nuts in the 1990s since he didn't find himself in as many tough insert sets.
So, it would be simple, right? A bit of early naiveté resulted in my misguided determination that this would be an easy task and I was off to the races with little direction. Turns out I was just as wrong on that front as I was about Jerome Walton becoming the next Rickey Henderson.
When I was a kid in the 1980s, even if money wasn't an issue, starting up a Gooden collection would have required a bit more work. If nothing else, more time, certainly. But in the 21st Century, it's easy. With a few clicks of the mouse, I made several eBay purchases leading to approximately 1,100 Gooden cards on my doorstep a week later. In no time, I had a living, breathing, full-fledged collection of cards featuring my favorite player. And while there were plenty of dupes, I still had about 400 original cards and was off to a good start. What I didn't count on, however, was the unthinkable number of cards that Gooden had. I originally figured Gooden would probably have about 500 cards. But the reality is that he has about double that amount.
To date, I've found somewhere in the neighborhood of 1,000 different cards of Gooden from his playing days. That includes, of course, not only the mainstream issues, but also the oddballs and everything in between, like the numerous Star sets of the 1980s and 1990s. And the frightening thing is that I'm finding new cards even months after creating his checklist. Surely, there are more. Only recently, for example, I learned of an early 1990s board game called Face to Face that had cards of celebrities in it. You guessed it – Doc is one of them. Add it to the list.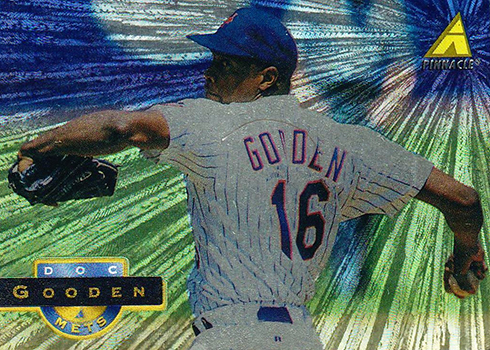 Further, some cards are just incredibly rare. While I've gotten most of Gooden's mainstream cards, some issues, such as an unbelievably difficult 1991 Pacific promo card, are just nearly impossible to track down. Finding one of those and a few similar cards may result in some dumb luck, an unreasonably high price tag, or possibly a little of both.
With such a quest, storage can be a bit of a challenge. That can be mitigated a bit by using things such storage boxes, which are capable of holding a lot of cards.
But if you're like me and enjoy easily seeing numerous cards at once, you probably prefer using binders with pages of the cards.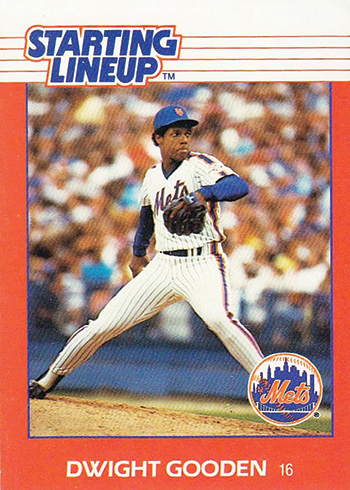 Initially, I expected all of my Gooden cards could be contained to a single 3" binder.
Wrong again.
I've got two such binders, full of Gooden cards and even that's a somewhat uncomfortable fit.
And, worse still, it turns out that collecting a specific player can be more expensive than you might think. Dwight Gooden cards? Who wants those? Well, not many collectors do but dealers also don't like the idea of going through the trouble of mailing cards for 10 or 20 cents. Go figure. In an effort to collect all of Gooden's cards, I've surely overpaid on a good many that were not easy to come by. Those cards with a true value of about a quarter have sometimes cost a buck. And some things, such as obscure food issues, can be much harder to find at a reasonable price, too.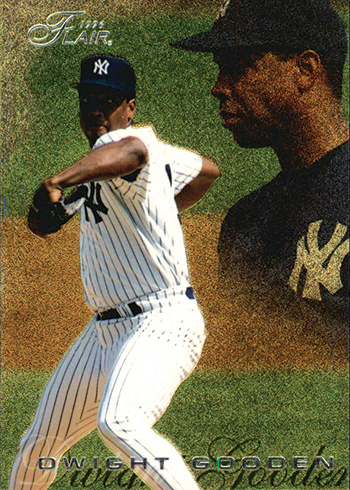 Keep in mind, I'm only talking about cards from Gooden's playing days from 1984 through 2000. None of this even touches upon the gaggle of parallels and autographs he has in post-career sets. That would get very expensive, very quickly. Gooden had a somewhat long career but as he wasn't as effective for about half of that, he is consequently found in fewer sets in many of those years. I pity the collectors of players that had more productive seasons over a longer period of time. Despite Gooden's numerous cards, I've actually got it somewhat easy compared to collectors of, say, Nolan Ryan, Barry Bonds or Cal Ripken. Or collecting a player like Ken Griffey, Jr., who has more recent cards, would increase the degree of difficulty, too.
Despite the challenges, I've made good progress in a relatively short amount of time, thanks to dealers specializing in singles from the junk wax. I've also been aided by websites, such as COMC, which have allowed me to buy some of his harder to find cards. To date, I've got more than 900 different Gooden cards and am closing in on having most of his stuff while he was an active player. But it's been a more difficult journey than I thought.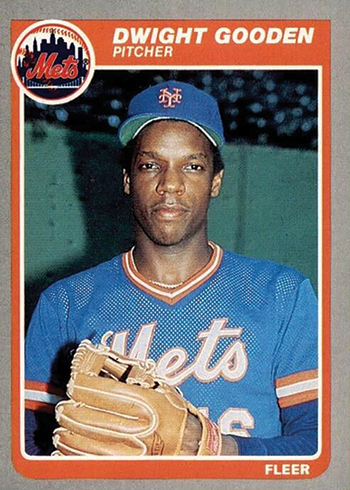 The good news is, that's part of what's made it a lot of fun.