The Daily: 2018 Topps Chrome Ronald Acuna Autograph
The Card: 2018 Topps Chrome Rookie Autographs Ronald Acuna #RA-RA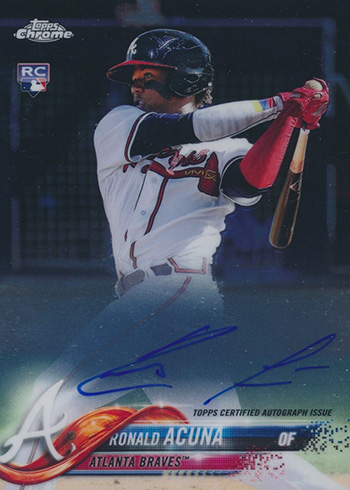 It had been a little quiet on the Ronald Acuña front for a while. The Braves rookie was injured for most of June and didn't have a spectacular July. Well, he's back.
The 20-year-old has home runs in four consecutive games after belting two yesterday in a doubleheader against the Marlins.
Not even half way through August, Acuña has already matched his July RBI total for the month.
Not surprisingly, the Braves are one of the hottest teams in baseball right now having won seven of their last ten. Atlanta holds a one-game lead over the Philadelphia Phillies in the National League East.
One of the latest Ronald Acuña autographs is found in 2018 Topps Chrome Baseball. Signed on-card, there are plenty of versions to hunt for thanks to the extensive mix of Refractors. It is worth noting that some of Acuña's autographs are live in packs and others are redemptions.
The Daily highlights a key player or personality in the world of sports or collecting from the past 24 hours along with one of their key cards.