The Daily: 2018 Bowman Prospect Autographs Thairo Estrada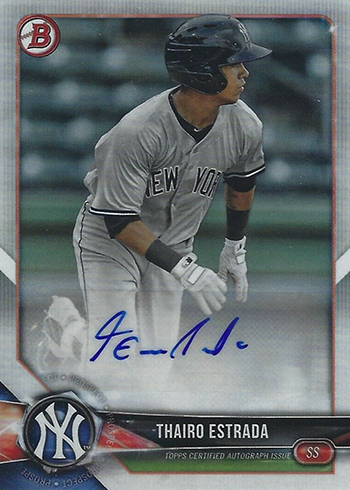 Last night was a big one for New York Yankees rookie, Thairo Estrada. Not only did he hit his first career home run in a 7-3 win over the Seattle Mariners, but it came off one of his childhood heroes, Felix Hernandez. It also came during Estrada's first game at Yankee Stadium.
Estrada might not be a marquee prospect, but his path to MLB baseball cards isn't still isn't the typical one. In this age, pretty much every young player gets a Bowman Chrome Prospect Autograph before they make their big league debuts. Not so with Estrada.
He's appeared on relatively few cards thus far, dating back to 2014. His first autographs are in the 2017 Topps Bowman Holiday promo set. Estrada has a couple of Bowman Chrome-themed autographs from 2018, but not the traditional Chrome Prospect Autograph.
While it's very unlikely it'll become a major card, his 2018 Bowman Prospect Autograph could carry more weight — at least on the Thairo Estrada baseball card spectrum. Often, Bowman Prospect Autographs go largely overlooked. Exclusive to retail, they use stickers over Chrome's on-card signatures. In most instances, the players aren't as strong, either.
For Estrada, there aren't a lot of other options. He doesn't have a Bowman Chrome Prospect Autograph. The Bowman card, which is found in retail 2018 Bowman Baseball packs, also has a handful of parallels.
The Daily highlights a key player or personality in the world of sports or collecting from the past 24 hours along with one of their key cards.