The Daily: 2018-19 Upper Deck Elias Pettersson Young Guns RC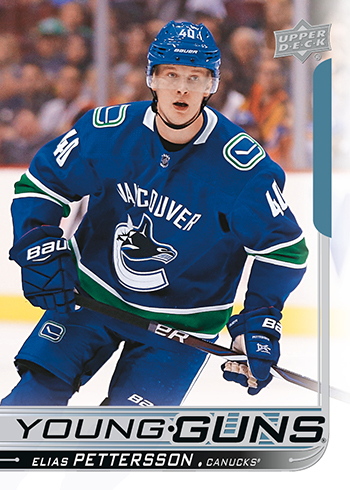 Apparently the Vancouver Canucks has a knack for spotting young snipers. Last year it was Brock Boeser. Now, it's Elias Pettersson. With his goal last night, he's up to ten in ten games (to go along with six assists). Last week Pettersson had a five-point game against the Colorado Avalance netting two and adding three helpers.
Needless to say, the fifth overall pick in the 2017 NHL Draft hasn't disappointed. Not only is he helping speed up Vancouver's rebuild but Pettersson is quickly emerging as one of hockey's young stars.
It's the same in the collecting world. His 2018-19 Upper Deck Series 1 Rookie Card arrives today as part of the storied Young Guns subset. But pre-sales over the last couple of weeks have shown what collectors have in store. Despite no signature, serial number or extreme rarity, early sales of the card were well surpassing the $100 mark.
The Daily highlights a key player or personality in the world of sports or collecting from the past 24 hours along with one of their key cards.