The Daily: 2017 Panini National Treasures Alvin Kamara RC Auto Patch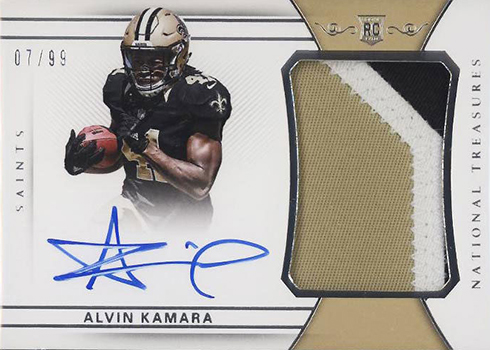 One of yesterday's big football games saw the 8-0 Los Angeles Rams take on the 6-1 New Orleans Saints. Alvin Kamara went marching to the tune of three touchdowns and now the Saints sit at 7-1 and the NFL no longer has any undefeated teams.
Kamara, the 2017 NFL Offensive Rookie of the Year, rushed for a pair of TDs and scored his third on a pass from Drew Brees. This is the third time this season that he has scored at least three touchdowns in a game.
By the end of the game, New Orleans put 45 points on the board, Michael Thomas pulled out a flip phone and the Rams suffered their first loss of the season.
Although Kamara won Rookie of the Year honors last year, he wasn't the biggest first-year player in the hobby. Kareem Hunt and Deshaun Watson held that spot at various points last year before injuries limited their time.
That's not to say that Kamara's cards have been ignored but he hasn't commanded the same sorts of prices as Watson.
When it comes to strong Alvin Kamara Rookie Cards, none top 2017 Panini National Treasures. It's a familiar story for football over the past several years. The autograph jumbo patch combination as well as the brand itself are unstoppable when it comes to determining a player's most coveted Rookie Card.
The Daily highlights a key player or personality in the world of sports or collecting from the past 24 hours along with one of their key cards.