The Daily: 2016 Bowman Chrome Draft Bo Bichette Autograph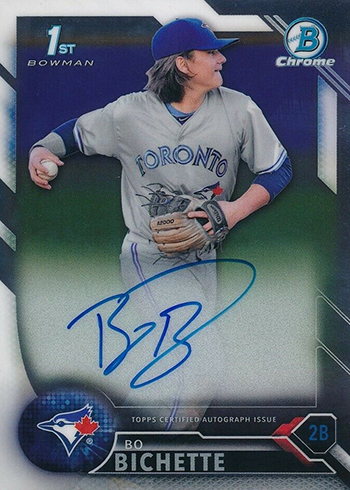 Vladimir Guerrero Jr. might be getting most of the attention, but the Toronto Blue Jays are bursting with big prospects. On a weekend that saw Guerrero go down with an injury, someone else was there to step up.
Bo Bichette, the 11th best prospect on MLB's top 100 prospects for 2019, hit a pair of home runs on Sunday in Toronto's 10-1 win over Minnesota. While the sample size is still very small, the 21-year-old shortstop is now hitting .400 for the spring with ten hits, four homers and 5 runs batted in.
The 2016 Bowman Chrome Draft Bo Bichette autograph is his first signed card. It's also the first major release he appeared in, period. No other 2016 product has cards of the second round pick. While not to the same extent as comparable Guerrero cards, this has still been a popular card with strong prices. Bichette also has similar unsigned Bowman and Bowman Chrome cards in the product that are much more affordable.
The Daily highlights a key player or personality in the world of sports or collecting from the past 24 hours along with one of their key cards.